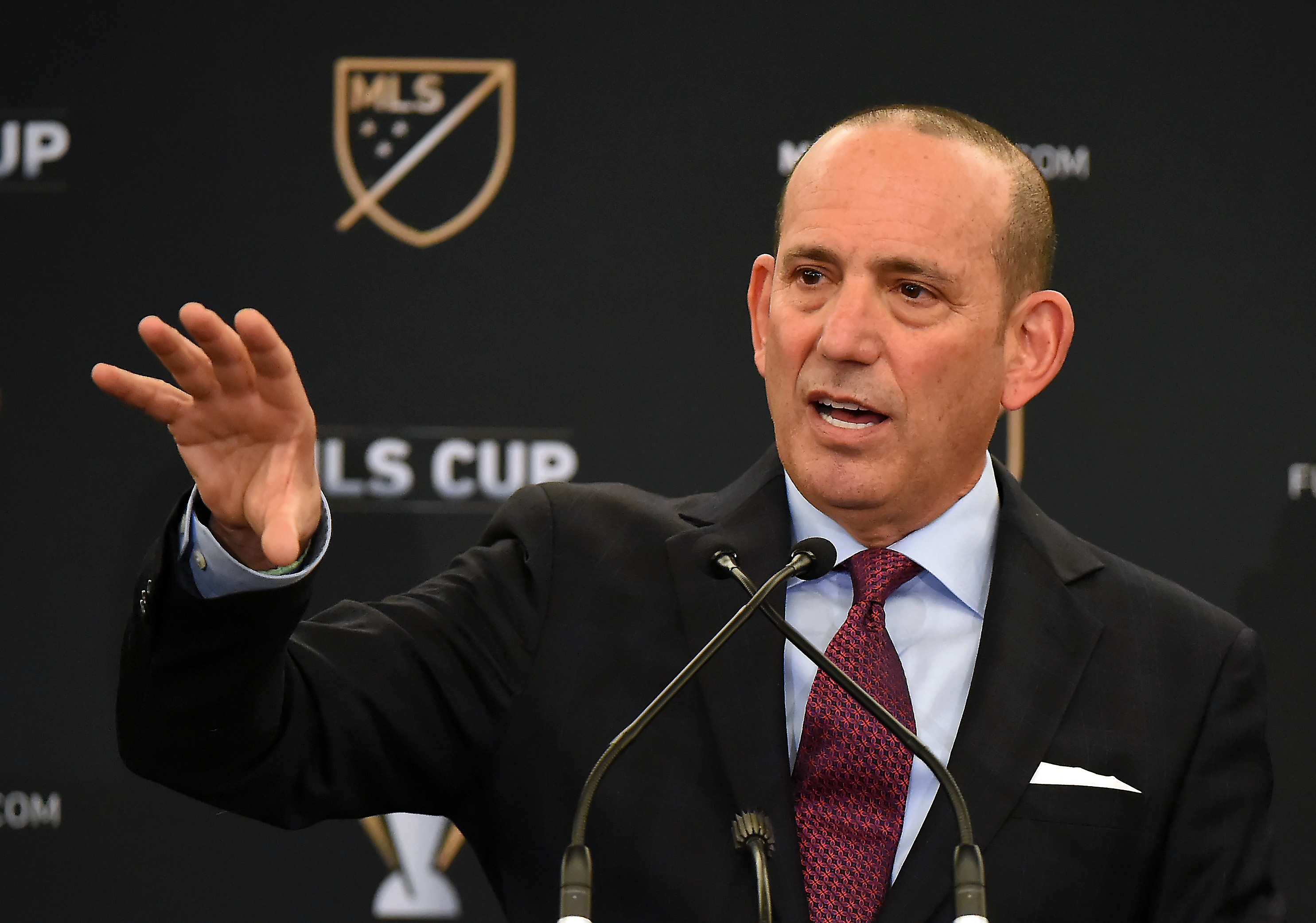 Major League Soccer commissioner Don Garber addressed several MLS-related topics at the MLS SuperDraft in the Los Angeles Convention Center on Friday. Two topics he was not shy about was the league's desire to continue to expand and the updates on soccer-specific stadiums.
Two new teams are slated to make their MLS debut in March – Minnesota United FC and Atlanta United who had the first and second overall picks in Friday's SuperDraft, respectively – but Garber and MLS are already looking beyond the now-22-team league.
Next year, Los Angeles Football Club is scheduled to make their debut in their soccer-specific stadium, Banc of California Stadium, in South Los Angeles. They will become the 23rd team in MLS.
Earlier this month, Missouri Governor-elect Eric Greitens stood strong on his decision to not support state funding for stadiums, specifically the proposed $200 million soccer-specific stadium in downtown St. Louis. The stadium would allow MLS-hopeful Saint Louis Football Club, SC STL, to make their bid to be one of the next MLS expansion teams.
Saint Louis FC currently plays in the USL and is an affiliate of the Chicago Fire.
Despite the firm stance by Governor-elect Greitens, Garber is still hopeful that MLS can make its way into St. Louis.
"It's real time. It surprised us a bit," Garber said on Friday. "We were engaged in lots of very productive conversations with a number of different of political folks in the city and we were pretty confident that we had a good plan.
"That being said, the expansion prospect owners have met with the governor and had a number of discussions – I have not yet been able to catch up with them as to get a sense of how it went – but I remain hopeful. St. Louis is a great soccer city and its been 22 years that we've been thinking it would be a perfect city for an MLS team."
St. Louis is just one of several prospective cities looking for entry into Major League Soccer. Other cities include Charlotte, Cincinnati, Detroit, Nashville, Raleigh, Sacramento, San Antonio, San Diego and St. Petersburg.
Although Sacramento and Cincinnati could be favorites to become teams 25 and 26, San Diego most recently forced its way into the conversation with the departure of the NFL's Chargers, who are now in L.A. and renting out the L.A. Galaxy's StubHub Center in Carson, CA for the next two seasons before they move in with the Rams.
Should San Diego get the nod into MLS, they'll have a unique rival nearby: Club Tijuana, Xolos, of Liga MX. Despite the higher popularity of Liga MX compared to MLS, Garber saw the potential neighbors as an opportunity to continue to grow MLS, not as a rival.
"I think that's a positive," he said about the potential. "We have two teams in L.A. We have two teams in New York. So what could be better than having a Liga MX rival right across the border? It never would've remotely occurred to me that that would be a competitive threat. Frankly, it's the opposite. I think it's an opportunity."
The attempts to bring MLS to cities like St. Louis and San Diego, cities that lost NFL teams, is very opportunistic and calculated by the commissioner. Only time will tell whether or not it comes to life.
"I think MLS has a better chance of succeeding in markets when a big major league team leaves," said Garber. "There's less competition and I think fans are looking for something else to attach themselves to. We saw that in Seattle, we're hoping for that in St. Louis and I think San Diego falls into that category."
Garber was also asked for the obligatory update on the situation with bringing MLS to Miami, a project led by retired international soccer superstar David Beckham. In December, Garber let some of his frustration and diminishing patience be known in a story by the Miami Herald as he is looking for a conclusion. Despite the lack of an update on the deal, or a conclusion to one, the commissioner still believes that Miami will be the league's 24th team.
"We're continuing to work hard on finalizing a deal there and there are a lot of moving parts," he said. "But we are making progress. We need that team to get announced before we make any decisions going forward, so we've got all hands on deck."
Garber also discussed the need for future expansion teams to secure their own stadiums before taking the field in MLS. The league's most recent expansion teams – New York City FC and Orlando City SC – are polar opposites of what the league wants when it comes to expansion. Orlando City will open the 2017 campaign in their new soccer-specific stadium this season, while NYCFC has yet to announce any plans for a stadium deal, continuing its stay at Yankee Stadium in the Bronx for a third straight season.
"We're never going to make a decision based on timing that's not the best decision for us long-term," Garber said, "because life's a long time and you want your teams to be successful forever.
"So, if we find that there is a dynamic that exists that forces us to change our deadline, we'll do that. But I'm not expecting that to happen."
Garber stayed on the topic of stadiums and also gave an update on the proposed new soccer-specific stadium for the New England Revolution.
Reports from the Boston Globe on Wednesday suggested that the plans to build a stadium for the Revs are "all but dead." The plan was to build the stadium at the site of the former Bayside Expo Center in Dorchester. The project would have forced the Boston Teacher's Union to vacate the property, but the union wanted $17.5 million from Revs and New England Patriots owner Robert Kraft. The relocation and rebuilding costs for the union would've brought the deal up to $30 million.
"I think it was a bit of a step sideways," Garber said of the situation. "I think their fans deserve it and I think it would be incredible to have a downtown stadium in Boston. It's one of the great sports markets in America, so I hope they can find a solution there."