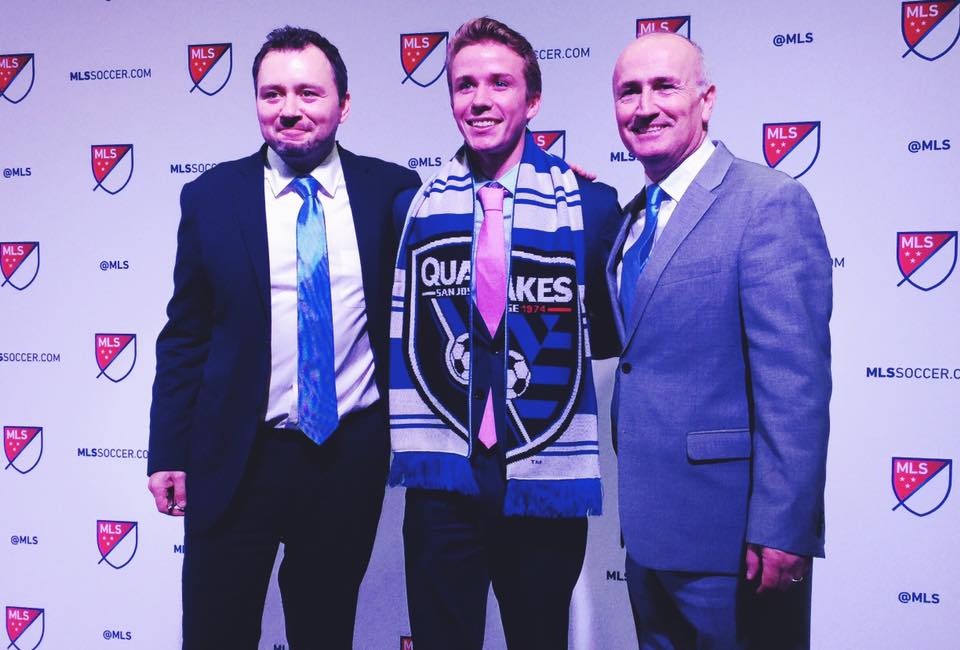 The Minnesota kid is going to stay in California, but this time he'll head up to the north side. No homegrown deal and no more shadows.
The San Jose Earthquakes selected 19-year-old UCLA and Generation Adidas midfielder Jackson Yueill with the sixth overall pick in Friday's MLS Draft in Los Angeles. He may not realize or know it just yet, but the club is hoping he could end up being the key piece of a puzzle that'll push the Quakes into the postseason for the first time since 2012.
It was thought by some that Yueill could be a target with of -expansion side Minnesota United FC that would've brought him back to his hometown to start his professional career. Instead, he signed a Generation Adidas deal and is staying on the west coast.
"I'm super excited," said Yueill in a post-draft conference call on Friday. "Being on the west coast the last two years, I love the west coast, so moving up to San Jose is going to be really cool."
Yueill also went on trial last year with Sweden's Jönköpings Södra IF of the top-flight Allsvenskan, his first experience with a European first team. However, his stint overseas lasted just eight days.
Throughout his youth in Bloomington, Minnesota, Yueill was often in the shadows behind then-Minnesota youth phenom Mukwelle Akale, who made his debut with La Liga's Villareal's first-team last summer. He's now with Villareal C.
Meanwhile, Yueill leaves UCLA after just two years with the Bruins where he scored nine goals and tallied 17 assists in 40 games played (34 starts). Despite being just 19, and now the youngest player on the Quakes roster, he brings solid experience with him to San Jose, representing the United States all the way through the U-20 team.
"Always nice playing for the U.S.," he said about his time with the national team program. "Whenever we get to go to another country – a small country like Bosnia or a big country like Germany – when you play against countries like that, they're all fighting for their lives and they're all in professional environments already. Some of those players come to MLS to play, so you're definitely getting familiar with their style of play along with MLS'. It's definitely going to help me a lot."
Yueill's best performance came in a record-setting match against then-No. 1 Akron in September. He tallied four assists in a 6-1 win over the Zips that saw UCLA score three goals in a record 32-second stretch. Three of his four assists came during that goal blitz. His best highlight came on the third goal when he found Jose Hernandez on a no-look, give-and-go through his defender's legs.
"Some of the things that are going to help me are my vision with the ball," he said. "I'm an attacking half player able to see some passes that some aren't able to see and find goal-scoring opportunities in and around the box."
However, with Anibal Godoy, Simon Dawkins and Tommy Thompson currently holding down the midfield for the Quakes, it could be a little while before the new rookie earns consistent minutes. That shouldn't be a problem for Yueill, however. If there's anything that can be said of his journey so far, it's that patience pays off. Especially under Quakes' head coach Dominic Kinnear.
"I met with the coaching staff this week and it was awesome," Yueill said.
"I'm a player that loves to learn, so I was super excited when they drafted me. Being the first pick for them was super thrilling for me and I'm coming into a team where a coach believes in you and will help you get acclimated to a team will be very good for me. I always love a coach that can come and critique my game and make me overall a better player, which will overall help my career and help the team."
The journey for Yueill going into the draft reflected his soccer journey to this point thus far: play games with those on the same level where he had to prove himself. If that's a sign for anything, San Jose may have something special on-hand.
"The last week at the Combine has been a really good experience for me," said Yueill. "Playing and seeing what the level is and ultimately jumping to a higher level come the start of camp is going to be really good.
"2017 has already been a blessing for me and I'm really excited to keep it going."