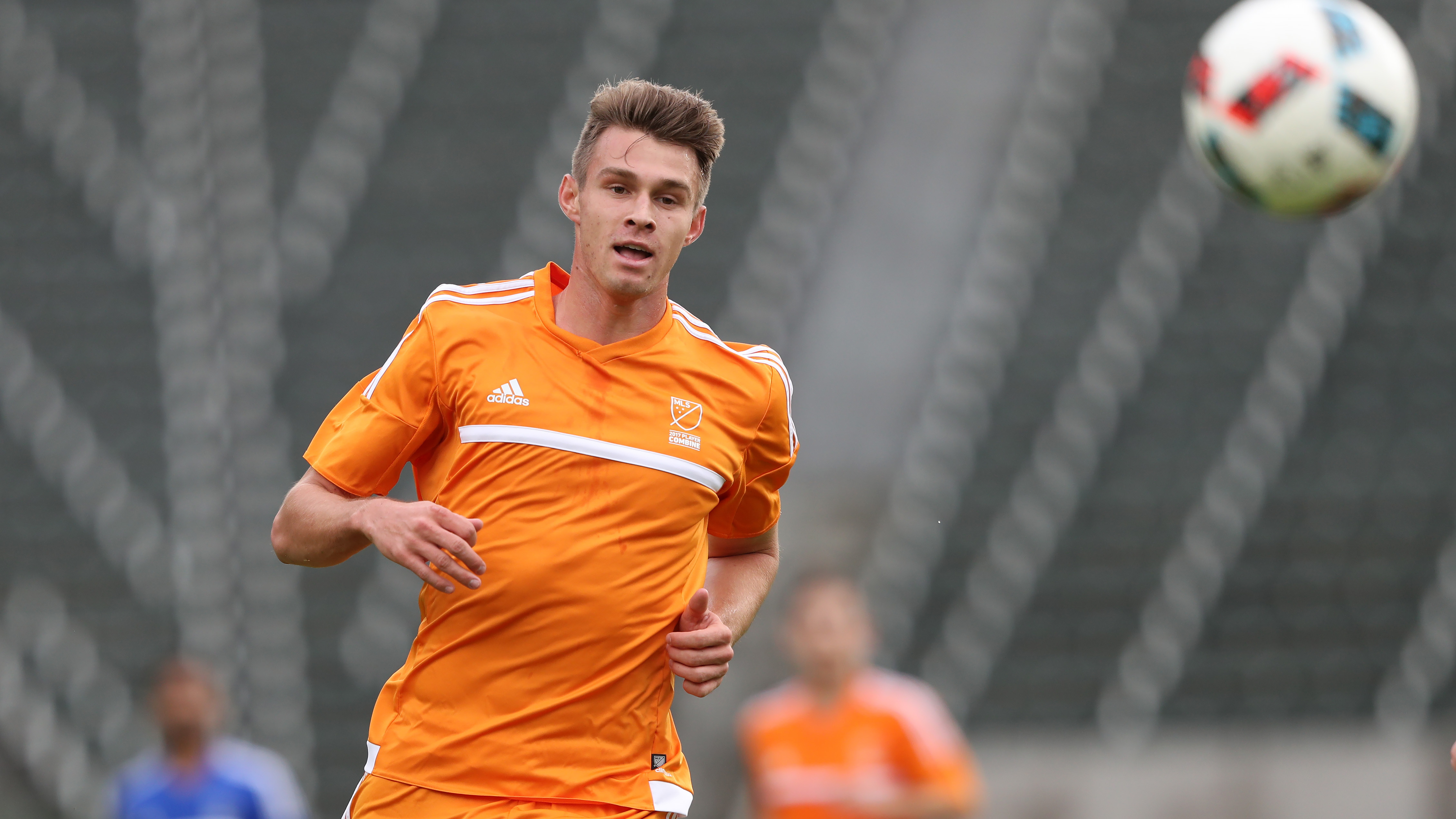 Nick DePuy immediately sticks out on a soccer field because of his size. It's an asset, along with a few other strengths of his skill set, that has led him to every position on the pitch since a young age. Now a forward, the UC-Santa Barbara product played full back and center back in college, as well as midfield when he was younger.
It's an odyssey that's led him to the MLS Draft, where DePuy could be one of the first few names taken off the board.
"How often do you find a 6'5", really good athlete," UCSB head coach Tim Vom Steeg told SBI. "He grew up playing in the middle of a park so he's got great feet and he can run away from people. He's also good in the air.
DePuy's versatility and experience at other positions has helped him grow into one of the top-rated players entering Friday's MLS Draft. The target man could be selected in first 10 picks if the right time comes calling.
"At the time I was a defender, my coach also realized I was pretty good with the ball at my feet," DePuy told SBI. "For my size, I wasn't that bad technically. When I moved up to forward, I used that experience as a defender and used it to my advantage. I knew what would create problems with defenders." 
"At UCSB, we played him at right back, center back, defensive midfield," Vom Steeg said, "and eventually because every time we went to a practice Nick would finish everything, we put him up front and he scored 15 goals in around 10 games."
As is the case with any product coming out of the college ranks, DePuy needs to find the best possible situation to help him grow as a goalscorer, one who has potential to be an MLS All-Star according to his coach. He scored 10 goals in his sophomore season, and 21 more in his last two college campaigns.
"I think it'd be a good impact," DePuy said. "The college game is different from the MLS game so to have a veteran there that can show me and tell me how I can benefit from my ability at the pro level would definitely benefit me in the long run." 
"Everybody needs a target man, a player who is able to give you hold, but also be a goal scorer and threaten in the box," Vom Steeg said. "He's able to threaten behind because he can run away from you. The whole package is there. The question is will he get in a situation with a team that will work with it every day and keep refining it. It's not where you go; it's what team you go to." 
DePuy's had to work for every position he's earned, whether it be coming through the youth ranks, or during the start of his college career. It's something he's willing to fight for once again in MLS. The work ethic also shines through when the forward says he's willing to play anywhere to make an impact.
With DePuy's skill set and size, he could certainly make that impact right away at the club that selects him. It also helps to have a young player with so much versatility, which is something that could propel him to a high selection on Friday in Los Angeles.
"For one thing, I'm extremely hard-working," DePuy said. "I wasn't guaranteed a starting spot and eventually earned it at the club level. My high school senior year I was captain of the academy team. I went through the same process in college. I worked my butt off in the preseason, earned a starting spot and held on to it my entire UCSB career.
"I could start anywhere on the field. I can play in the back, midfield or up top. I've learned a lot over the last few years."