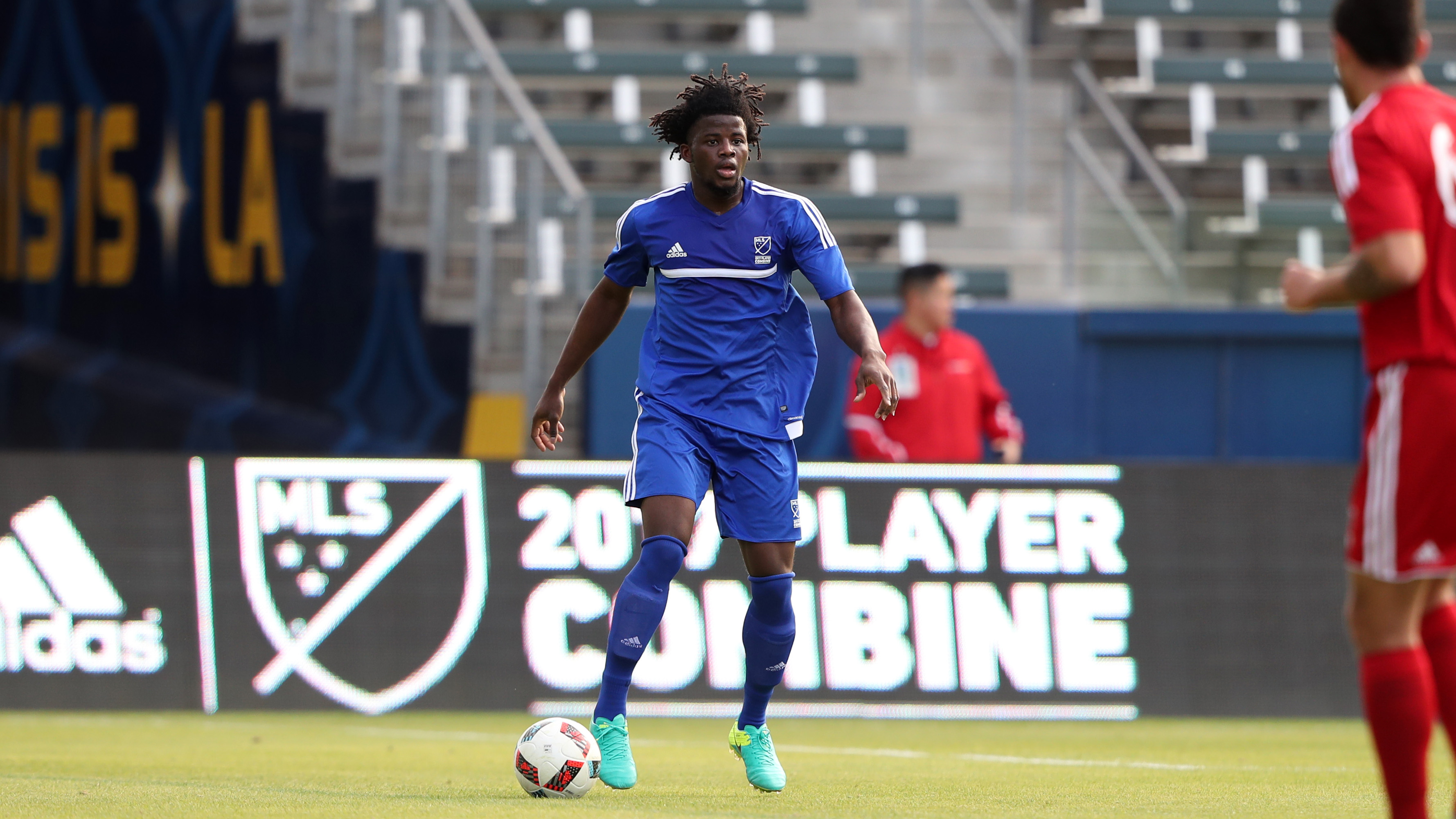 Growing up in Ghana, Lalas Abubakar had little knowledge of a famous American soccer star that shares his name. He knew nothing of Alexi Lalas, a player who defined American soccer's push towards the mainstream with big hair, a big personality and an even bigger game. They are traits, ironically, shared by the young central defender some 20 years later. Even the hair.
The story of 'Lalas' actually began in Ghana, some 6,000 miles from the country he now calls home. It was on the fields scattered throughout Kumasi, Ghana that Alhassan Abubakar began his soccer education. Growing up, Alhassan slowly morphed to Lalas, a name shortened for convenience by the rest of the players in the local games. Abubakar got used to it, came to enjoy it as he continued to play, continued to find his passion for the game. As time passed, few of the players in those games could even remember a player by the name of Alhassan, but everybody on those fields certainly knew the name Lalas.
It's a name that's expected to be called early on draft day. After a standout performance at the combine, the University of Dayton defender has soared up draft boards, making him a likely top-10 selection in Friday's draft. It's a day that will undoubtedly change his life as he continues his young journey through American soccer.
"It's been fun so far," Abubakar told SBI. "Coming here and seeing the coaches, MLS coaches, it's something I've really enjoyed. Seeing the best players in college, playing with them and playing against them, competing against them, I have to shut them down. I have to get my stock high. It was something in my mind before I got here because I knew myself. Once I got here, I was like, 'Let me shut these guys down and get my stock high'."
Like many in Ghana, Abubakar grew up fascinated by the game and, interestingly enough, MLS was one of the leagues that captured his attention. He's long been enamored with the sport and it's biggest stars, and Abubakar remembers the days in Ghana watching players like Thierry Henry run rampant through MLS opposition. All through his childhood, Abubakar dreamed of reaching the highest levels of European soccer, but he always had one eye on MLS and the American game.
At the time, it was as close to the U.S. as he'd ever been. His aunt had told him stories of Florida after winning the lottery to head stateside, but Abubakar himself knew little of the country. Locally, he was developing a reputation, captaining his high school team before moving on to the University of Ghana.
While with the University of Ghana, Abubakar made frequent trips to join the Ghana Under-20 Men's National Team. He would travel back and forth, from campus to camp and back, as he looked for his breakthrough while furthering his education. It eventually came, but in a way he didn't expect.
"Every Ghanaian player, he wants to go to Europe," Abubakar said. "I had that same mentality. I didn't want to go to high school or college. I had an offer from one of the premier teams in Ghana and that wasn't good for me. Instead of playing for them, I decided to go to college so I can maybe get that opportunity."
As Abubakar continued to shine locally, University of Ghana officials invited representatives from the University of Dayton to come have a look at an up-and-coming centerback. Coaches saw him play and were immediately impressed, and Abubakar was handed an unlikely opportunity to help push to the pro game.
He came in August 2014. He'd never seen snow, never experienced cold. It was admittedly hard for Abubakar, even if it never truly showed on the field. Over a three year career with the Flyers, Abubakar made 61 appearances, 60 of which were starts, while earning honors as A-10 Defender of the Year in 2016.
While his achievements at Dayton were certainly impressive, it was Abubakar's efforts in the PDL that truly put him onto scouts' radars. After impressing with the Charlotte Eagles in 2015, Abubakar made the decision to join the Michigan Bucks for the 2016 season. What followed was a campaign that saw him named 2016 PDL Defender of the Year after helping the team seal nine shutouts in 12 games.
"I went to another place, a place where I could get a lot of exposure," Abubakar said. "I decided to go to the Michigan Bucks, and before I even got there I heard the questions saying there's no way you're going to play because these guys are in a top place. I didn't really care. I knew myself and I know who I am. I went down there, and it's true, they have a strong XI. I practiced with the reserves and I kept working hard and got myself into the starting XI. I proved to the coaches that I can play and deserve to play.
"I believe in myself," he added. "I'm not scared of any forward. I don't care if they're 6-foot-5 or 6-foot- 6, it's me against you. I can win every air ball against you. Those are the guys that I want to go at because I want to show them that I can do it."
Abubakar carries that belief with him to MLS. He's projected to be one of the first central defenders off the board on Friday afternoon, one that is likely to be one of the first seniors selected. He still hopes to go to Europe someday, but, at least for now, Abubakar is looking to continue proving himself as he takes a major jump in competition.
As for the day that begins that journey, Abubakar's name will inevitably be called on Friday, and it likely won't be his given name that is read aloud as he begins his MLS dream. It will be one given to him on the fields back in Ghana, a reminder of how far he has come and how far he still has left to go.
"I'm going to keep Lalas," he says with a laugh. "It's going to be too hard to change."