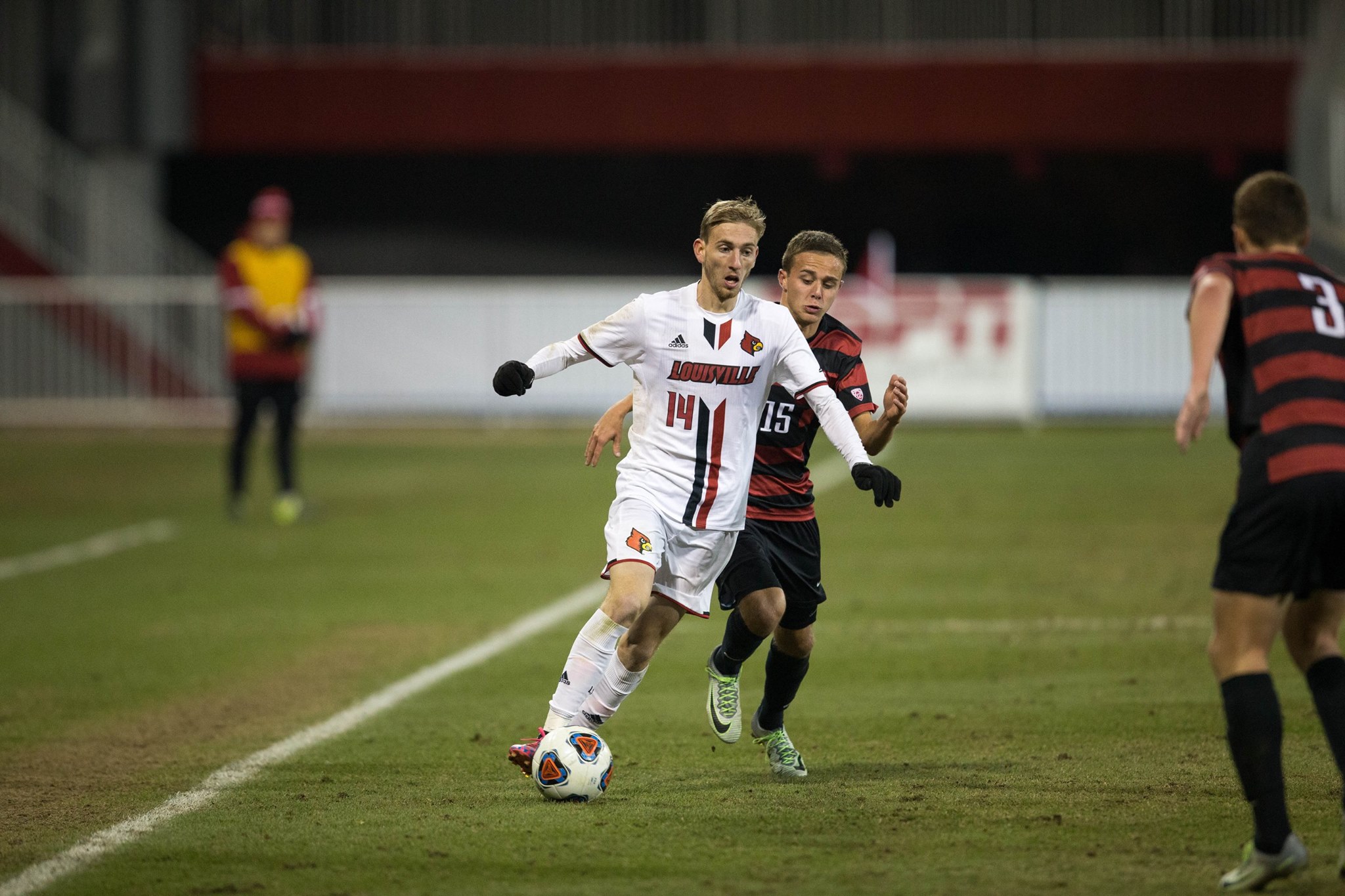 The road to the MLS Combine and Draft is direct for many, but Daniel Johnson has taken the circuitous route around a minefield of speed bumps to reach the showcase week for college prospects. The University of Louisville midfielder's journey has taken him to England, back home to the States and then to two different colleges before landing in California for the combine and draft.
Johnson's personal soccer story begins with a connection he made at the youth level that landed him at West Ham United as a 12-year-old from suburban Atlanta.
"I was able to get over there on the basis I was going to train," Johnson said. "I never looked at it as a trial. The first day I went there a game was cancelled on a weekend so they had a makeup game just by happenstance and I was thrown right into it. Played one game with the under-13 team and immediately after the game, they pulled my parents and I into a room and said 'we'd like to bring you over full time'." 
Pressure wasn't a word that existed in Johnson's vocabulary once he landed with the West Ham academy. His attitude was similar to the ones of the players alongside him at the academy who were born and raised in the London and the surrounding areas.
"At 13, it's hard to understand that this is a big Premier League club that wants you," Johnson said. "I just wanted to play soccer, wanted to experience another country. In England, soccer is a religion and as a young American kid that's the mentality I had. For me, it was I want to play soccer every day." 
Once he got settled in London, Johnson realized the dream of playing in the Premier League was within his sights. Johnson lived just like any young English prospect would, except there was one thing keeping him from progressing like the others around him in the Hammers academy.
"At 17, I was offered a contract and FIFA denied my contract," Johnson said. "It went through the FA, they stamped it. Went on to FIFA and they say no to the work permit. Went as far as sports arbitration court, where we built a case, and it ended up through child protection laws and FIFA laws where I had to come home. I was never granted a work permit."
"For a 17-year-old whose dream it was to get that contract it was devastating."
Leaving England without further progress at West Ham is frustrating for any young prospect, but the next opportunity awaited Johnson when he came back to American shores. But his first big move after West Ham didn't turn out to be the ideal one for his career. The midfielder landed at the University of Maryland, but it turned out to be the wrong fit for the player with family ties to the college.
"My dad and grandfather went to Maryland and played baseball," Johnson said. "I don't want to say I was pressured but I almost put in on myself inherently that I was going to go to Maryland.
"I just never saw it is a good fit for me, school wise and soccer wise," Johnson added. "That ended up being a rough time for me coming off a high and then being at Maryland and losing a fair amount of confidence. I played sparingly and after my sophomore fall, it just wasn't the right fit." 
Johnson used connections from his past to link up with the coaches at Louisville, who put an emphasis on developing Johnson and his teammates to fine tune them for the next level. Johnson earned All-ACC Second Team honors in his first season with the Cardinals, and he was named to the All-ACC Tournament Team in his final year at Louisville.
"Being at Maryland, taught me a lot about myself and facing adversity," Johnson said. "Sasho (Cirovski) helped me a lot as a player and as a man, but being able to have that experience and go through that made me appreciate being at Louisville much more." 
In his first day at the combine, Johnson excelled for Team Control at StubHub Center. He earned a penalty and created two assists playing with one of the draft's top prospects, Generation Adidas signing Jackson Yueill, who developed an instant chemistry with Johnson.
"It was weird because we played UCLA in the second round of the tournament and I remember watching Jackson and Jose in the midfield," Johnson said. "The way they played was super similar to the way I played as a 10. Yesterday in practice, Jackson and I discovered we were going to combine with each other. It's just one of those things where I feel we have an understanding. It's just his spacial awareness that allowed me. The spaces we were getting into for each other were awesome. I'm looking forward to playing with him again." 
Johnson's career path has already taken him to more places that most players at the combine will go in their lives, and that's only the start for the midfielder who is turning heads once again among a crop of talented prospects.