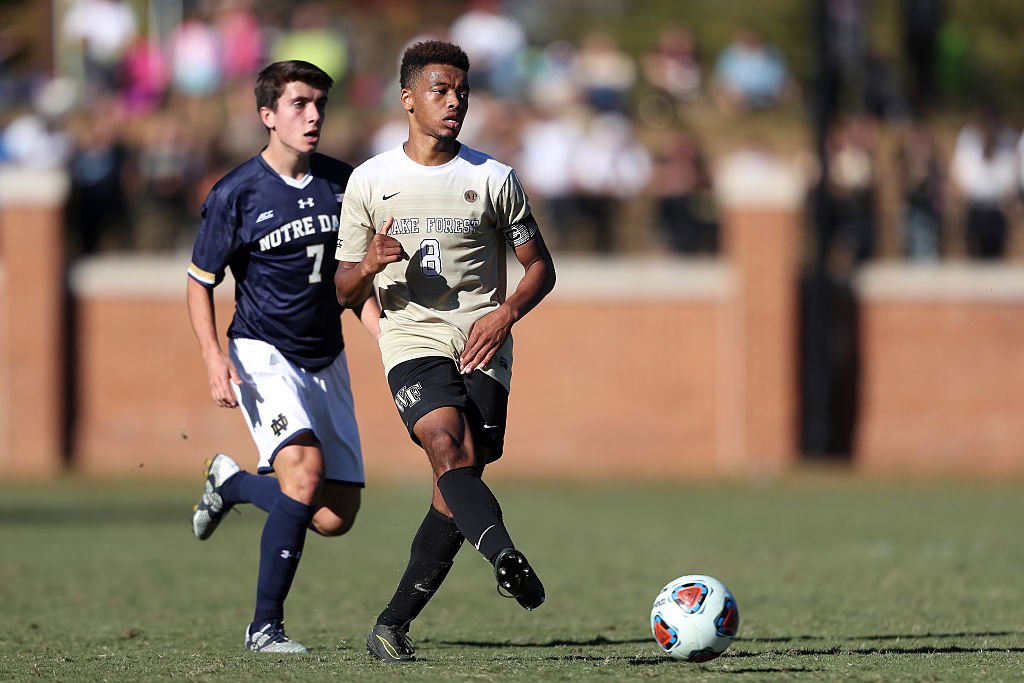 In another world, Jacori Hayes would have been an engineer. He certainly looks the part in some ways, standing at only a slight 5-foot-7-inches with a slim 150 lb. frame. His voice rises when asked about his passion for science, physics in particular, and what role he would like to play in furthering developments in renewable energy. It's where we need to be heading, he says, speaking like someone confident in all he's learned and all he has left to learn.
But in this world, Hayes might just be an MLS team's next big prospect. Like science, soccer has long been a passion, a craft which he has honed tirelessly during his hours outside of the classroom. The game led him from a non-traditional soccer family to the fields of Wake Forest and, eventually, to a spot on many scouts' radars as an MLS prospect. Widely viewed as a potential top-10 selection in the upcoming MLS Draft, many are high on the Wake Forest midfielder following a standout performance to open the MLS Combine.
Still, he hears the doubts. "Too small."As a student of physics himself, Hayes understands that, in some ways, his slight frame is a disadvantage. It's simple science: the laws of momentum state that the smaller object will always bounce back in the face of something bigger, stronger.
Hayes knows the science and he knows the doubts, but he also feels more than ready to meet those challenges head on like he has been his entire life.
"I've always been doubted or second-guessed because of my size," Hayes told SBI. "In high school, they were hesitant to call me into the national pool because I was shorter and smaller. It's one of those things where your game speaks for itself. If you're good enough, they'll be able to find a spot on the field for you. That's how I treat it.
"I've always had people second-guess me, doubters. I just play my game to prove them wrong. I know I'm good enough. If they don't see it, that's on them. I know it has an impact, and people see that and second guess, but if I play the way I'm capable of, they'll move on."
Those doubts started as a kid, and Hayes quickly embraced them. Growing up, Hayes wasn't raised in a soccer household. His father, Reggie, had never played the game himself, but quickly realized his son's passion for the sport. The elder Hayes couldn't quite teach his son the ins and outs of playing the game, but he could instill the passion to learn and be better. From an early age, Hayes learned structure, helping him grow as both a student and a player.
In front of the television, those two lives mixed. It was the Barcelona Era, one which saw shorter, technical midfielders run rampant through the game's highest levels. Xavi and Andres Iniesta quickly became Hayes' heroes. He'd rewatch Barcelona's matches time and time again, going so far as to memorize the passing sequences until he could predict them before they popped on the screen. "This is how soccer should be played," Hayes says now.
By the time he got to Wake as a freshman, doubt crept in. The game was too fast and the ACC was too good. He remembers the practice it all changed, several weeks into his freshman season, as he realized he had no reason to be scared of it all.
When Bobby Muuss arrived on campus as Wake Forest's head coach in 2015, he sat Hayes down. The Demon Deacons had Jack Harrison and Michael Gamble, two future MLS draft picks, in the midfield, leaving little room for Hayes. Muuss suggested a switch to right back, a move that Hayes accepted, albeit a bit begrudgingly.
That day, Hayes was deployed as a No. 10 just one more time in a split-squad practice. In 10 minutes, he scored two goals. He hasn't moved since.
"He's a well-respected and well-liked guy that coaches are going to want to give an opportunity to," Muuss told SBI. "They'll see his work ethic and his determination and his leadership and his ability to play. He's going to make it hard for someone not to play him because of the person he is, his work-rate and his ability to just play. You'll see him continue to get better. He'll rise to every challenge, and the next level is another challenge.
"He knows getting drafted and getting a contract isn't the end of the line; it's what you do with it and how long you sustain it. You've seen guys come through Wake Forest that have had 10-12 year careers and guys that have had one season careers, and I think he is determined to make a living out of playing this game."
By the end of his senior year, Hayes was the attacking leader of a juggernaut Wake Forest team. From a midfield position, Hayes led the Demon Deacons with eight goals, helping push the team all the way to the College Cup final, a 5-4 penalty kick loss to Stanford.
Muuss says that Hayes is a "no frills" guy, one with no kinks in his metaphorical armor. He jokes that Hayes is someone that would be the ultimate baby-sitter, a guy that can talk for days about physics with a stern look on his face and then sit down and watch cartoons for hours on end.
His off-the-field resume is virtually unmatched. A 3.758 GPA while majoring is physics is as impressive as it comes, and his honor as the 2016 Senior CLASS Award winner only validated the type of professional an MLS team will be selecting on Jan. 13.
The question is about what comes after. Is he a right back? Not really, Muuss says, although he's more than confident in Hayes' ability to play the position. Is he a winger? Kind of, although he likes to cut inside and create space. Muuss says Hayes' ability to use his low center of gravity to turn players is the best he's ever seen, as his balance and ability to find pockets make him a special player in the attacking end.
In his own mind, Hayes is a midfielder through and through. Like Iniesta, like Xavi, he believes his size is a weapon, not a detriment. Being on the ball, he says, feels like second nature, but it's the off-the-ball movement that he's most proud of. Growing up, Hayes says he was never expressly taught what to do when he doesn't have the ball, but his years at Wake have refined his ability to read the game.
"I feel like I can play in the midfield at the next level," Hayes said. "I feel like I'm technical enough and physical enough to win balls back for the team. These past few years, I've worked on the attacking pieces of my game to play forward and play up in the attack. I see myself in the midfield, but I understand that it may not happen. I'm comfortable playing outside back or on the wing but I feel I'm at my best in the midfield.
"My favorite player in MLS is Darlington Nagbe, and hopefully I can work myself to his level. He's doing really well in MLS. He's on the national team. That's kind of the player I want to be when I go to MLS."
Hayes is correct with his use of "when". His chance in MLS is coming, just days away. It will be a day of change. For the first time since childhood, some of the structure will be gone. There will be no more school, no more homework, and Hayes joked that he'll have to find a new hobby.
The midfielder does plan to go back to school someday. During the season, he'll read articles, staying up to date on new technologies and research. Eventually, he'll return to graduate school, maybe take some masters courses to further pursue his second passion.
But first, there's draft day and then the opening of a whole new door. Hayes' focus is entirely on MLS and what's to come: the realization of a dream that's been growing since he first saw Iniesta and Xavi defying the odds on his TV screen.
"It's super exciting," Hayes said. "You're on the cusp of realizing your dream and what you've been working on for years. You always dream of becoming a professional player and, for it to be just a few weeks away, it's really special. It's a little nerve-wracking because you can be anywhere in this country or in a few spots in Canada. There's uncertainty, and that's a little unsettling, but it's still all excitement for me right now.
"I want to walk on stage and shake the commissioner's hand and see my parents int he audience. It will be the culmination of all of the hard work paying off. I realized that once draft day hits, there will be a whole new series of goals I'll need to hit, but it will be a breath of fresh air. All of the work I've put in and sacrificed, it will have finally paid off."