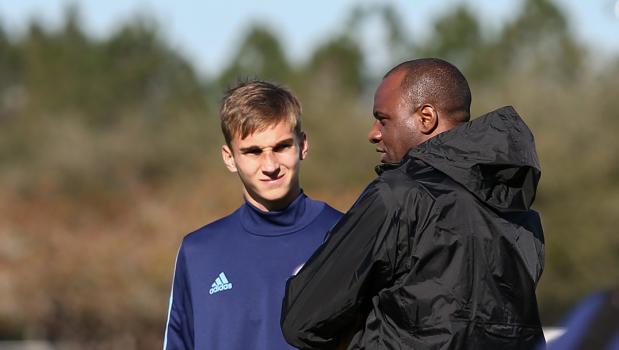 Early in the 2016 MLS season, New York City FC's Director of Football Operations, Claudio Reyna, was asked to predict when his club would sign its first Homegrown player.  Reyna indicated 2018 while admitting that it was an ambitious timetable.
16-year old James Sands may have accelerated the process.
NYCFC head coach Patrick Vieira pondered his starting XI for the Wednesday scrimmage at Emelec, one of the premier clubs in Ecuador. A raucous crowd at a refurbished stadium near downtown Guayaquil would provide an electric atmosphere. Sands gained the nod.
"This is a challenge I want to give him and we have to see how he will respond," said Vieira while sipping a latte at the hotel prior to the match. "It's going to be really tough for him since it is his first game at this level."
"I think he's played in front of 2,000 fans, tops," said Reyna, who has been watching Sands since he was 10 years old. "It's certainly going to be an amazing experience for him – to be a 16-year-old in South America and play with the first team next to Andrea Pirlo with David Villa in front of him – its something he'll never forget."
"I don't expect him to be the best player on the field," added Vieira.
Exceeding expectations, Sands was arguably NYCFC's top performer in the match with 40,000 supporters singing, dancing and providing the sort of atmosphere cherished by professionals.
"It just confirmed how we already felt about him," remarked Vieira following a 2-2 draw against a side that has won Ecuador's first division title in three of the past four seasons. "He made the team play."
Both Reyna and Vieira are heaping enough praise on the Rye, New York native that a promotion from the U-16 Academy to the First Team is a strong consideration if not a foregone conclusion – even though Sands is still attending class in his junior year of high school.
"Age is just a number – it's about his desire to compete and the talent," said Vieira, who signed his first professional contract at 18. "He understands the game like a 30-year old. He's got personality and he's really good on the ball."
Vieira, who smiles broadly when the name Sands is spoken, may have uncovered his no. 6 – the quarterback of the 4-3-3.  Regardless, the club will take a cautious approach with a young man who was three years old when Vieira lifted the trophy for Arsenal in 2004 after "The Invincibles" completed an undefeated season in the Premiership.
"He's proven he can play with the first team," said Reyna, whose son Gio plays with Sands on the NYCFC U-16s. "But we haven't yet discussed that with him or his parents. It's one of the first discussions we'll have when we get back from Tucson. We have to speak to his parents about the possibility of signing but we are not even there yet. We'll take it slow with him and see how he does the rest of pre-season."
That was prior to his showing in Wednesday night's exhibition match.
"We still have a few weeks to make a decision, but he's a special talent that we have in our football club," said Vieira. "We don't want to give him more time if he's ready. There would be no reason not to have him with us."
The NYCFC captain, Villa, has also recognized the distinctive attributes of Sands.
"He's really an amazing guy – so smart, so smart," said the reigning MLS MVP. "We are all very impressed with James. Not only in the game tonight (Wednesday) but in training every day.
"It's good news – very good news for New York City."