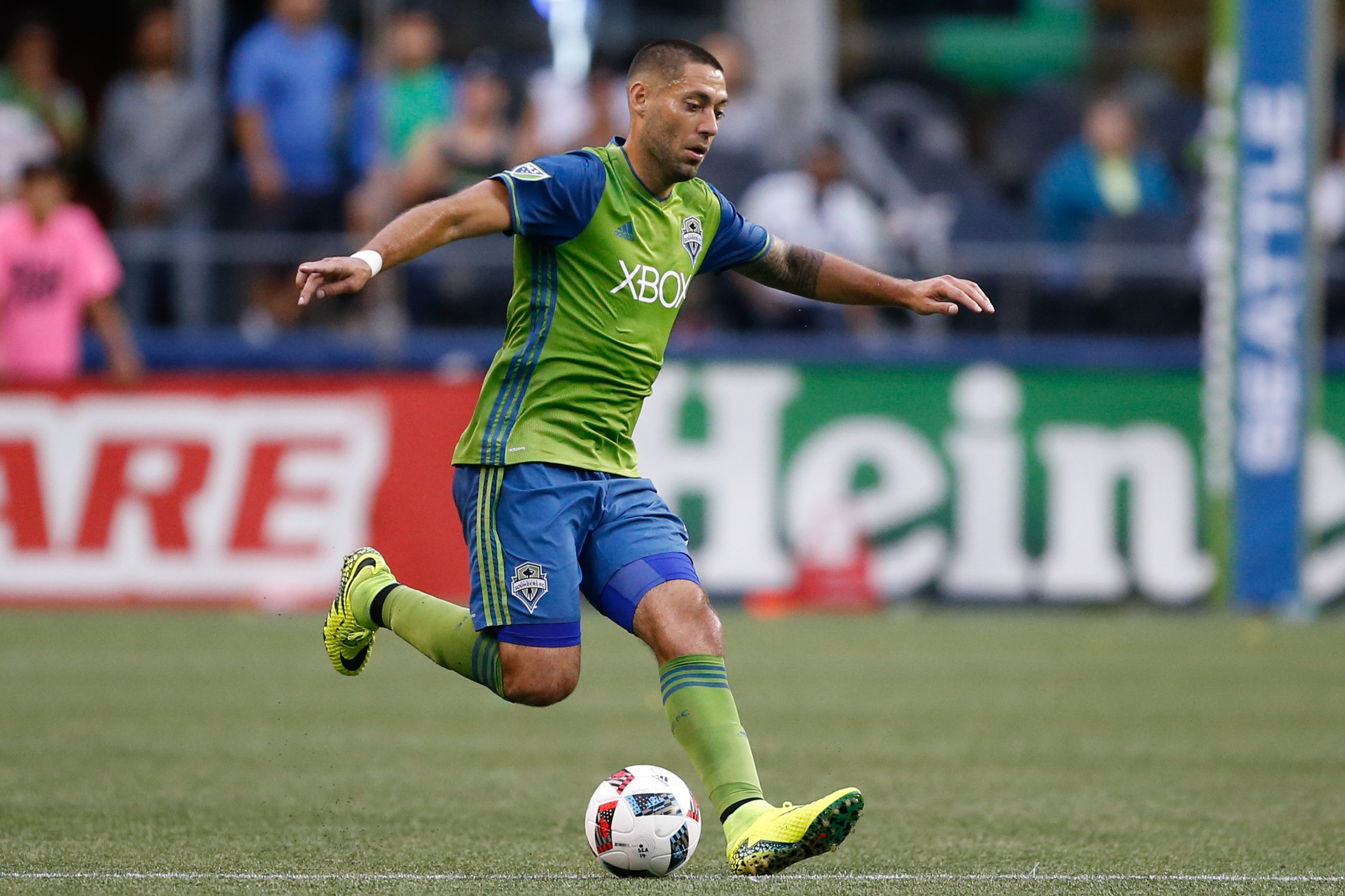 TUKWILA, Wash. — Clint Dempsey is back and ready to help the Seattle Sounders defend their MLS Cup title.
Dempsey, addressing the media for the first time since being diagnosed with an irregular heartbeat last summer, struck an upbeat tone after training on Tuesday.
While declining to delve too far into the details of a heart condition that has sidelined him since mid-August, Dempsey confirmed that he first noticed something was off in February of last year, and started feeling worse after the midsummer Copa America Centenario. That was about as much medical information as he wanted to provide.
"I really don't want to go that much into it," he said when asked for specifics about his condition. "It's kind of my business. But I'm cleared to play, and I took the proper time out that I needed to be out for what was going on. I'm feeling good now."
So good, in fact, that he is nearly back to full strength after making two preseason appearances in Arizona last week.
"I was able to consistently progress and kind of work on my fitness," Dempsey said of his offseason, "and to make sure things were moving in the right direction. It started off slow. (I) had to work my way up, still working up now. But I feel like I'm finally getting close. Feeling like I'm 85 percent, 90 percent back to full fitness."
In other encouraging news, Dempsey said he's undergoing no day-to-day treatments to stay healthy.
"Get good sleep, eat well, take care of your body," he said when asked about any daily maintenance. "Some of the same stuff you were doing before. But I think, for me, sleep is a big key."
Asked more than once to discuss the personal toll of battling something as serious as an irregular heartbeat, Dempsey repeatedly suggested his accomplishments both on and off the field made it easier to contemplate not playing soccer again.
"I'm at peace with what I've done in my career," he said. "I'm happy. I'm married. Four kids. I've gotten to enjoy life. Hopefully there's more life to enjoy. But I'm happy, I'm at peace with my career. I think that keeps you grounded, and just being around family. It's good to be back out here playing again. I think there's more years to play. I just want to enjoy it, and have my kids see me play a few more years."
One of the most accomplished field players in American history simply shrugged off a question about whether he got depressed while working his way back to the pitch.
"I come from Nacogdoches, Texas. The first house I lived in was a trailer house in my grandma's backyard. I've come a long way. (I'm) able to have a family, take care of my family. That's one of the biggest blessings in the world."
As for his future with the national team, Dempsey said he spoke with Bruce Arena late in 2016.
"We had a good talk," he said. "I owe a lot to Bruce. He's the one who first allowed to me to be with the national team, and helped me achieve my goal and dream as a kid: to play in a World Cup, score in a World Cup. It'd be great to get back in with the U.S. team. But to do that I have to do well here, and that's the main focus: being here with Seattle and trying to make an impact on the field here."
Dempsey has delivered 34 goals and 22 assists in 72 appearances with Sounders. It could spell trouble for the rest of MLS if he is indeed ready to return to his old ways. In the four brief games head coach Brian Schmetzer was able to field Dempsey alongside Nicolas Lodeiro and Jordan Morris last summer, the Sounders were 3-0-1, outscoring opponents 9-4 in the process and igniting a remarkable run that ended with an MLS Cup trophy.
"(Dempsey) was part of the spark that got us going," Schmetzer said Tuesday. "The train had to get rolling down the tracks, right? The four games we had him (with Lodeiro and Morris), we drew with the Galaxy and won the next three. He was a vital part of our team last year, and we're hoping that kind of success can follow this year."
"Yeah, it was fun," Dempsey said of playing with Lodeiro and Morris. "(Lodeiro) was kind of the missing piece that we needed, and I think everybody could see what Nico brings to the team and how he gets the ball moving. He was able to make things happen a little bit more in the attacking third especially, but he's also someone who works extremely hard defensively. But, yeah, I'm looking forward to it. While we were all three playing together I was having a great time."