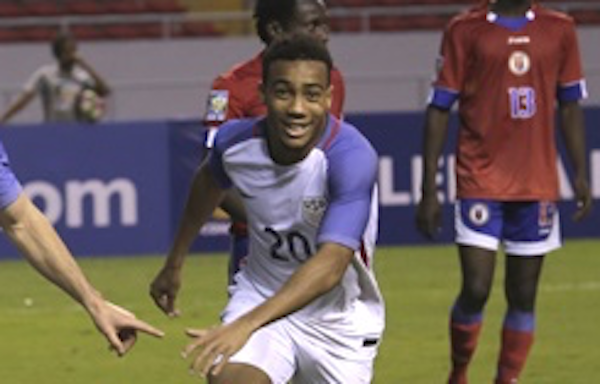 Brooks Lennon may have brought the finishing touch, but it was Jonathan Lewis who stole the show for the U.S. Under-20 Men's National Team on Tuesday night.
Lewis drew a penalty kick , helped set up the U.S. U-20s' third goal, and created several other chances during Tuesday's 4-1 win over Haiti. The victory was a vital one for the U.S., who remain alive in World Cup qualifying thanks to a Lewis performance earned honors as SBI U.S. U-20 Man of the Match.
Down a goal early, the U.S. was in need of a spark, and it was Lewis that provided it. After darting into the Haiti box, Lewis was hauled down, paving the way for Lennon to fire home the equalizing goal. From there, Lewis and the U.S. took over. A Luca de la Torre finish early in the second half gave the U.S. the lead before Lewis kickstarted the sequence leading to Lennon's second by beating his man with a bit of trickery on the left-hand side.
Throughout his time on the pitch, Lewis was the most creative and consistent attacker, earning him SBI U.S. U-20 Man of the Match over Lennon and De la Torre.
What did you think of Lewis' performance? Which player stood out to you on Tuesday?
Share your thoughts below.