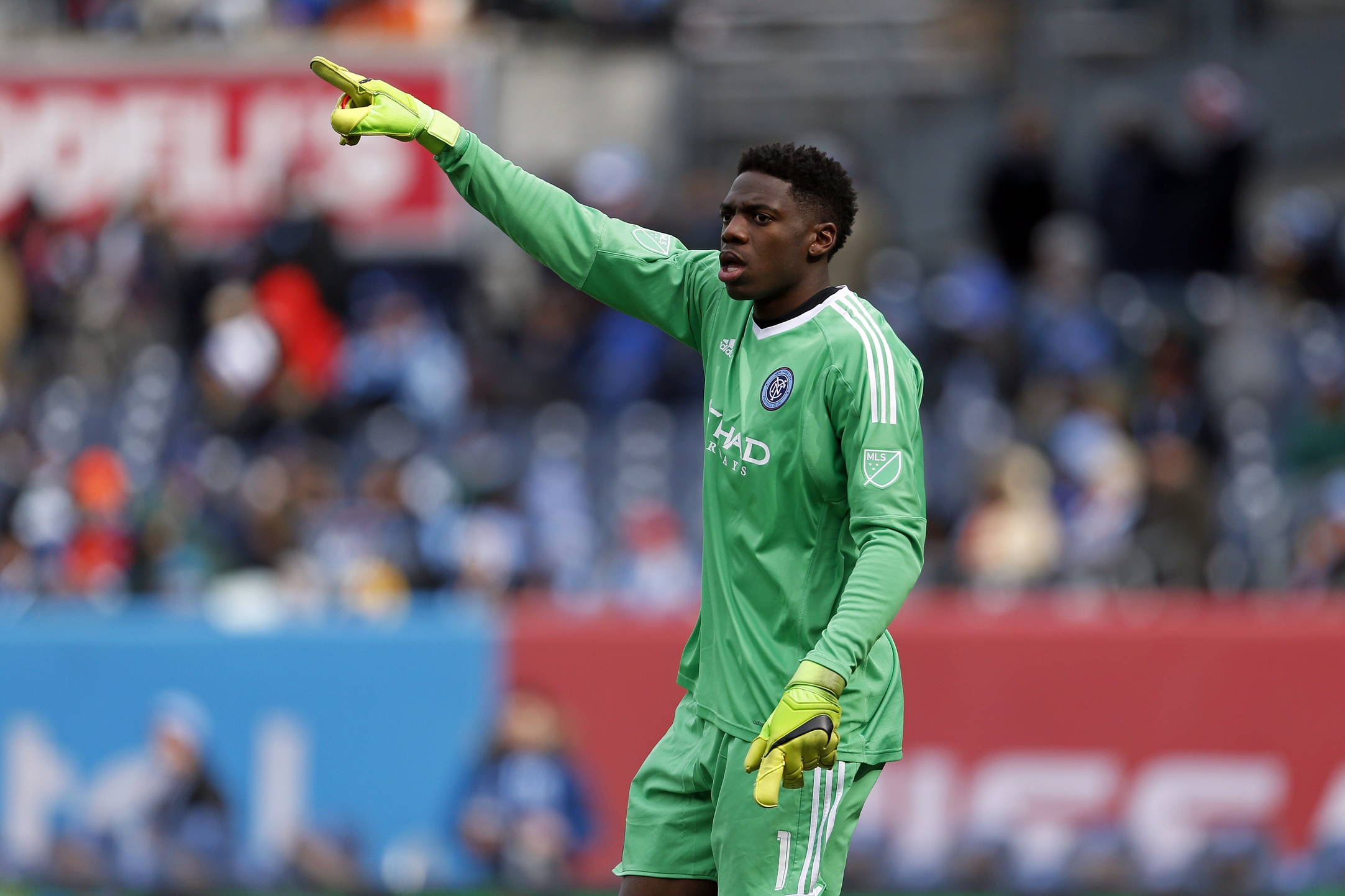 The cities of New York and Chicago have always been just a bit different, even if they have plenty in common. They're two of the most recognizable metropolitains in the world, but both present an entirely different vibe. They aren't traditional rivals by any means, except when it comes to pizza, even if their respective sports franchises have collided for plenty of memorable moments in the past.
For seven years, Sean Johnson called Chicago home. He was one of the faces of the Chicago Fire, a player that remained constant in an era of change. But on Dec. 11, Johnson's life was changed as he suddenly became a vital piece of New York City FC's defensive rebuild.
Relatively untested in the team's opener, the 27-year-old goalkeeper had his proper "Welcome to New York" match on Saturday afternoon. While his new team's attack ran D.C. United rampant for four goals, Johnson made four saves, preserving a clean sheet in his first home match as an NYCFC player.
"This club is such a big club and there's a really high standard," Johnson told SBI. "There are so many resources and a great technical staff. For me, the change has been good. It's been a good adjustment to see how things are done properly.  They do everything right and want to give us the best chance we can at getting results. It showed today: the commitment from not just the players, but the technical staff and the organization."
For years, Johnson was a vital piece of another organization. During his time with the Fire, he made 176 appearances, helping anchor the team in an era that certainly didn't feature much winning. He was, generally, a fairly consistent presence, earning five U.S. Men's National Team caps while forging a reputation as one of the best young goalkeepers in MLS.
Entering 2017, though, NYCFC found themselves in need of a new shot-stopper. Through their first two seasons, the club relied on Josh Saunders. The veteran was, at his best, a steady presence in back and, at his worst, prone to mistakes. Those inconsistencies led to Patrick Vieira making a move just before the postseason, starting Eirik Johanson as NYCFC closed the year on a sour note with a 7-0 aggregate loss to Toronto FC in their first postseason series.
As the offseason began, the club made finding a new goalkeeper a priority. They believe they found one in Johnson, who was acquired by way of a short-lived trade from the Fire to Atlanta. Now, Vieira sees a goalkeeper that fits what he's looking for, even if there are times where the French legend is looking for Johnson to adjust his game more to NYCFC's style. Those moments will come, but, at least on Saturday, Vieira was impressed.
"Sean was really calm, really composed," Vieira said on Saturday. "He made an important save at the right time. Today, every decision that he made was a good one."
David Villa says he sees Johnson as a calming presence. The Spaniard cited the goalkeeper's body language as key, stating that it's vital in inspiring a bit of confidence from the backline.
However, the chemistry aspect is, admittedly, still a work in progress. On Saturday, NYCFC fielded a defensive unit featuring Ethan White, Maxim Chanot, Alexander Callens and Ronald Matarrita. That's four players from four countries with four vastly different styles, and Johnson is still adjusting to each of them. The goalkeeper says he finds himself barking out instructions in Spanish and English, but said he's looking forward to communicating more effectively with a group he calls "a good mix".
"Week-to-week, we're just more comfortable where we know where each other is going to be," Johnson said. "We don't have to think twice about playing a ball. I think everyone is confident and that's the most important thing.
"We got the first game out of the way on the road, which was good for us to get those nerves out, but I think we're getting more and more comfortable but we can't get comfortable with this win. We have to keep pressing on and pushing ourselves to take things to the next level."
Saturday's performance was a heck of a start. It was a clean sheet, just NYCFC's 12th in the club's young history. The team was never on the backfoot and Johnson did well to shut the door on the few clear-cut chances D.C. actually had.
For Johnson, it was a great beginning to life at his new home. There's still adjusting to do, both on and off the field. He's still learning to navigate the changes that come with swapping cities and clubs but, day-by-day, he's becoming more and more comfortable in his new surroundings, which certainly bodes well for an NYCFC team that seems to have found a long-term answer at the goalkeeping position.
"I'm happy with the win. Always, I want to get better, but at the end of the day, we're going to enjoy this one," Johnson said. "We're going to enjoy our game in front of our home fans. For my first game in front of my new fanbase, I wanted it to be a good one and I think everyone can say we're happy with this result today."