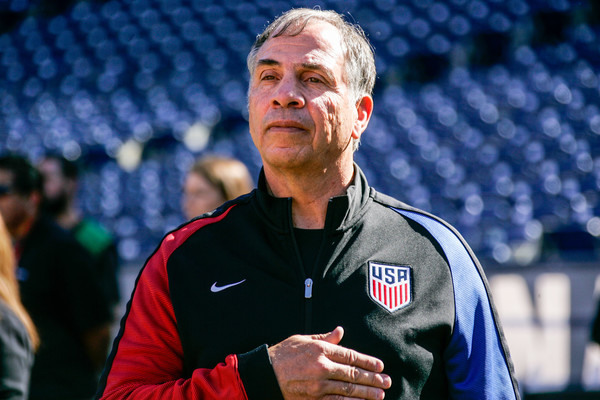 Bruce Arena had seen CONCACAF's version of World Cup qualifying before. It's far from the beautiful game, nowhere near easy on the eye. It's a streetfight between white lines with a soccer ball somewhere in between.
On Tuesday, Arena and the U.S. Men's National Team was involved in one of those streetfights, and they emerged with a point to show for all of the bruises earned.
Tuesday's clash was exactly what Arena expected: ugly, physical and, most importantly, challenging. A visit to Panama was never going to look like the 6-0 defeat over Honduras that preceded it. With that in mind, Arena and the USMNT departed Panama with their heads held high and a valuable point to add to their growing tally.
"Every game is a different game," Arena said following Tuesday's 1-1 draw. "Today, the environmental conditions, field, officiating, opponent, were all different than the last game we played. We by no means expect this game to look like the game on Friday and, in fact, we expected it to look the way it looked today.
"A very good team in Mexico came in here and didn't score a goal and got a point. Panama has proven to be a difficult team to play at home."
Arena says he got what he expected from Panama and wasn't surprised by anything he saw on the field. Panama is traditionally a very aggressive team, and they were motivated by the lingering effects of last cycle's disappointment. They came out to attack early and often, pushing the USMNT onto the backfoot throughout the match.
The U.S., meanwhile, was facing a battle of their own as Arena strung together a makeshift defensive unit of Graham Zusi, Tim Ream, Omar Gonzalez and Jorge Villafana. The group faced a difficult task, but did crack late in the first half to allow a goal from a throw-in.
Arena pointed to the fact that the unit had never played together before, calling them "pretty solid" aside from the sloppy goal. Generally, he was pleased, as the group held up in what was an ugly clash between CONCACAF contenders.
"It was just a rough game," Arena said. "Panama was determined to be physical, play hard, and, to their credit, they through us off our game a little bit."
While the goal was disappointing and they actual soccer was even more so, Arena did find positives. He was very satisfied by the play of Christian Pulisic, who set up Clint Dempsey on the game's lone goal. His substitutes stepped in and handled business, helping kill the game late. Specifically, younger additions Kellyn Acosta and Paul Arriola caught his eye with their effort as the game wore down.
Still, Arena made sure to reiterate that it's going to take time. He still hasn't quite pieced his ideal team together thanks to the unforgiving injury bug, and he hopes to do so in the coming months. The USMNT was missing nearly a dozen players on Tuesday night, and introducing them is next on Arena's agenda.
The next step? June qualifiers, where the USMNT hosts Trinidad & Tobago before traveling to the famed Azteca to take on Mexico. It's another set of daunting matches but, after securing a vital four points, Arena and the U.S. feel a bit more confident with where they stand.
"We're obviously in better shape with four points in two games," Arena said. "We've made progress. Every game in qualifying, the remaining six games, are going to be critical for every team. Every team is in there. Mexico is on top, so they have the jump on everyone.
"It's going to be a battle for the second, third and fourth spots. We made a lot of progress and somehow managed to get through an unusual amount of injuries, so I give our players a lot of credit."