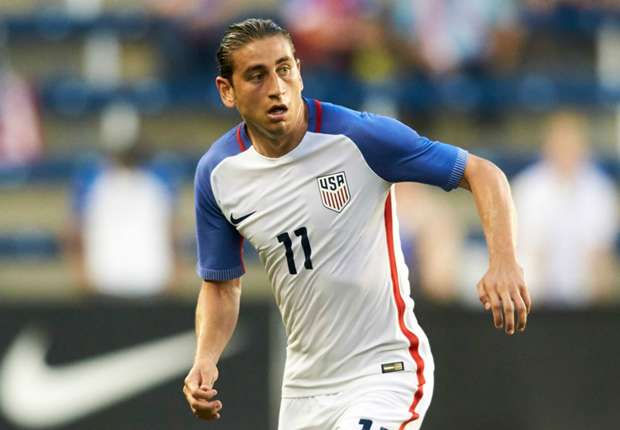 On paper, the U.S. Men's National Team is in a hole after two disappointing losses to start the Hexagonal round of CONCACAF World Cup qualifying. However, with a new coach, Bruce Arena, in charge, one of the team's veterans is welcoming a clean slate entering next Friday's clash with Honduras at Avaya Stadium.
Philadelphia Union midfielder Alejandro Bedoya was one of the 24 players called in for the contests against Honduras and Panama, and he should play a big role as the Yanks attempt to surge up the Hex table, something he wasn't able to do against Mexico and Costa Rica.
"For myself, I was disappointed that I didn't have a part to play in those games; I felt like I could've made a difference," Bedoya said. "So I was disappointed. The Costa Rica game, I was injured and sitting on the sidelines watching that bad game from us – everybody knows it was awful. But I think now, those games are put behind us. They're three months ago, four months ago. It's like a clean slate now but with a little more urgency"
"So I think that atmosphere in January was fresh with the new coaches and everybody was looking forward to working with each other," Bedoya said. "I think everyone has taken to Bruce's way of going about things, so I think it's a good fresh start and hopefully we'll see that work well in these games."
Bedoya, like many of his teammates, is excited to see Clint Dempsey back in the camp after the forward dealt with an irregular heartbeat that forced him to miss the opening pair of Hex matches. Regardless of what impact Dempsey has on the field, his presence alone will boost the morale of the USMNT.
"It's nice to have Clint back; I'm happy for that," Bedoya said. "He's a big-time player for us and obviously that he's healthy is the big concern, but to have him back in the group, it bodes well for our confidence and we know he can score goals and help the team out. Everybody knows that these are the big, big, big games and very important for us to qualify."
" To have him back, it puts things in perspective with his health," Bedoya said. "And having him around with his experience, even if he doesn't play, he brings that intensity in training because that's just his personality. I think guys are able to feed off of that, and that's what these games are about."
Bedoya admitted the January camp served its purpose, and it handed players like Dax McCarty and Sebastian Lletget the opportunity they needed to break into the squad for the Honduras and Panama matches.
"That's what January camp was about; we saw some new faces and guys could prove themselves," Bedoya said. "Dax has done a great job in MLS. Sebastian for me – I said it during January camp – he was the one that impressed me the most, his style of play, his engine, his motor, he's all over the field and just the way he shifts his body and he's very technical on the ball. So it's nice to see them being rewarded. If they're on the field, I know they'll make a difference."
Bedoya was one of three Philadelphia Union players invited to January camp, but only he stayed on for the Hex matches. Despite Bedoya being the only man representing the Union crest this time around, Union manager Jim Curtin is hoping that will change soon.
"Jurgen (Klinsmann) trusted Ale and he's earned Bruce's trust in a short amount of time so that's a real positive with him and the club," Curtin said. "It needs to be said with (Chris) Pontius, they're very high on him with talking with Bruce and his staff. (But for the Hex he needs) guys he knows he can trust in big games, big moments."