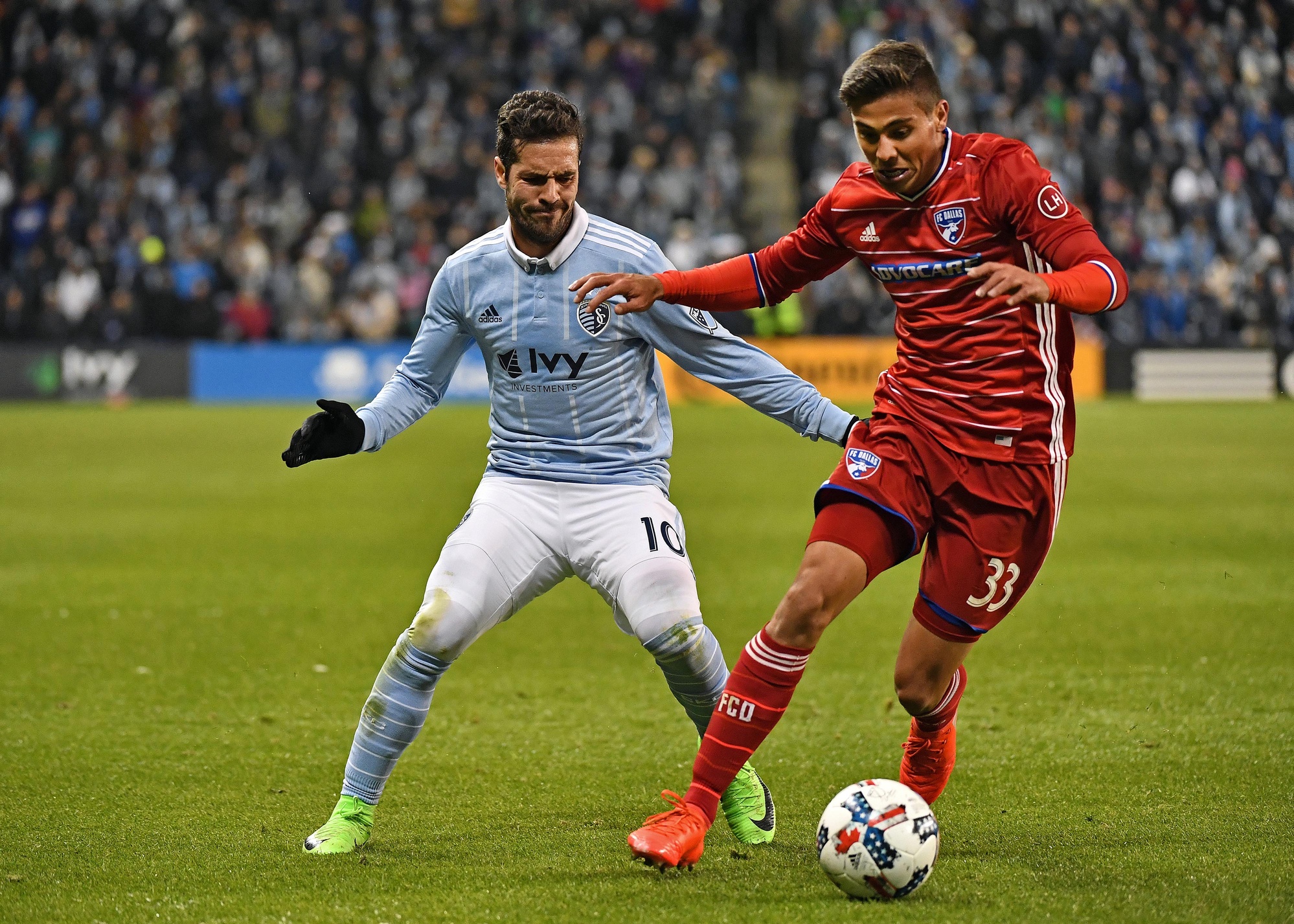 KANSAS CITY, Kansas — When the FC Dallas lineup for Saturday's match against Sporting Kansas City was unveiled, the home fans at Children's Mercy Park might have thought their team was in for an easy win.
FC Dallas had other plans.
Oscar Pareja chose to rest several key starters ahead of Wednesday's CONCACAF Champions League semifinal against Pachuca, and went with a young lineup, a lineup that frustrated Sporting Kansas City on the way to a 0-0 draw on Saturday.
Sporting KC was on the attack for almost the entire 90 minutes, but couldn't break through a compact and organized FC Dallas defense. Peter Vermes' side managed 14 shots, but only two of them were on goal, while FC Dallas was able to generate some dangerous chances despite staying in a defensive shell for much of the night.
New Sporting KC holding midfielder Ilie Sanchez followed up an excellent debut with a difficult home opener. Sanchez committed a giveaway in the first half that could have put Sporting behind if it weren't for a highlight save from Sporting KC goalkeeper Tim Melia.
FC Dallas started 17-year-old Homegrown player Paxton Pomykal along with rookie Jacori Hayes in the midfield. Pomykal appeared beyond his years in the FC Dallas midfield, playing 80 minutes in the draw.
FC Dallas coach Oscar Pareja kept centerback Walker Zimmerman and starting goalkeeper Chris Seitz on the bench, presumably to rest them for the CCL clash. Midfielders Kellyn Acosta and Michael Barrios were also left out of the starting lineup, but both came on as second-half substitutes.
FC Dallas made it four points from two road games to start the MLS season, and will now move on to face Pachuca in the CCL semifinal first leg. Dallas' next MLS match is next Saturday at home against New England. Sporting KC is at home next weekend to face the 2-0 San Jose Earthquakes.
MAN OF THE MATCH
FC Dallas centerback Matt Hedges played without his reliable partner Walker Zimmerman on Saturday. Hedges was a crucial reason why FCD stopped Dom Dwyer from scoring his first goal on the season.
MOMENT OF THE MATCH
In the 28th minute, FC Dallas nearly grabbed a surprise lead. Cristian Colman's shot off the post on the counter attack could have sent Dallas home with three points.
MATCH TO FORGET
For Sporting KC, Dom Dwyer was nearly invisible. The packed-in Dallas defense forced Dwyer wide frequently, and the English forward failed to record any great chances at scoring.