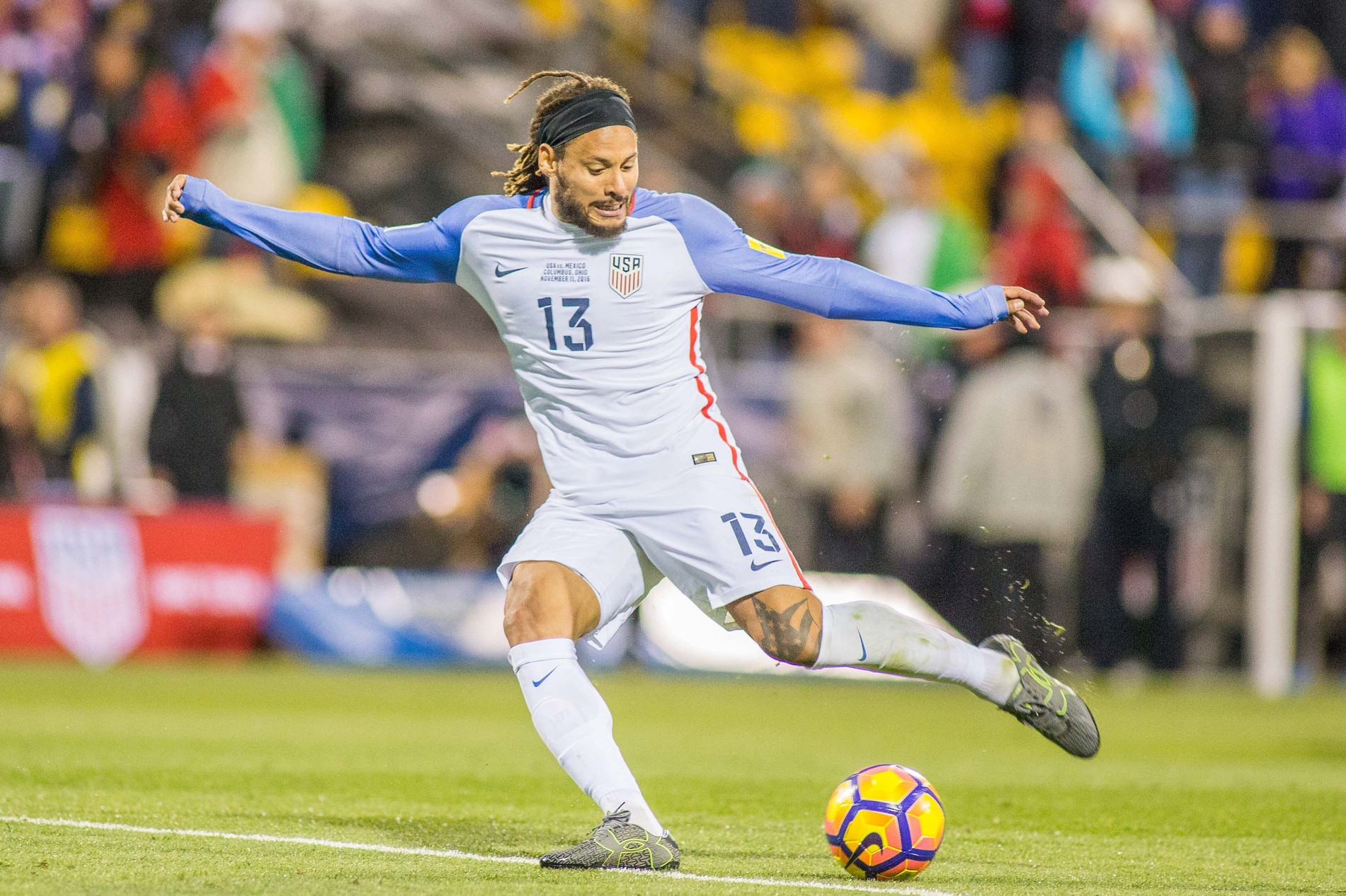 Jermaine Jones watched on as the U.S. Men's National Team pummeled Honduras on Friday. He watched his teammates dice the Honduras defense, watched as the U.S. all but recovered from November's nightmare to seal a historic World Cup qualifying win.
But, throughout his career, Jones has made it quite clear that he isn't one for watching. He's not one for the sidelines or the luxury box, not one for enjoying the ride as others do the legwork. The USMNT midfielder felt overwhelming joy for his teammates' efforts in a 6-0 demolition, but he also felt the conflicting frustration produced by the fact that he wasn't a part of it.
On Tuesday, Jones is eligible to return to the USMNT squad. He's free from the shackles of suspension, the misery of being excluded from Friday's World Cup qualifying win. Panama looms, and Jones is ready to play his part.
"I think from both sides," Jones said. "I was happy that we won the game, and on the other side, it's really not nice. Now, I'm happy to be back. I'm looking forward to that game. It's a really important game.
"For me, it's always a pleasure to play for this country," he added. "Every time I step on the field, it's something special. I'm happy to be back now and I'm looking forward to the game against Panama."
Jones is likely to play some role on Tuesday as the USMNT faces off with Panama in their fourth Hexagonal clash. Head coach Bruce Arena made Jones a part of the camp despite his suspension while leaving Timmy Chandler in Germany to serve his. It was a sign that Arena still has high plans for Jones for Tuesday night's clash.
Jones' contributions will almost certainly come in the middle. Friday's victory saw Sebastian Lletget take the field, and shine in the process, scoring a goal early to kickstart the USMNT rout. However, an injury derailed his match just several minutes in, forcing Arena to reshape the central midfield for Tuesday.
Jones is likely to jump in, giving him the chance to return to the World Cup qualifying push. His game remains unchanged since the day he first put on a USMNT jersey in 2010. He brings a youthful energy and pursuit to the game as he outhustles and outmuscles opponents, valuable characteristics for the rigors of CONCACAF play.
Still, for as good as his physical game is, Jones has embraced what's apparent: his time is winding down. There won't be many more nights like Tuesday, many more chances to represent and contribute to his national team. It's far from time to reflect, but that doesn't mean that Jones doesn't feel the sense of urgency that comes with admitting his career's mortality,
"I always said I wanted to make my dream come true and go to one more World Cup again and maybe, I think, retire from the national team," Jones said. "To make it happen that this country goes, it's not only a big goal for me. For Tim (Howard), for Clint (Dempsey), for all of the guys that maybe have their last shot with this World Cup in Russia."
Tuesday's match, Jones says, will be a tough one. Conditions in Panama will be difficult. The heat will play a role, the field may not be ideal and Panama, following a loss of their own, will be out to prove themselves. The U.S. can't expect another 6-0 cakewalk, even if they've had success in Panama in the past.
For Jones, the idea is keeping perspective. He's been through this process before as he helped lead the U.S. to and through the 2014 World Cup. Like Dempsey and Howard, Jones is a steady and calm presence in the locker room, very much opposed to his frenetic and energy-filled game between the lines.
The key, the midfielder says, is keeping calm and focusing on the task at hand. He's glad to be back and he once again feels the rush that comes in the hours leading to a World Cup qualifier, but Jones knows what lies ahead and the challenges that he and his teammates will face on Tuesday night.
"We won one game," Jones said. "We can talk after the Panama game. If we have six points, we can talk, but it's way too early to say we're already done for Russia.
"When everyone is focused and on the same page, we have a good team, a good quality, but you have to show it every time, not only once."