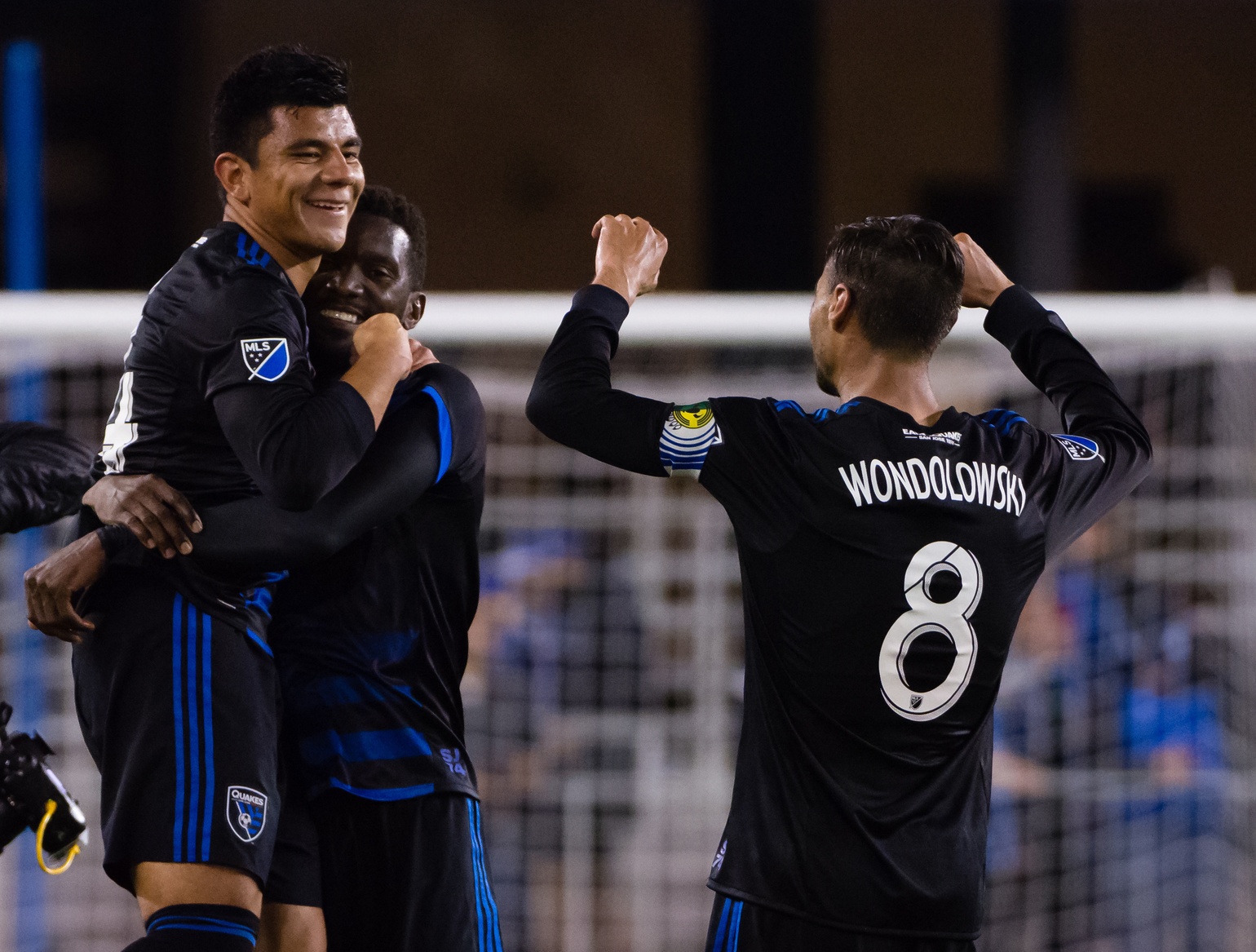 It was only a matter of time before the second-ever Homegrown signing for the San Jose Earthquakes, Nick Lima, scored a goal.
He's taken shot after shot throughout the preseason, and in last week's season-opening win against the Montreal Impact. However, each shot has either gone just wide of the net or just high.
That changed in the 54th minute of the Earthquakes' 3-2, come-from-behind win against the Vancouver Whitecaps on Saturday night. Lima scored his first career MLS goal, drilling a ball on first touch past Whitecaps' keeper Pablo Tornaghi off of a pass from captain Chris Wondolowski.
"It's just now sinking in, but it feels fantastic," Lima said afterward. "It was great work by Jahmir [Hyka] to get it into [Wondolowski] and when I saw him kind of deep and I was trickling forward, I called for the ball and I knew I had to be ready and just keep it on frame.
"It's a good feeling, but getting the win is the best feeling. That's what we're supposed to do at home."
The win marked the first time since June 29, 2013 against the L.A. Galaxy that the Earthquakes came back from a two-goal deficit to win and the first time since May 11 of last year that the club scored three goals in a win.
The goal made Lima the first-ever Earthquakes Homegrown player to score a goal for the club and he did so in just his second MLS match.
"The title doesn't really mean much," Lima said. "It's nice to get a goal, and obviously the first goal is awesome and I'm happy for it, but getting a win at the end of the day is most important. It's a long season. Hopefully, there will be more of them. But the ultimate goal is the MLS Cup and that title means a lot more."
Lima's presence has already been noticed throughout MLS, let alone San Jose since his regular season debut just a week ago – earning MLS Team of the Week honors for his defensive efforts, most notably for how he shut down the Montreal Impact's big threat Ignacio Piatti.
This week, Lima played a crucial role in helping create scoring chances for the Quakes from the right wing. He was able to find separation to send in crosses and keep the Earthquakes inside Vancouver's third.
"I think he's playing pretty well," head coach Dominic Kinnear said  "Secondly, we are encouraging him to get forward because we think that's a good part of his game. There's just a little bit of spotlight on him because he's a young guy and he's playing well and he scored a nice goal for us."
Lima's night wasn't perfect against Vancouver. He was the first man beat on the Whitecaps' second goal, as Erik Hurtado was able to fight him off just outside the box and nearly sent him to the ground just before his pass to Nicolas Mezquida in the 17th minute.  That was his lone blemish defensively. He was able to stop the attacks by the Whitecaps in the second half as the Earthquakes were looking to rally back.
"(I) still have a lot to learn," Lima said. "There's stuff I'm learning every day. Today, there were mistakes made. Hopefully I get a lot of minutes, and as I play games I'm going to continue to learn and grow and figure things out."
The Earthquakes are known for their gritty, blue-collar approach to each match. Despite not having as talented a roster the past few years compared to other clubs, they've always been up to the challenge. Lima fits that blue-collar, gritty mold perfectly. In fact, he enjoys the process, which makes him a perfect fit in San Jose – besides being from nearby Castro Valley.
"I just keep my head down and get to work every day and its fun," Lima said. "(I) get to play soccer for a living and that's most important to me."