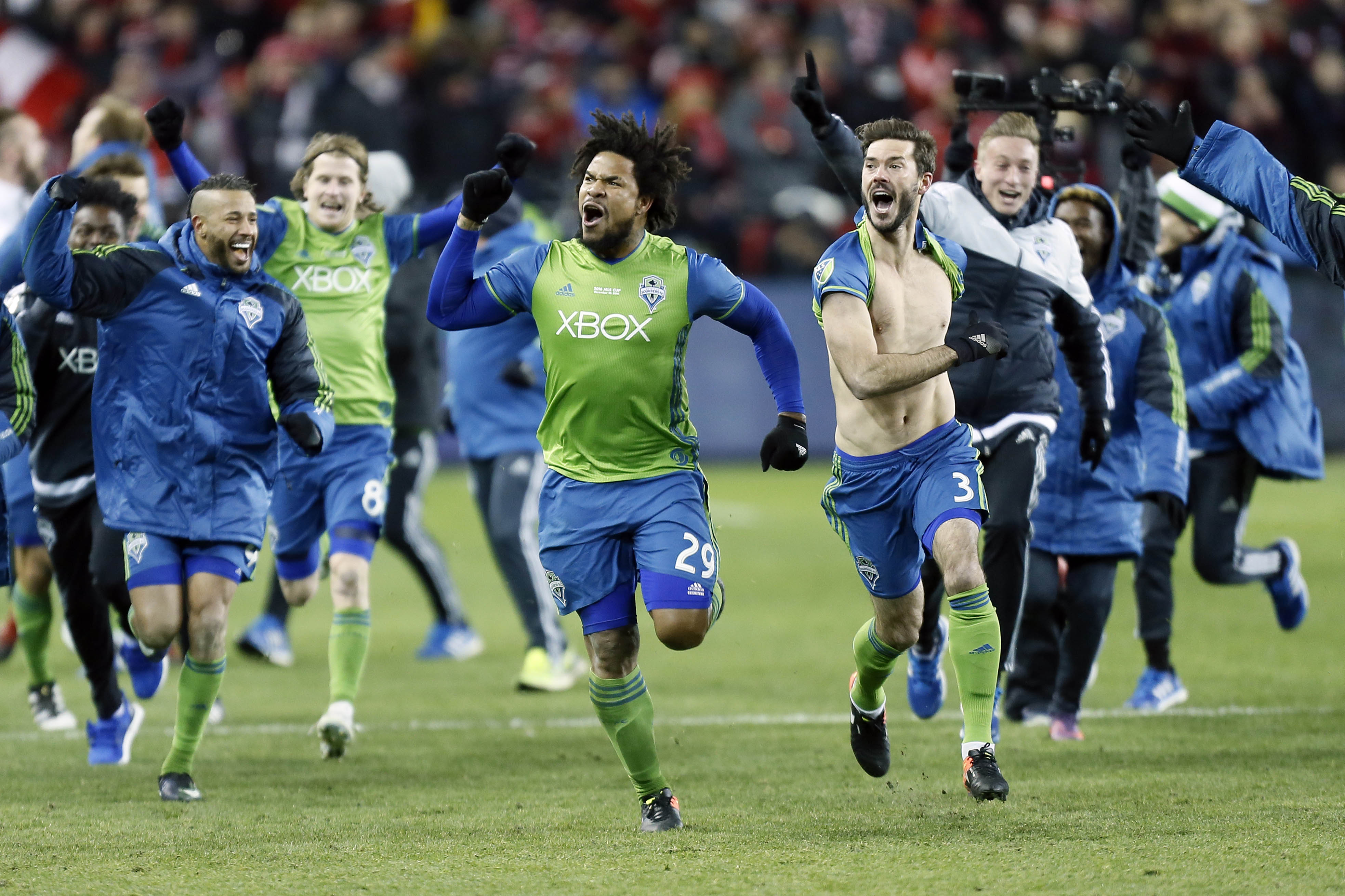 The 2017 MLS season is upon us, and with it comes an exciting slate of matches featuring all 22 teams over an action-packed weekend.
The season kicks of Friday night in Portland, as the Timbers welcome new expansion team Minnesota United in their first ever MLS match, nationally televised on Fox Sports 1. The other new team this season, Atlanta United, kicks off on national TV when they welcome the New York Red Bulls to Bobby Dodd Stadium on Sunday, also via Fox Sports 1.
The defending champions return to action on Saturday night, as the Seattle Sounders travel down south to Texas where they'll face the Houston Dynamo to begin their title-defense. Meanwhile, Toronto FC seek to make it back to the MLS Cup final after their heartbreaking penalties defeat, and they'll start their return trip on Saturday afternoon against Western Conference foes Real Salt Lake.
The national TV action is capped of by what is frequently a high-scoring affair, as New York City FC and Orlando City open their seasons against one another for the second time in three years, this time debuting Orlando City Stadium.
Here's a closer look at Week 1's schedule:
PORTLAND TIMBERS vs. MINNESOTA FC (Friday, 9:30 p.m. ET, Fox Sports 1)
Welcome to the show, Minnesota United!
The Loons face a stiff test immediately upon entry into the league, facing off against the Portland Timbers on national TV out on the west coast. The visitors had a quiet start to their inaugural offseason, but wrapped up strong with several key signings such as midfielder Kevin Molino and John Alvbage in goal.
Meanwhile, the Timbers fell off hard after the 2015 title, missing the playoffs last season and now aim to bounce right back into them. The biggest move of the offseason is the arrival of new DP midfielder Sebastian Blanco. They'll hope the playmaking Argentinian can combine with established stars like Diego Valeri and boost the Timbers back into the playoffs.
COLUMBUS CREW vs. CHICAGO FIRE (Saturday, 2:00 p.m. ET, MLS Live)
Two Eastern Conference teams who finished low in 2016 aim to bounce back with big improvements in 2017.
The Columbus Crew finished 2016 in third-to-last place in the overall MLS standings, and they used the offseason to bring in pieces like Jonathan Mensah and Mohammed Abu. Add in core figures like Wil Trapp, Justin Meram and Federico Higuain and the Crew should be a bit stronger in 2017.
The Fire, meanwhile, are one of the two teams who finished lower than the Crew. Out are a plethora of players, including Razvan Cocis and Sean Johnson, but incoming are a slew as well, including Dax McCarty, Juninho and Nemanja Nikolic. Whether these new additions can turn the Fire from basement dweller to playoff contender remains to be seen.
LA GALAXY vs. FC DALLAS (Saturday, 4:00 p.m. ET, Univision/MLS Live)
The biggest showdown of the weekend is arguably this match between two top-six overall finishers in 2016.
The Galaxy finished the year third in the Western Conference, but enter with a slew of changes in both the front office and on the field. Out are head coach Bruce Arena and DPs Steven Gerrard and Robbie Keane. In come Romain Alessandrini and Joao Pedro, as well as U.S. Men's National Team midfielder Jermaine Jones. New coach Curt Onalfo has a lot to pull together, but has the personnel to succeed in year one.
Meanwhile, FC Dallas is back to defend its Supporters' Shield-winning campaign. The team returns the bulk of its talented roster, and added a few new pieces to help their repeat chances, acquiring long-time Real Salt Lake legend Javier Morales, as well as Paraguayan striker Cristian Colman as their new DP. Several more key international signings could see FC Dallas return even stronger than 2016.
REAL SALT LAKE vs. TORONTO FC (Saturday, 4:30 p.m. ET, TSN1/MLS Live)
Toronto FC's journey to get back to the MLS Cup final begins with a visit to Utah on Saturday.
Real Salt Lake had the definition of an up-and-down season. At one point competing for the Supporters' Shield, RSL fell off hard and didn't win in their last eight, including a first round playoff exit to the Galaxy. Although the team lost Javier Morales and Juan 'Burrito' Martinez, they more than made up for it with several key acquisitions, including the return of Luis Silva and Brooks Lennon, as well as the signing of new DP Albert Rusnak.
Toronto FC return as almost the exact same team that saw them trample nearly everyone until the very last penalty shootout of the season. The biggest loss is midfielder Will Johnson, now with Orlando City, but the team also gained a new midfield talent in Spaniard Victor Vasquez. The key to Toronto's 2017 success will be continuity and consistency, as well as the health and playing status of their three big DPs, Giovinco, Jozy Altidore, and Michael Bradley.
COLORADO RAPIDS vs. NEW ENGLAND REVOLUTION (Saturday, 6:00 p.m. ET, MLS Live)
The Colorado Rapids return after a surprisingly strong 2016 as they welcome the New England Revolution out west.
The Rapids had a stunning turnaround from mediocrity in 2014 and 2015, posting a historically strong defensive performance en route to a second-place overall finish. The team has faced very little turnover, losing only Jermaine Jones and Marco Pappa from their core roster, but picked up a pair of talented players in Bismark 'Nana' Adjei-Boateng and long-time MLS forward Alan Gordon. The defense will need to be strong again and the young offense will need to develop from day one for a successful 2017.
The Revolution missed out on the playoffs via goal differential, even on points with the Union last season. The Revs have retooled their defense in search of success in 2017, ditching Jose Goncalves and midfielder Gershon Koffie and picking up Antonio Mlinar Delamea and Benjamin Angoua as their primary roster changes. Their talented, but growing, offense will need to help pick up the slack.
D.C. UNITED vs. SPORTING KANSAS CITY (Saturday, 7:00 p.m. ET, MLS Live)
Two 2016 playoff teams clash on the east coast as D.C. United and Sporting Kansas City return to action.
D.C. United ended 2016 as the hottest team through the second half of the season. Patrick Mullins and Luciano Acosta will need to continue their hot form, perhaps with some help from new homegrown youngster Ian Harkes, to repeat their second half stretch.
Sporting KC made several key acquisitions as they hope to repeat their Western Conference playoff performance and more in 2017. Two young, talented wingers join, including Ghanaian Latif Blessing, as well as new DP Gerso Fernandes. They'll join fellow acquisitions Soony Saad and midfielder Ilie Sanchez as potential key talents.
HOUSTON DYNAMO vs. SEATTLE SOUNDERS (Saturday, 8:30 p.m. ET, MLS Live)
The Western Conference cellar dwellers return with new hopes, but face a stiff challenge against the defending champions.
The Houston Dynamo had a 2016 to forget at the bottom of the Western Conference, but enter 2017 with a new hope. Several acquisitions, led by two former LA Galaxy defenders A.J. DeLaGarza and Leonardo, hope to make the difference for the Dynamo.
The Sounders return to action as defending champions, and they may be even better in the first full year of Nicolas Lodeiro's time with the team. Joining Lodeiro will be several new pieces, including Will Bruin, formerly of the Dynamo, and Harry Shipp, as well as midfielder Gustav Svensson coming in from China. The Sounders losses were minimal, and the return of Clint Dempsey almost feels like an unfair addition to a team that won the title with him absent.
SAN JOSE EARTHQUAKES vs. MONTREAL IMPACT (Saturday, 10:00 p.m. ET, TVAS/TSN1/MLS Live)
The Impact made a deep playoff run last year, and the Quakes hope to join them in 2017.
The Quakes made a few key moves over the offseason, signing several foreign stars such as Danny Hoesen and Florian Jungwirth. The only departures from the team were Bryan Meredith and Chad Barrett via free agency, leaving the Quakes with a net gain and hopefully better net results. Head coach Dominic Kinnear certainly hopes so, as he'll be on the hot seat quickly if the team gets off to a bad start.
The Impact, coming off the high of 2016's Eastern Conference finals run, lost a few talents to the two new expansion sides, including Johan Venegas, Donny Toia, and Romario Williams, and didn't do much in the way of signings, with Chris Duvall likely the biggest impact in that department. The most significant move of the offseason was the resigning of star man Ignacio Piatti, who will lead the Impact as far as they'll go in 2017.
ORLANDO CITY vs. NEW YORK CITY FC (Sunday, 5:00 p.m. ET, ESPN)
Two former expansion sides meet again in Florida as Orlando City open a new stadium.
The Lions had a disappointing 2016, dropping coach Adrian Heath in favor of former NYCFC coach Jason Kreis, en route to missing the playoffs in year two. Kreis will get his first full year with a slightly altered team, bringing in Will Johnson and Jonathan Spector to try and get over the playoff hump. It'll all begin with match one against his former team, adding further intrigue.
NYCFC, on the other hand, had a successful 2016 season marked by a second-place Eastern Conference finish along with a franchise first playoff appearance. The team had significant offseason movement, losing key pieces in Frank Lampard and Andoni Iraola, but made several key signings as well. New DP Maxi Moralez joins to fill the gap left by Lampard, while a slew of talent at every position join him. The defense will need to improve with new signings such as Alexander Callens and new keeper Sean Johnson, for the team to take the next step.
ATLANTA UNITED vs. NEW YORK RED BULLS (Sunday, 7:30 p.m. ET, Fox Sports 1)
The second expansion team kicks off their season with an incredibly difficult opponent as well.
Atlanta United open their season in challenging fashion, taking on the Eastern Conference champion New York Red Bulls to open their history. Atlanta have built themselves a strong roster that seemingly could have them competing for a playoff spot. We'll find out quickly just how good the roster is, as star forward Josef Martinez and company look to make a statement.
The Red Bulls enter the weekend on short rest after their midweek CONCACAF Champions League loss to the Whitecaps, but they'll need to bounce back quickly or risk getting caught out against Atlanta. The Red Bulls didn't add much of anything, but rather lost their captain in Dax McCarty. They'll be counting on youngsters Sean Davis and Tyler Adams to fill the void and help established stars like Sacha Kljestan and Bradley Wright-Phillips repeat 2016's success.
VANCOUVER WHITECAPS vs. PHILADELPHIA UNION (Sunday, 9:30 p.m. ET, TSN1/MLS Live)
The only non-playoff Canadian team seeks to change that against their Eastern Conference foes.
The Whitecaps made several key acquisitions in hopes of building their roster to playoff caliber, including signing former Sounders forward Fredy Montero, along with the unfortunately injured Yordy Reyna, and Brek Shea via trade. Also key to their hopes is young talent Alphonso Davies, who looks ready to make the leap to new heights this season.
The Union barely squeaked into the playoffs in 2016, dropping a ton of points towards the end of the year before getting knocked out for good in round one. Still it represented a significant step forward for the team that they'll hope to build off of with new signings such as Haris Medunjanin, Fafa Picault, Giliano Wijnaldum, and Oguchi Onyewu. The development of their young talent, such as star fullback Keegan Rosenberry, will also go a long way to determining their success in 2017.