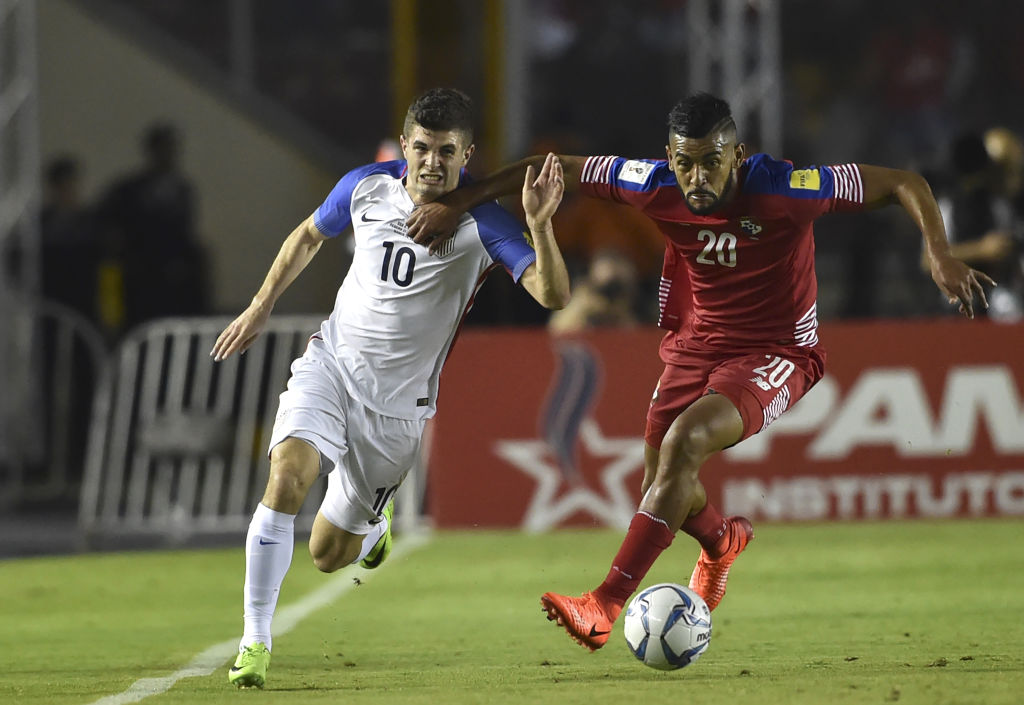 Like everyone else associated with American soccer, Bruce Arena watched from afar as Christian Pulisic ascended from prospect to star. He watched Pulisic dominate the youth level before making the leap into Bundesliga and Champions League play. He watched his initial performances with the U.S. Men's National Team and, like many, was impressed.
On Tuesday, Arena got an up close look at how Pulisic responded to true adversity, and the USMNT coach liked what he saw.
Pulisic shined in a big way on Friday night when the USMNT dominated Honduras, providing a goal and two assists in what turned out to be a 6-0 rout. Still, his efforts on Tuesday were equally as impressive because of the maturity displayed to get there. He was calm, collected and, most importantly, strong, both physically and mentally.
It was that physical strength which set up the USMNT's lone goal, as Pulisic simply brushed off tackles from veterans Roman Torres and Felipe Baloy. He then showed the composure to slide a pass across, finding Dempsey for a finish that earned the U.S. a much-needed point.
"It was a heck of an individual effort on the part of Christian and he laid it off to the guy that can score goals," Arena said following the draw. "It was a lot of individual work on the part of Christian. Jermaine Jones played him the ball and I tell my guys to get him isolated a little bit more. Christian is pretty damn good with the ball in front of goal. It wasn't going to be a pretty game, but it is what it is."
Pulisic was at the center of the game's ugliness, no matter how pretty his own game was. On the ball, the young midfielder was as direct and confident as ever as he drove through the center of the Panama defense several times.
However, he quickly became a target, drawing several fouls while being hacked down a number of other times. From the offset, Panama made it their mission to get in Pulisic's head and, by and large, they couldn't.
"I think it was a good lesson for Christian tonight," Arena said. "I think Panama saw a bullseye on his back and went after him. He has to learn that if the referee isn't going to protect him, he has to deal with it. He did well and created a goal, and it was a good lesson for him.
"That's something you can't explain to him," Arena added. "They have to be in it."
As Pulisic leaves USMNT camp, he leaves as the team's undoubted attacking linchpin. The Borussia Dortmund attacker was given the reins throughout the two qualifiers, given the responsibility of driving the USMNT attack forward.
Now, he faces the expectations that come with it. He's no longer a prospect, a prodigy. Rather, he's a legitimate leader at just 18 years old. It's a responsibility that carries weight, one that has taken down plenty of players just as good as he is.
Arena doesn't expect that sort of fate for Pulisic, a player he sees as being as mentally strong as anyone out there. He learned lessons and taken blows, but Pulisic's evolution continued in a big way through two vital World Cup qualifying results.
"He plays in a big league with a big club team in a big competition," Arena said. "It's all part of the process. In club play, the players are probably a little bit more protected than they are in World Cup qualifying. It's all part of the learning curve and next time around, he'll be better for it."