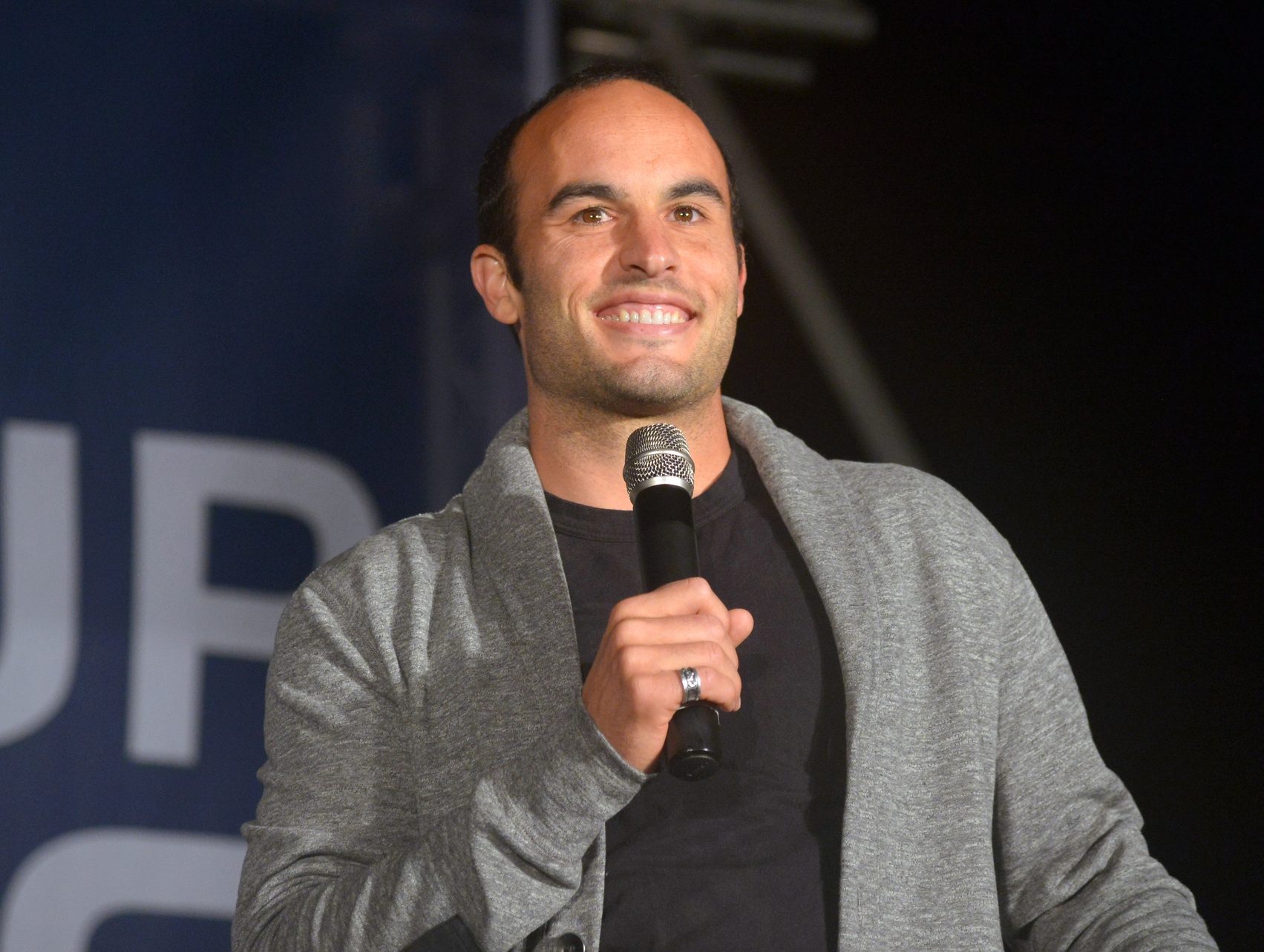 From a leap off a Taco truck to television commentary to promoting MLS expansion in his new Southern California digs, U.S. Soccer's all time leader in goals and assists is soaking in the different avenues of retirement – with stout views on the present and future of the game.
"Sometimes in life, you do things and you don't really know why you're doing it," Landon Donovan said Wednesday on SiriusXM FC's, The Coaching Academy. "I was just kind of living the moment."
The "moment" was caught on video and subsequently, the feet-first dive into a crowd of American Outlaws on the eve of the U.S. Men's National Team's match against Honduras, was seen by millions on social media.
"I was thinking about the week ahead for the U.S. team and how vital it was," said Donovan. "It was time to take some risks and do something different and that was kind of the mood I had all week. If the U.S. had a poor week in qualifying we could have very well could have said, 'we're not going to Russia in two years'. So when I got up on the truck it just kind of came, and I said 'why not, do something stupid and have fun'."
The USMNT seized the attacking risks and were rewarded with a 6-0 home thrashing of Honduras followed by a 1-1 draw in Panama City.  Donovan served as an analyst on the first match for FS1 and could not contain his delight with the updated product.
"We're seeing what the U.S. National Team can be," said Donovan. "Bruce (Arena) has done a great job of getting back to the basics and letting our guys do what they do best in comfortable positions and now you see the results."
Donovan, who amassed 12 goals and 21 assists in 40 qualifiers, emphasized the distinction between the current talent level and being the best.
"I've said this many times and not everyone agrees with me – I think we have the most talented group of players we've ever had but it doesn't mean the best players we've ever had," he said. "Our best team, in my opinion, was in 2002. We genuinely played as a team. We had a bunch of players who were playing at a high level for MLS and throughout Europe. But there was very little ego that got in the way.
"When our guys play like they played this week, then you can start making the case that this is the best team we've ever had."
On a pair of fateful November nights in Columbus, Ohio and San Jose, Costa Rica, the USMNT did not resemble a team with an abundance of talent or commitment. The losses to Mexico and the Ticos led to the demise of Jurgen Klinsmann and the re-emergence of Arena to manage the program.
While Klinsmann was notorious for his desire to play a psychological match with his players, Donovan says that Arena takes an alternate approach.
"We spoke to Geoff Cameron last week before the Honduras game and he told us that he really didn't want to play right back," Donovan said. "But he said Bruce called him two weeks before while he was at Stoke (City) to tell him he might have to play right back because of the injury to Deandre (Yedlin). And when Geoff got into camp he worked on it every day so that he was comfortable being there."
"It's just an example of how important communication is," said Donovan. "Rather than just throwing a guy in or telling him the day before the game."
In September of 2015, Klinsmann alerted Alejandro Bedoya before a friendly against Brazil that he would get the start at holding midfield behind Michael Bradley and Jermaine Jones. Bedoya had never trained nor competed in that role.
"Every coach is different and every player is different," said Donovan. "Some players thrive on sort of being on the edge of their seat, not knowing what is coming next. But in my experience most players do best when they know their role and can practice it."
"I think it's the hardest part of professional sports – in the end, you forget we are human beings," added Donovan. "I forget when I watch other sports. LeBron may have a bad game but I don't know what's going on with LeBron at home. Did one of his teammates get in a fight with an assistant the day before a game? Nobody ever knows but it all plays in how you perform on the field."
Notable in his execution is Christian Pulisic, a regular in the starting XI at Borussia Dortmund (five goals in 30 appearances) and in the midst of nearly every positive attacking sequence for the USMNT in the two qualifying matches.
"Christian going to Dortmund at 17 has helped make him the player that he is – he wouldn't have progressed the same way had he been in the states," said Donovan. "At 16, I made the decision of go to (Bayern) Leverkusen. If I had stayed in America, I never would have received the training experience that I got at Leverkusen. Twice a week, they would spend an hour of training – just me – working on my finishing. Still, it would be foolish, false and ignorant to say that everything Christian learned came from Dortmund."
Pulisic was stationed with the U-17's at the IMG Academy but claims to have developed his initial passion as a seven-year old in England playing with his classmates every day after school.
"That's exactly why I fell in love with the game," added Donovan. "We didn't have all the games on television and distractions so we just went outside and played all day. No coaches, no structure, no fitness, no tactics."
Despite the obvious qualities of Pulisic, it is uncertain whether he would have been inserted as a regular in MLS at the age of 16 or 17.
"One of the biggest problems here is we don't play our kids," said Donovan. "It was really eye-opening at the Homegrown game the last two years."
Donovan coached and helped select the rosters for the Homegrown games featuring the top young players in MLS and their academies.
"Some of these kids came in and they were better than the guy playing his position on the first team," said Donovan. "What I realized is that coaches are worried about Saturday's result.
"If you have a teenager who has the potential to be a nine out of 10 but right now they're a six out of 10 compared to a 28 year-old who is a seven out of 10 but has no potential to get any better, the coach is going to play the 28-year old because they want to get the result," he said. "We need a mechanism to incentivize to play kids at a younger age so they can play in 10 or 12 games in a row. You're not going to find out about them throwing them into a game sporadically."
For now, Donovan is spending less time considering the development angle while he endeavors to bring an MLS franchise to San Diego after joining a private ownership group. He's out in the community every day.
"That's what I spend my days doing and really enjoying it," he said.
In search of more taco trucks.