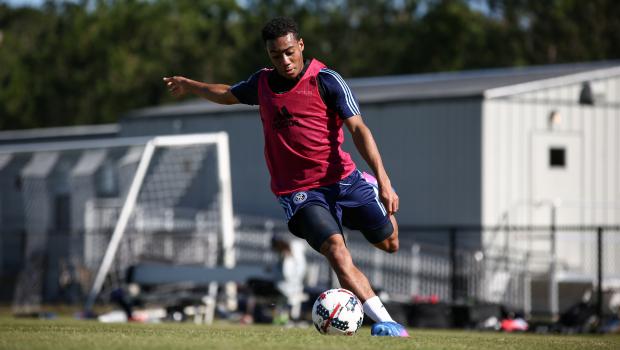 Rookies inevitably feel pressure to begin their professional career. There's pressure to perform, pressure to acclimate themselves to a new environment. The game stays the same but the stakes are immeasurably higher as the sport suddenly becomes so much more than it once was.
Like any professional newcomer, Jonathan Lewis is experiencing that level of pressure for the first time as he sets himself up for  what should be a big year for club and country. On the club level, the New York City FC rookie is battling for playing time within a team loaded with veterans and MLS stars. For his country, the Akron product is facing a potential World Cup selection and the battle for roster spots that precedes it.
In some ways, Lewis' recent success representing his country with the U.S. Under-20 Men's National Team could serve as a kick-start for his club career. The 19-year-old midfielder was one of the standouts of CONCACAF's Under-20 tournament as he helped lead the U.S. to its first ever U-20 crown.
Ironically, though, it's his ability to crack the lineup on the club level that may determine if he gets the chance to continue with that U-20 team, one which offers the chance of a lifetime to play at this summer's U-20 World Cup.
"It's just about getting stronger," Lewis told SBI. "Playing here at NYCFC, listening to coach Patrick [Vieira] and all of the guys around me, that alone is going to help me maybe push over some of these other guys that are playing in Europe. Playing at a club like this is like playing at a club in Europe. With Patrick's experience, I think that transition to playing with stronger players in the U-20 pool is going to help me a lot."
At least on the CONCACAF level, Lewis looked more than capable. In his three appearances throughout the tournament, Lewis contributed a goal and two assists. In a must-win match against Haiti, Lewis drew a penalty kick and helped set up another goal, earning SBI U-20 Man of the Match honors for his efforts.
Still, Lewis faces a tough road ahead. With the World Cup looming, several European stars could be set to join the fold. Players like Gedion Zelalem, Cameron Carter-Vickers, Haji Wright, Weston McKinnie and Nick Taitague could be added to the roster, making competition for spots fierce within a group that was talented enough to claim a regional crown.
"We were willing to battle," Lewis said. "Coach Tab always tells us that we have to run hard, work hard and be willing to suffer more than they other team, especially in that Mexico game where we played a strong Mexican team. We went out there and battled.
"I was able to help push my team through," he added. "I was able to get a goal and two assists during the tournament, so that's going to be the most memorable thing from that tournament. I did my part and helped push my team through. We were able to beat Mexico, beat Honduras and get to the championship. I did my part and the other guys stepped up and did their part to work as a team and win the whole thing."
In order to push for more, Lewis will need to break through at NYCFC. The process of acclimation has already begun, even if his time at World Cup qualifying robbed him of valuable integration time in preseason.
Still, it appears Lewis is already fitting in nicely. On his way to his own media scrum after NYCFC's 4-0 thrashing of D.C. United, captain David Villa stopped to nudge Lewis, throwing a wry smile the rookie's way as he moved through to his own locker. It's a relationship that is developing, Lewis says, as he looks to players like Villa to guide him.
"David always tells me that, when the ball is coming to him, make sure I'm moving," Lewis said. "Even if he passes it to me while I'm open, if there's someone on his back running, they have the momentum coming at me. He just tells me to keep moving. I have pace, so I have to make sure I'm moving.
"My movement off the ball is a lot better than it used to be. I feel like in college, I was just standing around a lot more and coming to the pros, I realize that you have to be moving off the ball to get yourself into the right spaces."
His game is, admittedly, a work in progress. Like any rookie making the leap to the pros, Lewis will have his ups and downs. He's adjusting to a new city, a new team, a new home and a new life, one much different than the one he led at the University of Akron.
Still, he's hoping the results remain the same. At Akron, Lewis emerged as one of the college game's best midfielders providing two goals and 12 assists during the 2016 season. After being offered a Generation Adidas deal to enter the MLS Draft, Lewis shined at the combine that preceded it, emerging as one of the big winners of pre-Draft festivities.
Those factors led to NYCFC's big move, one which shocked on MLS Draft day. The club traded $250,000 of General Allocation Money, a massive haul for even the most experienced player, for the Chicago Fire's third overall pick, using it to select Lewis. It was a sign of faith from Vieira, who clearly saw something special in the winger throughout the scouting process.
After selecting Lewis, Vieira said the winger is a "perfect fit for the way we want to play". He highlighted Lewis's pace and ability to beat players off the dribble as major factors while also stating the need for patience.
That idea, patience, will be key. Jack Harrison and Rodney Wallace have been named to the starting XI in NYCFC's first two matches of the season, while Khiry Shelton and Tommy McNamara remain proven options off the bench for a club that suddenly has tons of depth in the attack.
"Jonathan is for me a proper winger – especially the way we want to play, he can really express his talent," Vieira said in preseason. "Between college and MLS is a massive gap which he will need to adjust himself – to improve, to learn. I will have to be patient with him.
"With the way he's been working in the last few weeks, he'll challenge Khiry and Jack and any other player who can play in that position. He's not shy, he has self-confidence which I like."
Lewis enjoyed his first experience at Yankee Stadium, one which saw him named to the bench for the first time in his professional career. With a smile on his face, Lewis says he's already looking forward to warmer weather and bigger crowds. He can't wait for big games against the likes of the New York Red Bulls and the "crazy" atmospheres that come with them.
But for now, Lewis is focusing on finding his way. He's looking ahead, obviously, to a potential summer World Cup and the absolutely vital spring that comes before it. However, in many ways, despite all of the pressure and all of the adjustments, Lewis feels comfortable, with both his new team and the new surroundings that come with it.
"I've only been back for a few days, but this just feels like a family to me," Lewis said. "It's another family. I look at these veterans and they can be father figures to me. They teach me things and I feel like coming back in, it felt like coming home. "