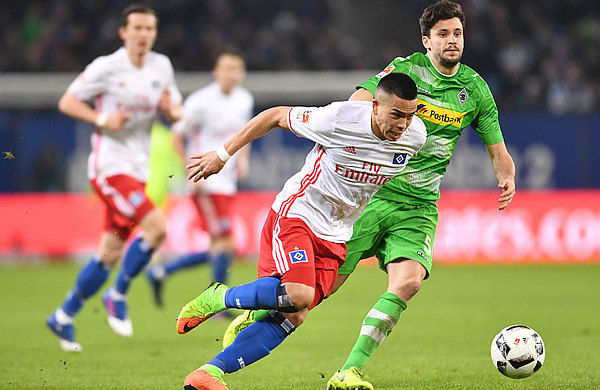 Bobby Wood admits that Saturday's win came down to a moment of luck, but there's nothing lucky about the form he's in heading into World Cup qualifiers.
The U.S. Men's National Team forward scored an 80th minute game-winning goal on Sunday, leading Hamburg to a vital 2-1 win over Borussia Monchengladbach. After contesting for a header, the ball fell right to Wood's feet, allowing him a shot on goal that could prove vital to the club's hopes of staying in the Bundesliga.
"We fought well today and had luck on our side. On my goal, I acted instinctively," Wood said. "The moment I got up, the ball came to me and then I had the feeling that the other players were reacting, so I took a step."
The USMNT forward is peaking at the right time. Wood has scored in four of his last 10 games, helping lead Hamburg to victory in four of the club's last five matches. Those wins have helped the club surge all the way to 16th, tied with 15th-place Werder Bremen for the final spot of safety on the table.
Internationally, Wood now looks ahead towards USMNT qualifiers as clashes with Honduras loom. His recent goalscoring record should certainly impress head coach Bruce Arena, who has plenty of lineup decisions to make when he takes charge of a full-strength USMNT for the first time ahead of his first competitive matches since his return to the position.
However, it hasn't been Wood's goalscoring that's impressed his club coach, Markus Gisdol. Rather, it's been his defensive work, which was on full display for all 90 minutes on Sunday.
"He was our best two-way fighter and player against the ball," Gisdol said at training on Monday. "I talked to him during the winter break and said he does not have that component in his game yet. He has 100% internalized it, and we can only hope that he will remain so humble and continue."
If Wood's attacking and defensive work continues, Hamburg may find themselves safe from relegation, a feat that seemed very unlikely just several weeks ago. Tough matches loom, as Hamburg prepares to face Timmy Chandler's Eintracht Frankfurt and Christian Pulisic's Borussia Dortmund in the coming weeks with a clash with Koln sandwiched in the middle.
Still, given the club's recent form, Wood is confident as he looks to help guide his team towards a better finish as the season marches to a close.
"We need to maintain this team mentality, then we will get our points. Each player is doing well right now and it's fun to play with everyone. I feel good, feel the confidence of the whole team.