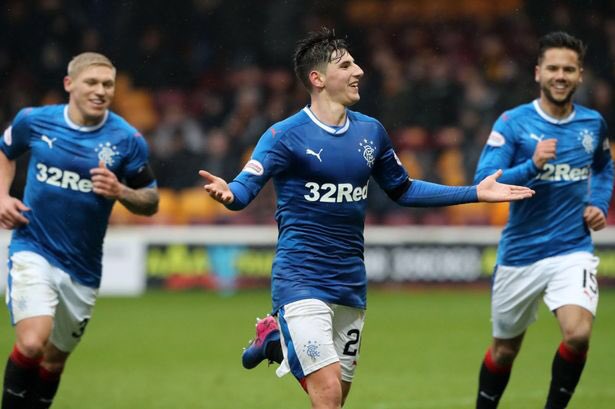 Since making his loan move to Rangers, Emerson Hyndman has shined. Given a starting role, the young midfielder has stepped up in a big way once given the stage to do so.
Now, as his loan move nears its conclusion, Hyndman has set several targets for himself, starting with this summer's Gold Cup.
Speaking to Goal USA, Hyndman says he hopes to be a part of the U.S. Men's National Team squad for this summer's tournament. In the midst of World Cup qualifying, USMNT head coach Bruce Arena says he expects to field a squad bordering on the younger side this summer, one featuring several new faces looking to make their mark in the run up to the 2018 World Cup.
At least on the club level, Hyndman has stated his case. The young midfielder has provided four goals and an assist in just 12 matches, while re-energizing a career that seemingly stagnated on Bournemouth's bench to start the year.
"I'm really anxious to get back in with the national team," Hyndman told Goal. "Any time you're doing well and playing regularly, you want to get called in. It's a bit of a disappointment with the (March) roster, but at the same time I'm really optimistic about the future. I know I just have to keep performing at the level I should do, and keep chipping in with goals and helping my team win is all I can do.
"I hope to have a shot maybe at the Gold Cup in the summer — that's what I'm aiming for," Hyndman added. "I think that'd be a good time to make an impact. You never know, that's out of my control. All I can do is try to work hard and get into the squad."
The 21-year-old midfielder, who made two previous USMNT caps under Jurgen Klinsmann, has had quite a year. After making his mark at Championship side Fulham, Hyndman joined Bournemouth last summer on a four-year deal. A preseason injury derailed his initial experiences with the club, and matters didn't get much better when the season started.
With the newly-promoted club integrating to life in the Premier League, Hyndman's chances were limited, as he made just three cup appearances for the club totaling 87 minutes. Throughout his stay at Rangers, though, Hyndman has been a driving force, becoming one of the key pieces of the Scottish club's midfield.
Currently 16th in the Premier League, Bournemouth remains in the push for safety. The club currently maintains a seven-point gap over the red line as staying in the Premier League looks very much like a possibility. With his stay at Rangers nearing its close, Hyndman is looking forward to the chance to prove himself with Bournemouth, earning a spot with the team after what turned out to be a positive loan move.
"I was really excited to make this move to Rangers because it came at a good time," Hyndman said. "I needed games, and it's such a big club as well. It was really exciting to have the opportunity to play in pressure situations in front of big crowds.
"That was the goal when I came here, to get playing time and find my form and earn experience to help me in England," Hyndman added. "I know Bournemouth has been keeping tabs on me and I feel good about competing for (playing time) next season."