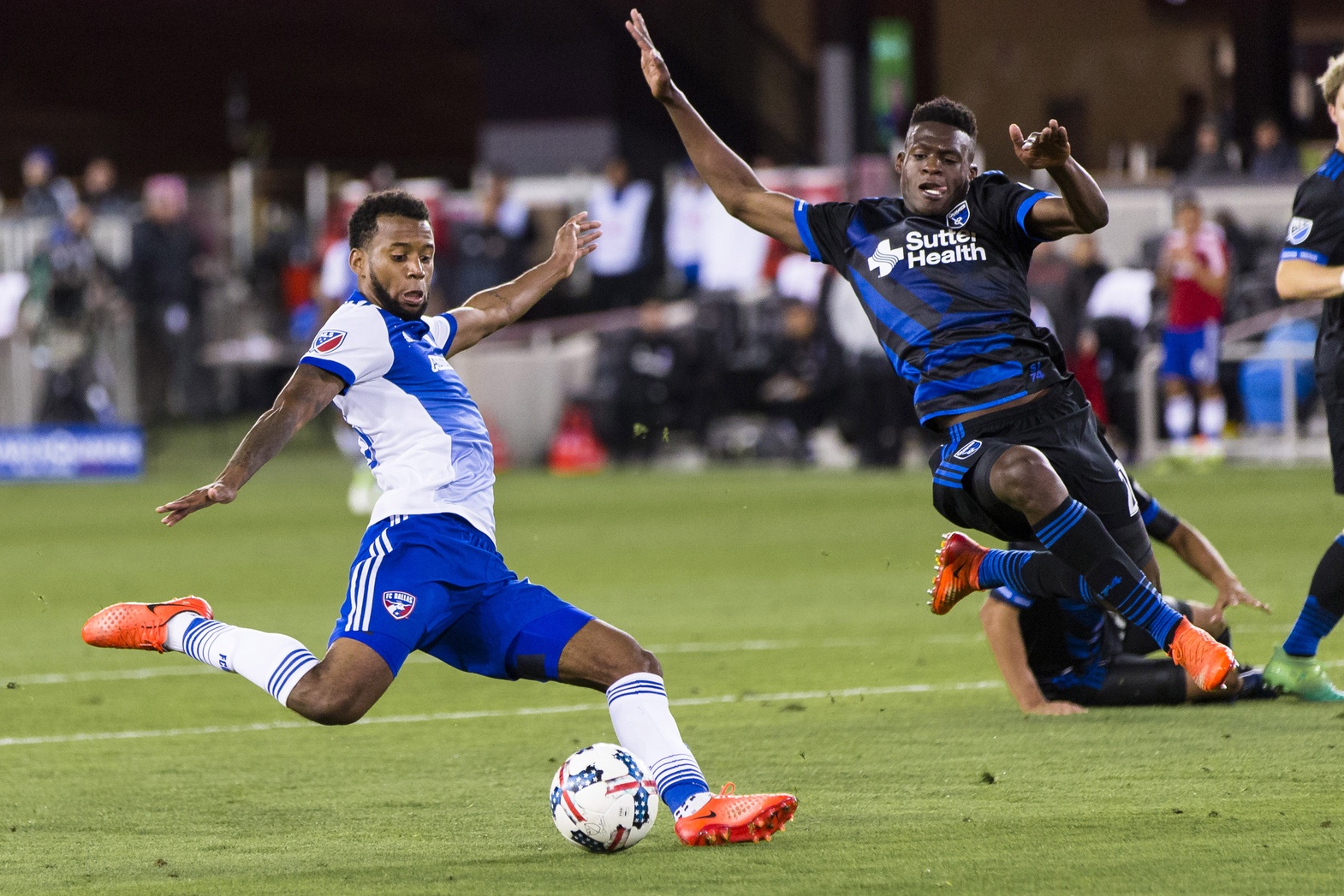 SAN JOSE, Calif.- On Friday night, Kellyn Acosta continued to showcase his booming value after FC Dallas' 1-1 draw against San Jose Earthquakes at Avaya Stadium.
The 21-year-old's lone goal in the 78th goal was indicative of his sensational performance, which was partially lost in the spotlight due to Quakes' Jahmir Hyka's heroic last-second game-tying goal.
Acosta is experiencing a sensational period in his career. The midfielders' goal against the Quakes marked his second in league play and fifth in all competitions this season. Acosta's attacking skills have taken a major turn, as his two goals in five matches are equal to what he recorded in 32 matches last season.
Coincidentally, Acosta's hot start to the season goes hand in hand with FC Dallas' unbeaten record, which extended to five games after the draw in San Jose.
"I know, I know; it's great, it's great for Kellyn," coach Oscar Pareja said. "He's finding the net and has done a great job also for the team defensively. I think in the offensive phase, Kellyn is growing tremendously so I'm very glad for Kellyn, and he choose that he continued to grow and hopefully he can be that player for the national team on their also."
Despite FC Dallas only holding onto the ball for a mere 32 percent of the match, Acosta's stellar box-to-box play was vital in Friday's draw. Aside from his goal, he commanded FC Dallas' defense by winning eight duels, intercepting the ball twice and notching four tackles.
"The beginning of the year has been great for me," Acosta said. "I think I'm inching closer to being better and better and I'm really focused on capitalizing the chances I have in front of the goal. I think I have been pretty clinical, but I think I can improve a lot on the field."
Aside from Toronto FC, Dallas is the only team that has yet taste defeat this season. Acosta's early success on the pitch is reflective on why the defending Supporters' Shield winners currently stand second on the Western Conference table.
With the Texas side having 29 games remaining on their schedule, the midfielders' upward trend serves as a positive indicator moving forward through the season.
"I'm playing a defensive midfield role, I think I can have more touches on the ball and help my team with possession," Acosta added. "I think that was an area we've been lacking, just keeping possession of the ball we are almost too direct sometimes, but it means we are working on it.
"We are getting results, but I think I can touch up on little things to further my growth as a player."