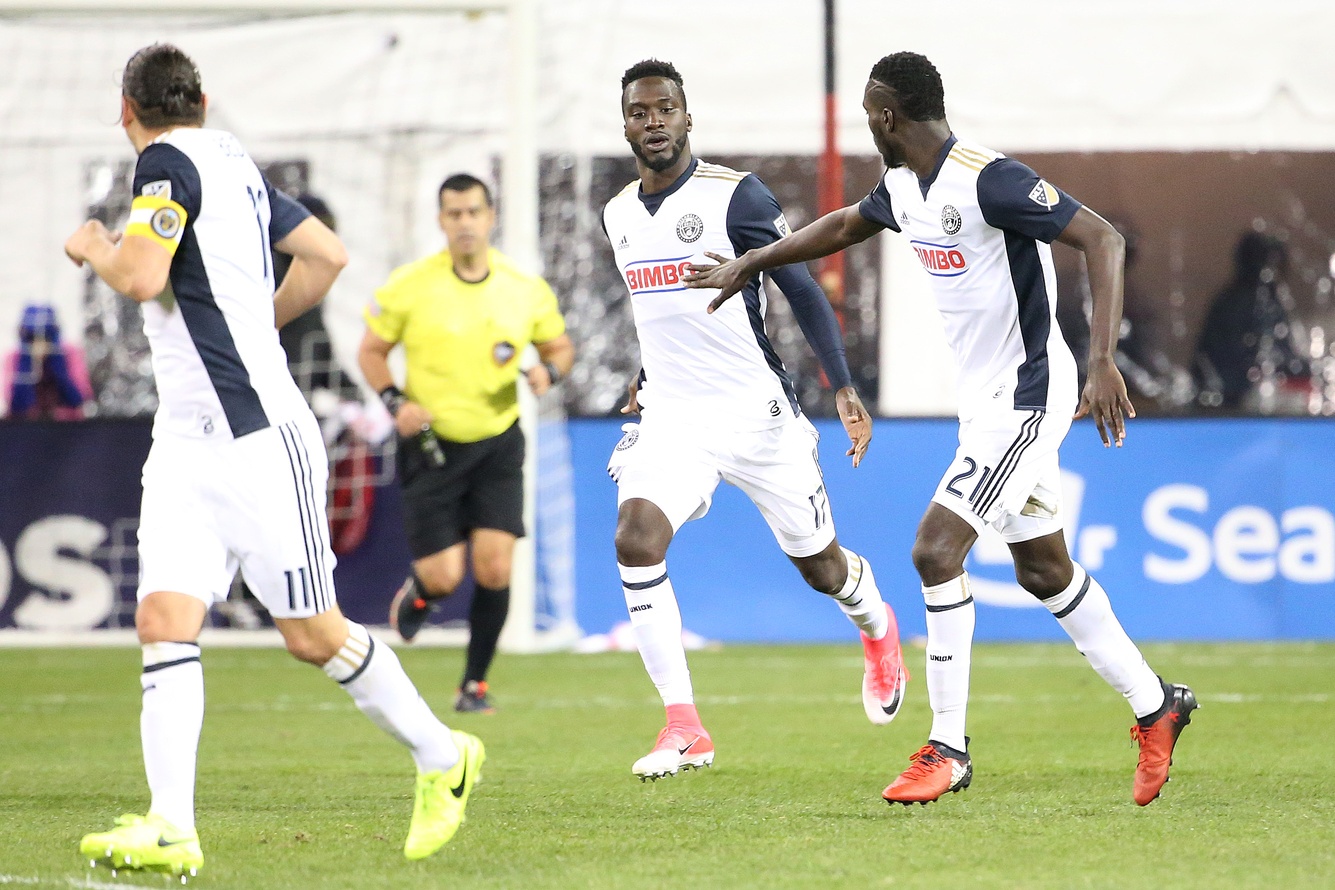 One year ago, C.J. Sapong was the unquestioned top forward on the Philadelphia Union depth chart, and he responded by ripping the back of the net on five occasions in his first nine matches.
Despite the strong start, though, Sapong faded toward the back end of the season, much like the club as a whole, and the mission of Earnie Stewart and Jim Curtin to create depth at every position created a new challenge Sapong has welcomed.
Through four games this season, the 28-year-old forward has shifted into a new role off the bench, with Jay Simpson starting as the Union's primary forward. Instead of taking his demotion to the bench as a negative, Sapong has been one of the few bright spots for the last-place Union, scoring three times in four matches.
"I'm pretty much just finding ways to continue to try to impact whenever I have an opportunity and stay true to myself, doing the things off the field to make sure when I'm on the field, that I'll perform to the maximum of my ability," Sapong told SBI on Wednesday.
Sapong scored in an extended substitute role against Toronto FC in the club's home opener, beat Joe Bendik in Orlando when he started for an injured Simpson and lighted a spark under a struggling team in D.C. a week ago. Those three performances have Sapong pushing for a return to the starting XI.
"C.J.'s a guy who had a good preseason," Union head coach Jim Curtin said. "Him and Jay and Charlie (Davies) are all pushing each other in a healthy way. It will be a decision we'll have to make this week because C.J. is similar to the beginning of last year in good form and scoring all of his chances." 
"All around the roster there's competition at every position," Sapong added. "We're all in this together so it's good that we can compete but I feel like we all wish the best for each other and it makes for a good atmosphere in training." 
The former Sporting Kansas City man is excelling at the little intricacies of the position on top of showing more sharpness on the ball to go along with his physical prowess. Sapong displayed a few elements of finesse in possession against D.C., including a terrific cut in tight space in the penalty area that resulted in an attempt saved by Bill Hamid.
"That just comes from staying connected to the game, staying focused and aware to see the next play before it happens," Sapong said. "It goes back to being focused and aware and being a step ahead and having an idea of what you want to do with the ball before you get it. It's definitely a good feeling for me to be in that zone and starting to feel out situations in the game a bit better."
Sapong has been able to find success off the field as well with the start of his nonprofit Sacred Seeds, a project that's ultimate goal will use aquaponic and hydroponic methods to grow organic foods that will end up providing the necessary nutrients to youth in the communities in which self-sustainable greenhouses are built.
"Just working with Sacred Seeds, to have that channel to happiness and fulfillment on and off the field is important for us athletes in general," Sapong said. "I'm fortunate to be able to see how I'm providing an impact for my team on the field and see how I impact the community around me." 
As for the on the field impact Sapong is having, he's making Curtin's job difficult, and with the Union in need of three points there are all sorts of lineup combinations that could be chosen by the Union boss. If Curtin sticks to his 4-2-3-1, the choice will likely come down to Sapong or Simpson up top. However, there is a small chance both forwards could be utilized in either a 4-4-2, or with Simpson playing behind Sapong in the No. 10 role with Alejandro Bedoya dropping deeper to his more preferred No. 8 role.
"It's a possibility," Curtin said. "They would complement each other with C.J.'s physicality and ability in the air and Jay running off so yeah we'll discuss things. We have to do what's best for everyone to get our best team on the field. That's certainly a conversation that comes up." 
Regardless of what role Sapong plays on Saturday, it's imperative the Union come away from their clash with the Portland Timbers with their first win since August 27, and that's a mission everyone is committed to.
"I think we're a group that because of how connected we are and how cohesive the environment is we always stick together and everybody would rather be on top of the table now, but we understand it's about putting in the work during the week and hopefully on the fun days, on the weekends, things will start to go our way," Sapong said.