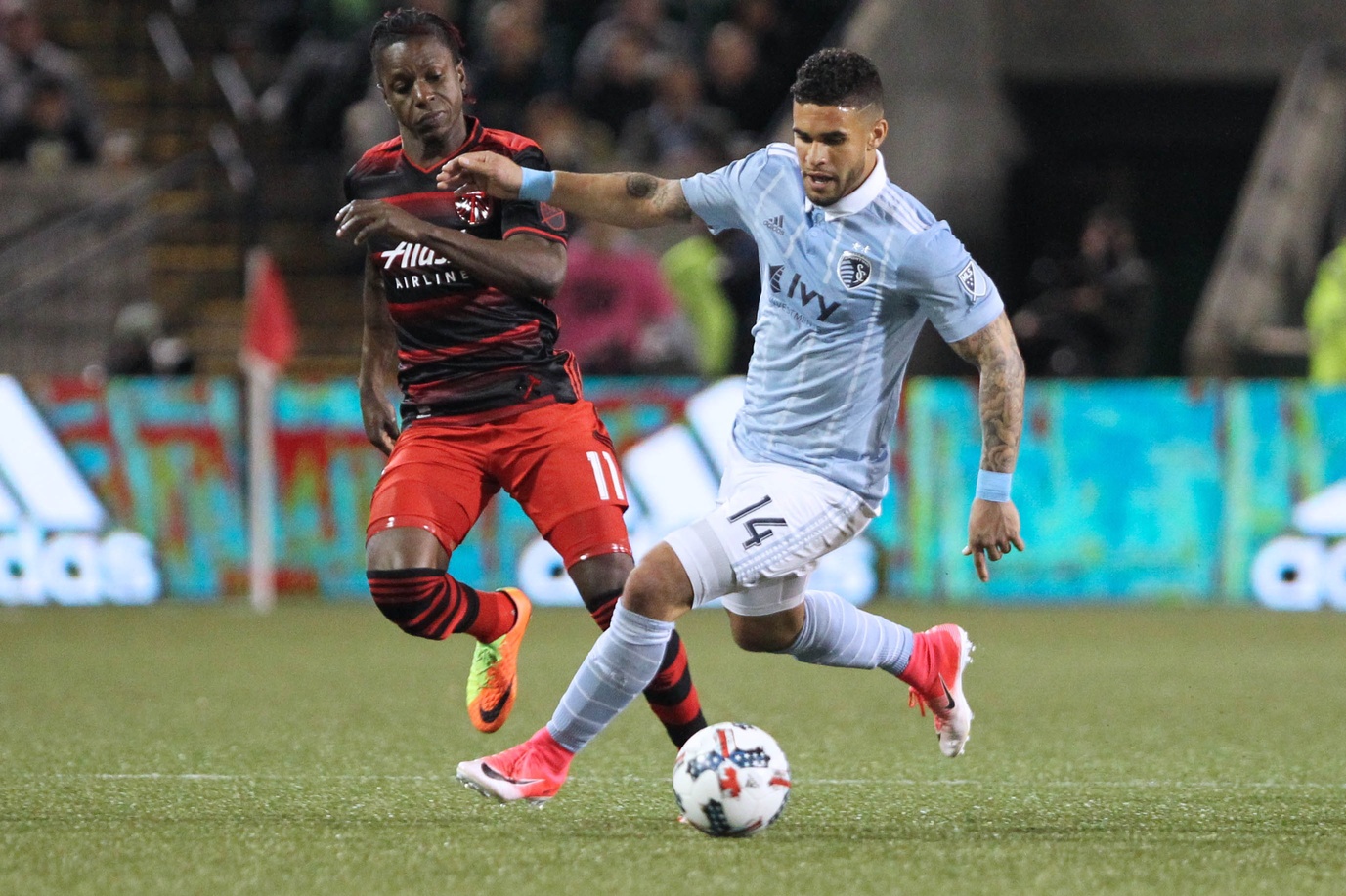 Through the first few games of the regular season, the Portland Timbers' attack has been dominant, but on Saturday they were held in check by a team that looks to be finding its stride.
Sporting KC received a goal from Dom Dwyer and it proved all that was needed in a 1-0 win over the Portland Timbers at Providence Park. The Timbers remain atop the Western Conference despite the loss while Sporting KC remains unbeaten while leaping all the way to second.
Dwyer's finish came in the 53rd minute, proving to be the game-winning goal. A pass from Benny Feilhaber sprung Jimmy Medranda down the left-hand side, opening the door for a cross into the box. Dwyer rose up to head home, scoring for the second straight game while sealing all three points for the visitors.
The match proved a physical one, featuring 34 fouls throughout the 90 minutes. Chances, meanwhile, were a bit harder to come by as the two teams combined to fire eight shots on frame. Timbers forward Fanendo Adi squandered a first-half look by firing it over the bar from close range while a second half stop of Darren Mattocks kept Sporting KC in the lead.
The Timbers' best chances, though, came in the waning moments as Alvas Powell's header was cleared off the line by Roger Espinoza. Just one minute later, Darlington Nagbe unleashed a long range strike only to see Tim Melia push the shot off the bar with his fingertips.
It proved to be the closest they'd come as the Timbers now move on to a Cascadia clash with the Vancouver Whitecaps next time out while Sporting KC moves on to a visit to FC Dallas next Saturday.
MAN OF THE MATCH
Ilie Sanchez did not have the prettiest game, but he did all of the dirty work required against the talented Timbers. Sanchez moved the ball while helping lock down Diego Valeri en route to a surprising shutout win.
MOMENT OF THE MATCH
Darlington Nagbe was inches away from leveling the scoreline, but Tim Melia's fingertips got just enough of the long-range shot to push it onto the bar and preserve the 1-0 lead.
MATCH TO FORGET
It's more a compliment to just how influential he usually is, but Diego Valeri was held incredibly quiet on Saturday night. The Argentine just never impacted the game, and the Timbers attack sputtered because of it.