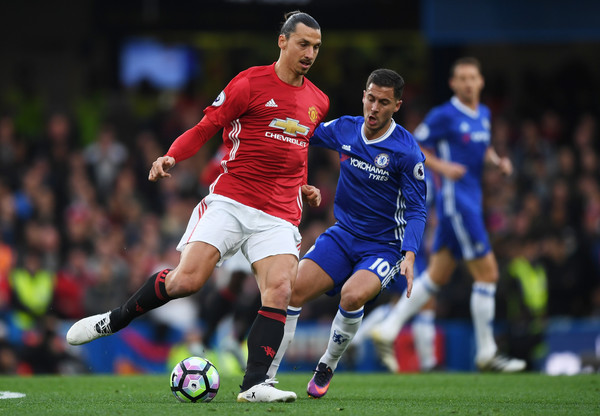 Antonio Conte's Chelsea are well clear at the top of the English Premier League table, but Manchester United will try to spoil The Blue's further separation at the top as the Red Devils try to inch their way into much demanded Champions League play.
Jose Mourinho's men find themselves four points behind fourth place rivals Manchester City with little to no room for error with the end of the season around the corner. The fierce rivalry was last played in mid-March when Chelsea held off Man United by a slim 1-0 victory in the FA Cup Quarterfinals. Conte will aim to outwit Mourinho, whose Thursday's draw against Anderlecht has left the manager wanting any victory.
In Conte's native Italy, Inter Milan and AC Milan will deliver the latest rendition of the Derby della Madonnina (Milan Derby). Both Italian giants sit well behind first-place Juventus as AC Milan are currently sixth with 57 points and right behind is Inter Milan with 55. Claiming the city has a larger affect at this point.
In Spain, Barcelona will seek to find a remedy to their Champions League hangover when they receive sixth place Real Sociedad at the Camp Nou on Saturday. Luis Enrique and his men are in a must-win scenario as they only trial league leaders Real Madrid by three points.
If you will be watching today's action, please feel free to share your thoughts and opinions in the comments section below.
Enjoy the action (Today's TV schedule below):
Friday
MLS
7 p.m. – ESPN/ESPN Deportes – Philadelphia Union vs. New York City
10 p.m. – MLS Live – Vancouver Whitecaps vs. Seattle Sounders
11 p.m. – Univision Deportes/UniMas – San Jose Earthquakes vs. FC Dallas
La Liga
2: 45 p.m. – beIN Sports – Athletic Club vs. Las Palmas
Ligue 1
2:45 p.m. – beIN SPORTS – Angers SCO vs. PSG
Primeira Liga
3:30 p.m. – Univision Deportes – Vitoria Setubal vs. Sporting CP
Championship
10 a.m. – beIn SPORTS – Bristol City vs. Queens Park Rangers
2:45 p.m. – beIN SPORTS CONNECT – Newcastle United vs. Leeds United
Saturday
MLS
1 p.m. – MLS Live/Fox Sports South – Montreal Impact vs. Atlanta United
2:30 p.m. – Fox Network/Fox Soccer 2GO/Fox Deportes/ Fox Sports GO – Orlando City vs. LA Galaxy
5 p.m. – MLS Live – Chicago Fire vs. New England
7:30 p.m. – MLS Live/MSG – New York Red Bulls vs. DC United
8 p.m. – MLS Live – Columbus Crew vs. Toronto
8:30 p.m. – MLS Live – Houston Dynamo vs. Minnesota United
9 p.m. – MLS Live – Colorado Rapids vs. Real Salt Lake
10:30 p.m. – MLS Live – Portland Timbers vs. Sporting KC
NASL
7 p.m. – beIN SPORTS – Jacksonville Armada vs San Francisco Deltas
7:30 p.m. – ESPN 3 – North Carolina vs. Edmonton
English Premier League
7:30 a.m. – NBCSN/NBC Sports Live – Tottenham Hotspur vs. AFC Bournemouth
10 a.m. – NBCSN/NBC Sports Live – Crystal Palace vs. Leicester City
10 a.m. – NBC Sports Live/Premier League Extra – Everton vs. Burnley
10 a.m. –  NBC Sports Live/Premier League Extra – Stoke City vs. Hull City
10 a.m. –  NBC Sports Live/Premier League Extra – Sunderland vs. West Ham United
10 a.m. – CNBC/NBC Sports Live  – Watfrod vs. Swansea City
12:30 p.m. – NBC/NBC Sports Live – Southhampton vs. Manchester City
Serie A
6:30 a.m. – beIN SPORTS – Internazionale vs. Milan
9 a.m. – beIN SPORTS CONNECT – Roma vs. Atalanta
9 a.m. – beIN SPORTS CONNECT – Palermo vs. Bologna
9 a.m. – beIN SPORTS CONNECT – Cagliari vs. Chievo
9 a.m. – beIN SPORTS CONNECT – Torino vs. Crotone
9 a.m. – beIN SPORTS CONNECT – Fiorentina vs. Empoli
9 a.m. – beIN SPORTS CONNECT – Pescara vs. Juventus
9 a.m. – beIN SPORTS CONNECT – Genoa vs. Lazio
12 p.m. – beIN SPORTS CONNECT U.S.A – Sassuolo vs. Sampdoria
2:45 p.m. – beIN SPORTS CONNECT U.S.A. – Napoli vs. Udinese
Bundesliga
9:30 a.m. – Fox Sports 1/Fox Sports 2GO – Borussia Dortmund vs. Eintracht Frankfurt
9:30 a.m. – Fox Soccer 2GO – Mainz 05 vs. Hertha BSC
9:30 a.m. – Fox Soccer 2GO – Wolfsburg vs. Ingolstadt
9:30 a.m. – Fox Soccer 2GO – Augsburg vs. Koln
9:30 a.m. – Fox Sports 2/Fox Soccer 2GO – Hoffenheim vs. Borussia M'gladbach
9:30 a.m. – Fox Soccer Plus/Fox Soccer 2GO – RB Leipzig vs. Freiburg
12:30 p.m. – Fox Network/Fox Soccer 2GO – Bayer Leverkusen vs. Bayern Munchen
Ligue 1
11 a.m. – beIN SPORTS CONNECT – Nice vs. Nancy –
2 p.m. – beIN SPORTS CONNECT – Montpellier vs. Lorient
2 p.m. – beIN SPORTS CONNECT – Rennes vs. Lille
2 p.m. – beIN SPORTS CONNECT – Guingamp vs. Toulouse
2 p.m. – beIN SPORTS CONNECT – Metz vs. Caen
3 p.m. – beIN SPORTS CONNECT – Monaco vs. Dijon
Liga MX
6 p.m. – ESPN Deportes/Univision Deportes – Chiapas vs. Tijuana
8 p.m. – Sky HD – Veracruz vs. Necaxa
8 p.m. – Sky HD – Morelia vs. Leon
8 p.m. – Univision Deportes/UniMas – Tigres UANL vs. Pumas UNAM
8 p.m. – Azteca America -Atlas vs. Santos Laguna
8:06 p.m. – NBC Universo/Telemundo Deportes En Vivo – Pachuca vs. Guadalajara
10 p.m. – Univision Deportes/UniMas – America vs. Querétaro
Sunday
English Premier League
8:30 a.m. – NBCSN/NBC Sports Live – West Bromwich Albion vs. Liverpool
11 a.m. – NBCSN/Telemundo/NBC Sports Live – Manchester United vs. Chelsea
La Liga
6 a.m. – beIN SPORTS CONNECT – Legates vs. Espanyol
10:15 a.m. – beIN SPORTS/beIN SPORTS CONNECT – Valencia vs. Sevilla
12:30 p.m. – beIN SPORTS en Español – Real Betis vs. Eibar
2:45 p.m. – beIN SPORTS en Español – Granada vs Celta de Vigo
Bundesliga
9:30 a.m. – Fox Sports 1/Fox Soccer 2GO – Werder Bremen vs. Hamburg SV
11:30 a.m. – Fox Sports 1/Fox Soccer 2GO – Darmstadt 98 vs. Schalke 04
Ligue 1
9 a.m. – beIN SPORTS CONNECT – Nantes vs. Bordeaux
11 a.m. – beIN SPORTS CONNECT – Bastia vs. Olympique Lyonnais
3 p.m. – beIN SPORTS – Olympique Marseille vs. Saint- Etienne
Liga MX
1 p.m. – Univision Deportes/Univision – Toluca vs. Monterey \
7 p.m. – Univison Deportes – Puebla vs. Cruz Azul