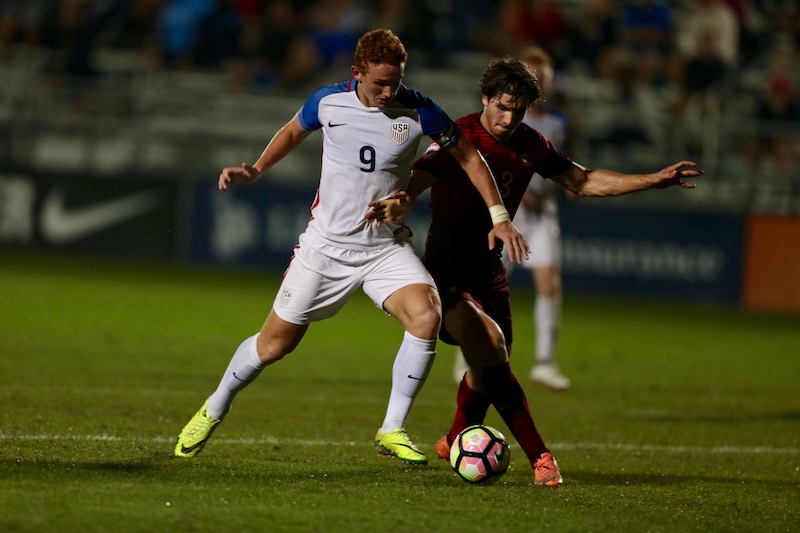 The U.S. Under-17 Men's National Team has long been seen as a starting point, a level that bridges the gap between up-and-coming prospect and young professional.
In 2015, Christian Pulisic and Tyler Adams were a part of a U-17 squad that traveled to a World Cup and now, just two years later, both are vital to their respective clubs despite their tender age. The program's most successful run came in 1999 as future stars Landon Donova, DaMarcus Beasley, Kyle Beckerman and Oguchi Onyewu began their lengthy national team careers.
Now, the 2017 iteration of the team is preparing for their own World Cup qualifying push, one which, in many ways, represents the end of an era.
Under head coach John Hackworth, the U.S. U-17s are bound for the upcoming CONCACAF U-17 Championship, which runs from April 21-May 7 in Panama. The U.S. will open proceedings against Jamaica on April 23 before taking on Mexico and El Salvador on the 26th and 29th, respectively. The top two teams in the group will advance to a knockout stage, continuing their push towards a World Cup.
The tournament gives the U.S. a chance to qualify for this fall's tournament in India, which would offer the current age group a real chance at experiencing true international tests.
"From a developmental view, it is invaluable, Hackworth told U.S. Soccer. "It is a competition that presents challenges both on and off the field. It exposes them at the earliest age possible to the demands and difficulties of qualifying for a FIFA World Cup in a CONCACAF event.
"The depth of the player pool in this age group is as good as we have ever seen," he added. "Thus, our decisions in selecting the final roster were difficult."
Hackworth's roster for the upcoming tournament features some familiar faces. The squad is heavy on forwards, featuring a unit that includes the highly-touted trio of Andrew Carleton, Joshua Sargent and Timothy Weah. The group also features Toronto FC's Ayo Akinola, a player that has scored 22 goals in 24 appearances for the U-17s. Defensively, though, the U.S. appears a bit lighter, carrying just five total defenders on the 20-player roster.
The midfield, meanwhile, features D.C. United youngster Chris Durkin, one of four players on the team with professional contracts. Defender/midfielder James Sands appears like he could be set to join the professional ranks soon as he continues to impress with New York City FC.
All in all, the entire squad has spent at least some time at the U.S. Soccer Development Academy with 14 of them doing so in 2016-17. The group is the last one to be a part of the U.S. Soccer Residency Program in Bradenton, Fla., a sign of the shift in mindset and rise of club academy systems.
"We understand that this group will be the last to have gone through Residency prior to competing in World Cup Qualifying," Hackworth said. "I believe that each and every one of us, players & staff, is extremely proud of that fact. However, our mindset is to focus completely on the task of attempting to qualify for the World Cup in India. We certainly won't be sentimental in our focus.
"This is a close group of young men. Andrew Carleton and I were speaking about it the other day. We were talking about his experiences and adjustments in becoming a pro with Atlanta United, then returning here and integrating with the guys in Residency.  He said, 'Coach, these are my boys. I love these guys.'  Enough said."
There's emotion, sure, and there's certainly some talent, but Hackworth knows a difficult road lies ahead. The 2013 team, one featuring players like Rubio Rubin, Justen Glad and Tommy Redding, failed to qualify for that year's World Cup. The 2015 team, which was led by Pulisic, had to win a qualifying playoff after finishing third in group play.
Hackworth hopes that his professional players can bring a unique mindset with them to the current group. He hopes his European-based players, Weah and goalkeeper Carlos Joaquim Dos Santos, can bring a different level of maturity to a team that will face plenty of challenges in CONCACAF play.
Still, the goal remains simple: qualify for the World Cup and bring on the next step of a vital development phase.
"(The goal is) to ensure that we are as prepared as we can be for that opening match vs. Jamaica," Hackworth said. "We played them in the fall and know that they are a talented, well-coached team. At the same time, we need to trust in our preparation and feel confident that the planning and work that we have put in will allow us to be ready for that first Group C match."