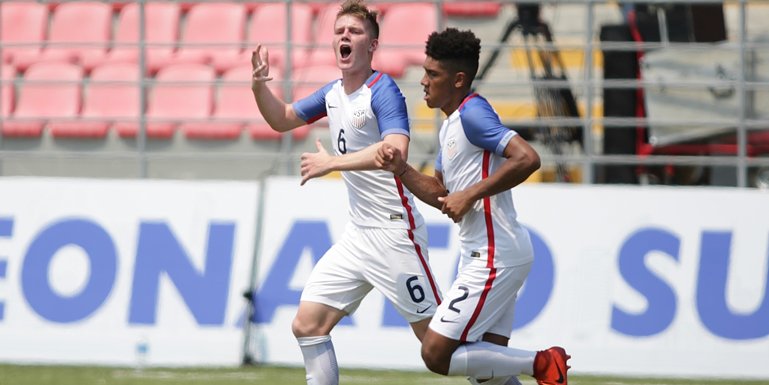 No matter the age group, there's a certain level of emotion evoked by any clash between the U.S. and Mexico. It's a different type of game for all involved, one loaded with history on both sides that's not easily forgotten.
The U.S. Under-17 Men's National Team and Mexico Under-17 Men's National Team likely won't remember a lot of that history. They almost certainly won't remember how Dos a Cero started or Mexico's Gold Cup domination. They likely don't know the full depth of the rivalry that they will suddenly be thrust into when they collide in Thursday's CONCACAF U-17 Championship group stage clash.
But they certainly feel it. When the two teams ran into each other in the aftermath of lopsided first round wins on Sunday, they suddenly understood. Midfielder George Acosta says it was a stare-down, one filled with pride and ego on both sides.
They felt the difference, and they're excited for a real taste of one of the game's premier rivalries at any level.
"We were leaving the field and they were entering and you could already sense that there was that bit of animosity," said U.S. U-17 head coach John Hackworth. "There was a sense already that, 'Hey, it's going to be on soon.'"
"Looking into their eyes, they're looking back at us and it wasn't very friendly," U.S. U-17 goalkeeper Justin Garces added. "They were focused on their game, but you could tell there's a lot of tension between us."
Both sides enter Sunday's match riding the wave of a good start. The U.S. is entering on a high stemming from a 5-0 demolition of Jamaica, one which saw the team fire all five goals in the second half. It was an offensive onslaught headlined by the team's big-name players, as highly-touted Chris Durkin, Timothy Weah and Josh Sargent all contributed goals while TFC product Ayo Akinola added a brace within the last five minutes.
Mexico, meanwhile, was able to one-up their local rivals, throttling El Salvador, 6-0, in the very next match. The win saw Mexico seize an early advantage in group play, as both sides look to seal a more favorable run through the second stage of group play.
While Sunday's match is undoubtedly the most anticipated match of the cycle, it's not the first clash between the two sides. Last August, the two teams met in the Torneo de Naciones in Mexico City in a match that was even at 2-2 shortly after halftime. From there, though, El Tri turned it on, pounding the U.S. for three consecutive goals in an eventual 6-3 win.
Garces says the U.S. is hoping for a bit of revenge on Wednesday, but the match is about more than just that. It's about pushing on towards the next stages and, potentially, a spot in the U-17 World Cup.
"Full credit to Mexico and they are a very good team," Hackworth said, "but I think we've improved since then and this game at this point is very important to both teams because it sets us up for going through to the next stage."
The key, Acosta says, is focusing on the task at hand. The two teams aren't the same as they were in August, and the U.S. can't rely on a lopsided win over Jamaica to help them when they take the field on Thursday. It's an entirely new game, an entirely new feel, and the U.S. will need to be ready for it.
Players throughout both teams have grown up with this rivalry and seen how it has developed in recent years. Acosta says it's the hardest game you'll ever play, as players on both sides play like they're fighting for their lives.
Even at the U-17 age group, that mentality resonates, especially with so much on the line when the two sides collide in Thursday's group stage clash.
"We still take it one game at a time, but you can't discount the fact that it is Mexico," Hackworth said. "Whenever you play them at any level it is the rivalry. You have to understand how that game alone is going to become much more than just your average game.
"It's a little bit newer to them, but they know it."