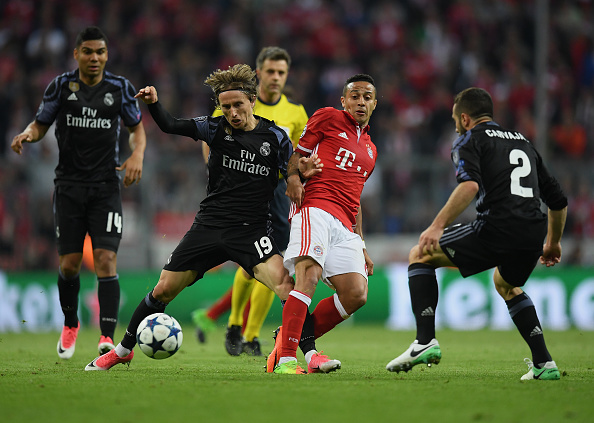 For several teams this week, they will book their place to the UEFA Champions League semifinals, while others will see their dream of reaching Cardiff for June's final come to an end.
Out of all four quarterfinal first legs a week ago, Juventus easily had the most-surprising result, defeating Barcelona 3-0 in Turin. Massimiliano Allegri's side will look to exact revenge on the La Liga side after Barcelona beat Juventus in the 2015 final.
La Liga leaders and current Champions League holders Real Madrid used a brace from Cristiano Ronaldo in Munich a week ago, to defeat Bayern, 2-1, in their opening leg. Carlo Ancelotti will look to oust his former club, with a better result at the Santiago Bernabeu.
Elsewhere, Borussia Dortmund looks to erase a 3-2 first-leg defeat at the hands of AS Monaco, while Leicester City look to keep its surprising Champions League debut run alive against Atletico Madrid.
Here's a closer look at this week's Champions League action:
REAL MADRID VS. BAYERN MUNICH  (TUESDAY, 2:45 P.M. FOX SPORTS 1) (REAL MADRID LEADS 2-1, ON AGGREGATE)

Injuries of Note: The main injury concern for Real Madrid will be the status of Gareth Bale. The Welsh winger suffered an ankle injury in the first-leg a week ago, and is also expected to miss this weekend's El Clasico at Barcelona. Bayern Munich return striker Robert Lewandowski, who has recovered from a shoulder issue.
Key to the Game: For Real Madrid, the key will be to limit Lewandowski's effect on the match. The Polish striker has netted 38 goals in 40 matches for Bayern so far this season, and should be fit and ready to go. Bayern needs to continue to force chances against Real Madrid, but they cannot afford a fit Cristiano Ronaldo to roam free like he did at the Allianz a week ago.
Player to Watch: Real Madrid defender Sergio Ramos will have his hands filled on Tuesday, with Lewandowski back in the Bayern starting lineup. A week ago it was the visitors forcing a lot of the offensive chances, so Bayern will hope that trend continues on the road in a tough atmosphere.
Quote: "We must go out to win the game, not think about protecting our advantage or anything else," said Real Madrid manager Zinedine Zidane. "The first leg is already over. "We know they have a lot of options to damage their opposition, and like all teams they have their defects. So we will prepare well for the game, as we did for the first leg. We know that we must play another great game."
LEICESTER CITY VS. ATLETICO MADRID (Tuesday, 2:45 p.m. FOX SPORTS 2) (ATLETICO MADRID LEADS 1-0, ON AGGREGATE)
Injuries of Note: Leicester City's Wes Morgan is scheduled to have a late fitness test before Tuesday's match. The defender has missed the Foxes' last six matches due to a nerve problem in his back. Defender Robert Huth is suspended also for the Foxes. Atletico sees Kevin Gameiro fit after missing the last five matches, while Antoine Griezmann, Gabi, and Koke were all rested at the weekend.
Key to the Game: Leicester City needs to force chances on goal..period. In the first leg, the Foxes didn't force Jan Oblak into a single save, and that needs to change for a chance of advancing. Atletico need to use Griezmann's skill to full advantage, while protecting that one-goal cushion.
Player to Watch: Leicester City striker Jamie Vardy will be relied on to create chances for his team. The 30-year-old has scored four goals in his last six matches across all competitions, including a brilliant finish at Crystal Palace last weekend. His pace and energy could cause some problems for the Atletico back-line.
Quote: "We need to make sure we create more offensively," said Leicester City manager Craig Shakespeare. "We've got to get a goal back. But by the same token, we need to be mindful of players like Griezmann. We need to deny them space because they're a very, very good counter-attacking team."
BARCELONA VS. JUVENTUS (Wednesday, 2:45 p.m., FOX SPORTS 1) (JUVENTUS LEAD 3-0, ON AGGREGATE)
Injuries of Note: Javier Mascherano looks doubtful after picking up a calf problem following the first leg in Turin. Winger Arda Turan who was expected to be ready for Wednesday's match is also behind in recovery, while Aleix Vidal and Rafinha are long-term absentees. Paulo Dybala is expected to start after suffering a calf injury in Juventus' weekend victory at Pescara.
Key to the Game: Barcelona cannot afford conceding at home if they want to come back for the second consecutive round. Defensively, they need to slow down the attacking threats of Dybala and Gonzalo Higuain. Offensively, they need their star players to perform a lot better than the first leg. Leo Messi is coming off a brace this past weekend, while Neymar should be fit and ready to go after serving the first match of a suspension in La Liga play.
Player to Watch: Leo Messi will once again be the player Luis Enrique counts on for Barcelona. The Argentine is coming off a brace against Real Sociedad last Saturday, and will look to add to his 44 goals in all competitions already this season.
Quote: "We can do it. We did it once and we can do it a second time. We have to give our absolute maximum. If everything goes well, there will be another comeback," said Barcelona forward Neymar. "I believe in the team and in our power. Everything is already lost, so we have nothing to lose and everything to gain."
AS MONACO VS. BORUSSIA DORTMUND (Wednesday, 2:45 p.m. FOX SPORTS 2) (MONACO LEAD 3-2, ON AGGREGATE)
Injuries of Note: Dortmund defender Marc Bartra is out for at least a month after suffering a fractured wrist. Marco Reus returned to the Dortmund line-up this past weekend and will be expected to play. Monaco sees midfielder Tiemoue Bakayoko return to the squad after a first-leg suspension.
Key to the Game: AS Monaco will look to keep the pressure on Dortmund, while also avoiding sitting back and allowing Dortmund to control the ball. Kylian Mbappe and Radamel Falcao need to pressure the Dortmund defense, which was forced into several mistakes in the first leg. Dortmund needs to get Pierre-Emerick Aubameyang involved after the Gabon international was quiet in the first leg.
Player to Watch: 18-year-old Kylian Mbappe is quickly becoming a household name in his UCL debut season. The striker scored a double in the first leg, and has 16 goals in all competitions this season.