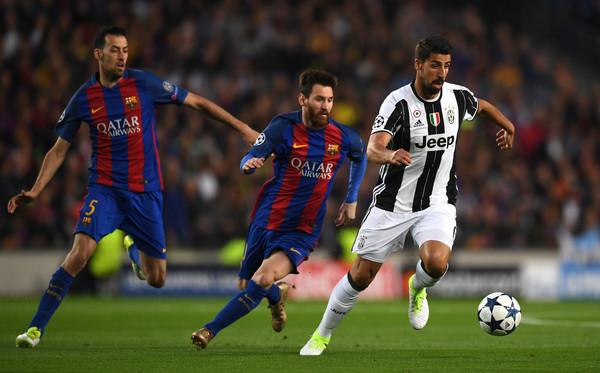 Juventus advanced to its third UEFA Champions League semifinal appearance in the past four years, holding Barcelona in a scoreless second leg draw at the Camp Nou on Wednesday.
Massimiliano Allegri's side exacted revenge on the Spanish side after Barcelona defeated Juventus, 3-1, in the 2014-15 UCL final.
After a 3-0 first leg victory in Turin on March 11, the Italian side knew it had to defend against a deadly Barcelona attack for a chance at moving on.
Lionel Messi had the best effort on goal for Barcelona in the opening half, but sliced his left-footed effort wide from inside the box. Messi's 31st-minute effort forced a good save from Gianluigi Buffon. Gonzalo Higuain recorded the only shot on goal for Juventus in the opening 45, forcing a save from Marc-Andre ter Stegen.
Ter Stegen kept Barcelona from going down in the second half, providing saves on Juan Cuadrado and Miralem Pjanic. The Juventus back-line did not allow another shot on goal from Barcelona, advancing on a 3-0 aggregate scoreline. Out of their 19 shots in total, Barcelona only saw one on target. Ter Stegen made four saves, keeping his side in it for most of the match.
In what was Luis Enrique's final European match in charge for Barcelona, he sees his side ousted in the quarterfinals for the third time in the past four seasons.
MBAPPE SPARKS MONACO OVER BORUSSIA DORTMUND
Following their 3-2 first leg victory in Dortmund last week, AS Monaco cruised to a 3-1 second leg win at the Stade Louis II on Wednesday.
Kylian Mbappe opened the scoring in the third minute, finishing off a rebound inside the box. It was the 18-year-old forward's third goal in the tie and 16th in all competitions.
Dortmund's Nuri Sahin struck the right post in the 14th-minute from a wonderfully taken free kick attempt. Monaco's lead was extended to 2-0 just three minutes later as Radamel Falcao headed home Thomas Lemar's cross.
Marco Reus' fourth goal of the competition, gave Dortmund a lifeline in the 48th minute, pulling the visitors to within one. However, that was the closest they would get as Valere Germain added some insurance for the hosts, slotting home in the 81st-minute.
Despite late efforts from Pierre-Emerick Aubameyang and Christian Pulisic, Monaco held on for a 6-3 aggregate win. Danijel Subasic made six saves in the win, while Roman Burki made five saves in the loss.
This is the first semifinal appearance for Monaco since 2003-04, while Dortmund is eliminated in the quarterfinal stage for the second time in the past four seasons.
Juventus and Monaco join Atletico Madrid and Real Madrid in the 2016-17 UEFA Champions League semifinal round. The semifinal draw takes place on Friday.