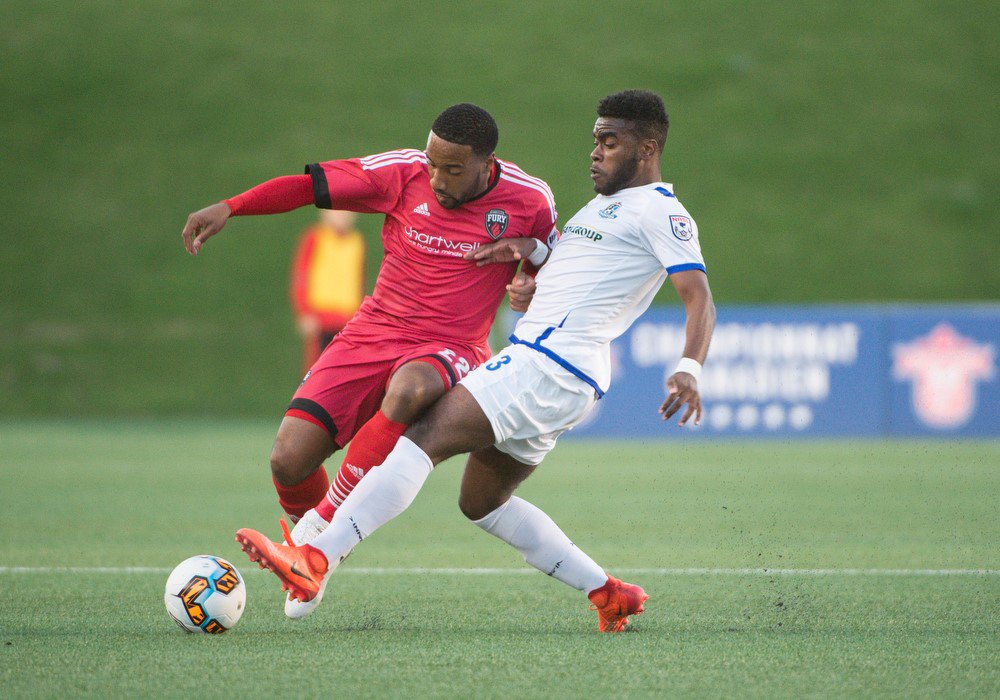 The Canadian Championship started on a subtle note but a 90th minute goal from Ryan Williams gave Ottawa Fury FC the 1-0 win over FC Edmonton at Ottawa's TD Place.
Jimmy Shammar-Sanon crossed the ball from his left flank into the 18-yard box. FC Edmonton goalkeeper Tyson Farago made the save but the rebound went straight for Ryan Williams on the penalty spot. The Englishman tapped in the ball to get his team the winning goal.
Ottawa can thank its goalkeeper Callum Irving for saving his team's clean sheet at the 57th minute. Allan Zebie made a sliding tackle on Eddie Edward to create the turnover and the play moved forward. Tomi Ameobi took a shot on a goal from the left side of the 18-yard box which was saved by Irving but left a rebound. Zebie made his way into the box and had an open net but was denied a sure goal when Irving dove to his left make the last second save.
Ottawa now has the edge with the return leg of the first round series to be held at Clarke Stadium in Edmonton on May 10. FC Edmonton will look to regroup having conceded late in the game and having not scored an away goal. The Fury will now look to get the away goal in Alberta to try and secure a second round birth against Toronto FC.
New rules applying to the Canadian Championship this year forced teams to play at least three Canadian players in their respective starting lineups.
Edmonton upped the ante by starting four Canadians: Goalkeeper Tyson Farago and midfielders Nik Ledgerwood, Allan Zebie and Ben Fisk. Ottawa opted for the minimum of three with goalkeeper Callum Irving, defender Eddie Edward and midfielder Jamar Dixon.
The second round—or semi-finals—will feature the winner of the first round playing against Toronto FC and the Montreal Impact playing the Vancouver Whitecaps.
The winner of the 2017 Canadian Championship will play a sudden death game against the 2016 winners Toronto FC to determine who will represent Canada at the upcoming CONCACAF Champions League. If Toronto wins in the 2017 final, they will have automatic berth in the international club tournament.