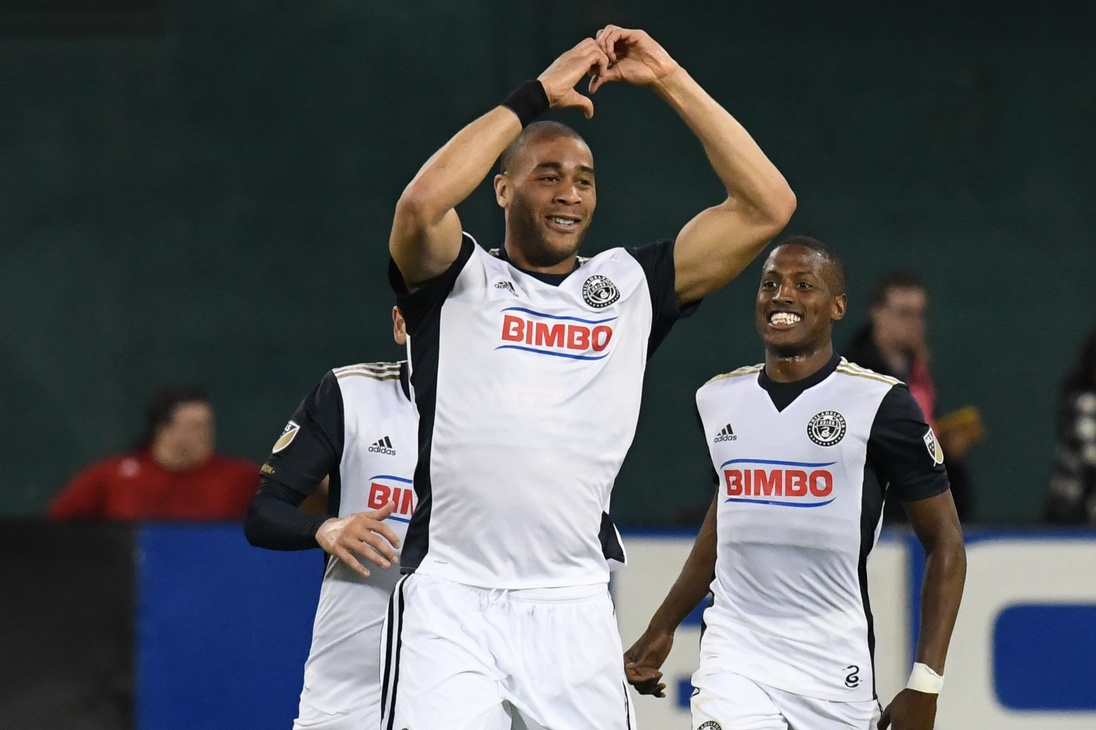 WASHINGTON –Everything has gone against Oguchi Onyewu over the last few years. On Saturday night, inside a stadium that holds plenty of significance to the player, those fortunes were finally reversed.
The 35-year-old centerback scored his first goal in three years on Saturday night in the Philadelphia Union's 4-0 trouncing of D.C. United at RFK Stadium. To make the moment sweeter, Onyewu scored in front of a large amount of family and friends on his 35th birthday.
"It only feels so long because it has been so long," Onyewu said. "It's no secret in recent years I've struggled with injuries and such. I tore my Achilles about two years ago. To come back in my hometown and on my birthday, turning 35, and kind of put it in the faces of a lot of people who thought I was too old and too injured to play and too old to compete, I think they're opening their eyes and realizing otherwise right now."
RFK Stadium always had a special part of Onyewu's heart from growing up in the area, but on top of everything else, the goal came at the stadium where one of his first major injuries occurred in World Cup qualifying in 2009.
"This was the site of my first big injury," Onyewu said. "RFK is always important to me because this is where I grew up and whenever I play here, there's going to be a section so it's extra motivation to be on my game and play well." 
Onyewu's redemption song is a rare one to be sung. Usually a player at his age is deemed not good enough to play again, and there were a few clubs who believed that exact sentiment. Onyewu began preseason as a trialist with the Union and then was signed after an injury to Joshua Yaro and good form in training.
"Before I signed with the Union, there were three or four teams that passed on me strictly because of my age and injury history and strictly because they didn't believe in me," Onyewu said. "I think that's a motivation throughout my whole career, to prove people wrong."
When he scored his 64th-minute header off a Haris Medunjanin corner, it was hard for the 35-year-old defender to contain his emotions, especially with everything aligning in his favor on what will go down as a memorable night.
"When I jumped, I was like 'I'm going to win this ball'," Onyewu said. "I just have to connect and I saw it go in the back of the net and emotions took over me. I was calm and then it hit me. I ran around like I was back to being 23."
Onyewu's story becomes even more unbelievable when you look at his center back partner, fourth-round draft pick Jack Elliott. The pair have shut out the New York Red Bulls and D.C. United in consecutive weeks, adding to the club's 273-minute shutout streak.
"Jack has been growing as a player," Onyewu said. "I think the more games he gets, and obviously I'm helping him and trying to coach him and build him into a great player because he's a rookie. He's doing well. The players all around him are helping him out and we complement each other well."
Onyewu may not be in the starting lineup much longer due to the returns of Richie Marquez and Yaro, but his presence in the squad has been invaluable to the growing center backs. And even if he can't play every game like his teammates, there will be nights like Saturday that remind everyone Onyewu is still capable of turning back the clock.
"They tease me in the team and call me Old Man," Onyewu said. "As long as I can turn back the clocks two hours a day, you can't call me Old Man.
"I believe in myself and believe in my abilities and I'm thankful for Jim (Curtin), Earnie (Stewart), Chris Albright and the Union to see what I still had left."