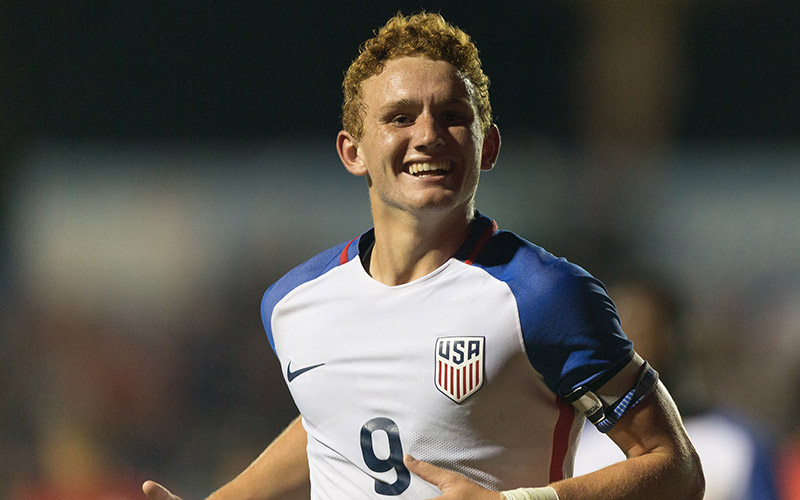 From the moment Josh Sargent was announced as a member of the U.S. Under-20 Men's National Team's World Cup roster, his inclusion raised several questions. Was he, at just 17 years old, ready for the U-20 level after a grueling U-17 World Cup qualifying campaign? Would Tab Ramos be bold enough to even use him and, if he was, could he provide answers at a position that was previously a weakness for this age group?
After Monday's World Cup opener, just two questions remain: just how many goals can Sargent score and just how far can his finishes push this U.S. team?
Sargent announced himself in a big way on Monday, scoring a brace in his World Cup debut. After conceding two early goals, it was Sargent, the youngest player on the U.S. roster, that stepped up. His goals led his team to a come-from-behind draw and made him the youngest player to ever score for the U.S. at a U-20 World Cup.
"My first goal, Luca (de la Torre) put me in a great position to score, and I just hit a volley near post," Sargent said. "The second goal, Brooks (Lennon) played an amazing ball to me, and I just did what I had to do.
"Coming off of qualifying with the U-17s and coming here is just completely different," Sargent added. "All the players are a lot bigger, stronger, faster and it's a new level. It'll push me every time I come out on the field."
Sargent's name has been one known throughout U.S. circles for some time, but it was at the CONCACAF U-17 Championships that he truly jumped into the spotlight. The forward racked up a whopping five goals and two assists in the team's run to the final as he guided the U.S. to a World Cup spot this fall.
In total, Sargent has amassed 19 goals and nine assists in 34 matches during the current U-17 cycle.
At times, the U-17 game looked too easy, especially in qualifying as Sargent was physically dominant. For the past several months, Ramos kept his eye on the young forward. The U-20s struggled to score goals throughout their own qualifying process as the forward position became a focal point for the group heading into the World Cup.
Ramos discussed Sargent's game with U-17 head coach John Hackworth several times as the two looked to figure out the best place for Sargent to play. Despite the temptation of bringing him up for that initial U-20 qualifying tournament, Ramos and Hackworth agreed that it was best to leave the U-17 team alone and let them qualify for the World Cup.
Shortly after achieving that goal with a win over Cuba, Hackworth pulled Sargent aside and let him know: he was bound for South Korea with the U-20s.
"He did a great job with (U-17 qualifying)," Ramos said shortly after unveiling his roster. "So now we moved him up, and he's already been in January camp with us this year, so we know Josh fairly well at this level and I think he'll do a great job. In the end, whether he plays the U-17 World Cup after this or not, I think the possibility will be there but it's sort of the same scenario with Christian Pulisic and us. Some players sometimes outgrow their age group and they have to move on.
"We have to remember that the youth national teams are here to provide a good development experience internationally and I think Josh will get that with us hopefully, so let's see what the future brings."
That future started off in ideal fashion. It took less than a half for Sargent to make his mark, firing two vital goals to erase an early deficit. There's still a long road ahead, sure, but the initial impressions showed Sargent is in fact ready for the leap.
What comes next? The Americans return to action on Thursday against Senegal and Sargent will almost certainly be in the lineup. Tuesday's match showed that his game is more refined than many could imagine. His physical tools are all there despite his age and he has certainly shown a knack for finding ways into space.
The Americans appear to have found their goalscorer in Sargent, answering one major question as they look to push through what will certainly be a roller-coaster of a World Cup.
"Obviously, we went down early with the two goals and had to fight back again," Sargent said, "but the thing with this team is that we never give up and we'll keep fighting until the whistle blows."