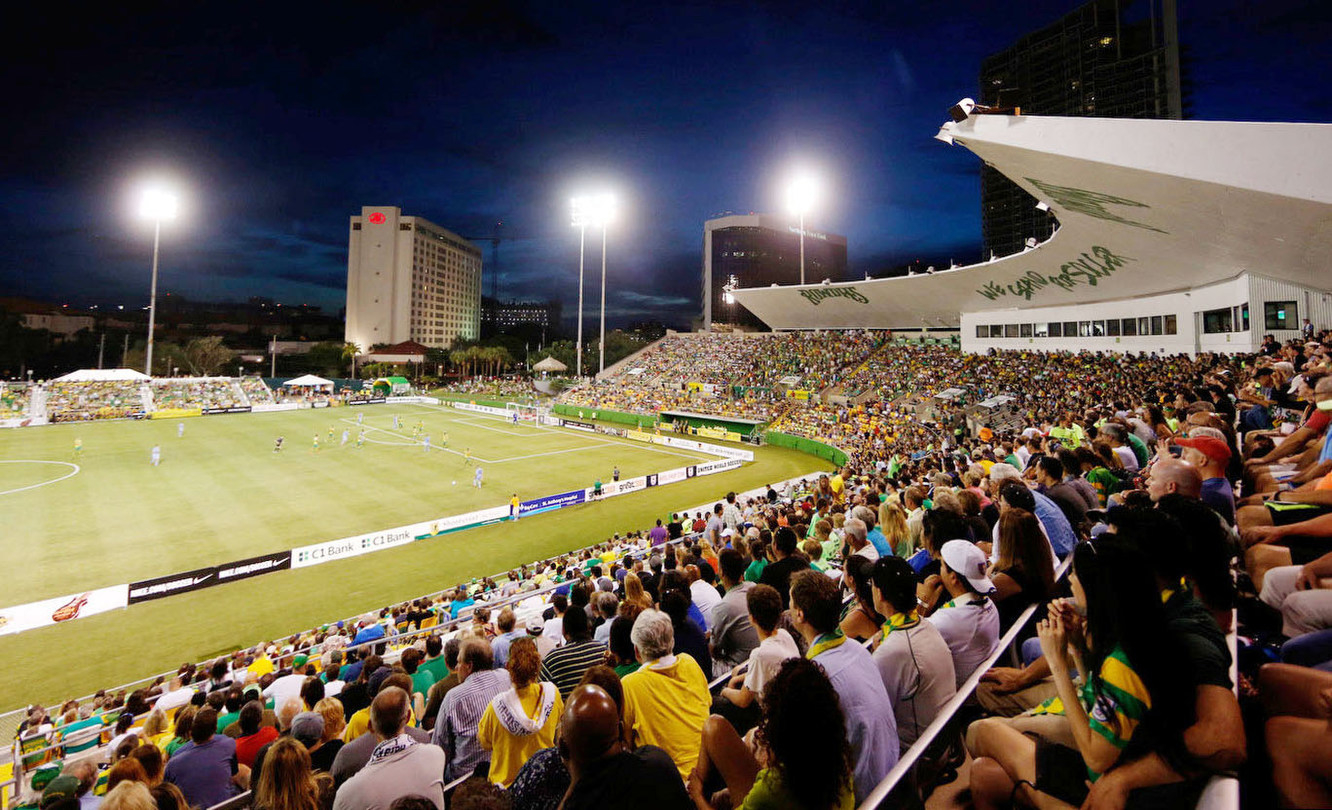 As we near the midpoint of 2017, and presumably the midpoint of MLS' consideration of expansion candidates for slots 25 and 26, several bids have seen public votes go in different directions.
Out in St. Louis, SC STL's proposed bid for a downtown stadium in St. Louis was shot down by voters in recent months. The proposal requested $60 million in public funding, down from a previously suggested $80 million, but the reduction wasn't enough to convince voters. The referendum can very easily be seen as a representation on the shift in public opinion regarding the public funding of stadium projects for sports teams. While not dead yet, as there have been rumors of a "Plan B" from the ownership group, the vote was a major strike to St. Louis' hopes as a presumed front-runner.
Meanwhile, in Tampa/St. Petersburg, an entirely different story unfolded on Tuesday. In a public vote for a 25-year lease of Al Lang Stadium to the Tampa Bay Rowdies, with promises of renovations into a 20,000 seat MLS arena within the footprint of the original site, voters overwhelmingly supported the entirely privately-funded initiative. The vote passed by an extremely comfortable margin and suddenly has the Rowdies setting the tone for other candidates' stadium hopes.
San Diego hasn't yet had their public vote, but one appears to be on the agenda with a decision set to arrive sometime after Nov. 7. The proposed SoccerCity bid to demolish Qualcomm Stadium and re-build a $200 million dollar stadium to be shared with the San Diego State Aztecs athletics programs would be entirely privately-funded as well. Early polling has indicated that the bill granting use of the publicly-owned land is heavily supported. San Diego has long been seen as a front-runner with the departure of the San Diego Chargers to Los Angeles, and does the rejection of St. Louis bring them to the head of the pack?
Nashville, meanwhile, has been quiet so far on stadium plans, but has made big promises for the future. Led by sole major investor John R. Ingram, the bid has strong connections to the city of Nashville as well as Vanderbilt University. While Ingram has stated that the bid will be a public-private partnership to some unknown extent, Nashville feels more confident in their bid despite St. Louis' failures. With public stadium projects built to support the Tennessee Titans and Nashville Predators, and with the President & CEO of each local team involved in the planning, there's reason to believe Nashville can get a deal done and push themselves heavily into the conversation.
Don't forget the Sacramento Republic, however, who received approval for a new stadium back in November 2016, well before the official MLS bid process even began. With that piece squared away, and with a strong history already in the MLS-affiliated USL, the Republic seemingly have everything that MLS has required from previous expansion candidates. Whether or not that proves to be enough could also strongly hinge on San Diego's public vote, as MLS may be wary to approve two Californian teams in the same round of expansion this time around.
All of this is in addition to the bids from Charlotte, Cincinnati, Detroit, Indianapolis, Phoenix, Raleigh/Durham, and San Antonio, all of which will need to show something in terms of stadium plans soon to remain in contention. All but Detroit have teams already playing in either the USL or NASL, so the big distinguishing point will be the approval or rejection of their stadium plans and how they stack up against the opposition.
With all that in mind, who do you see as the current frontrunners for this round of MLS expansion?
Share your thoughts in the poll and comments below!
[polldaddy poll=9738531]