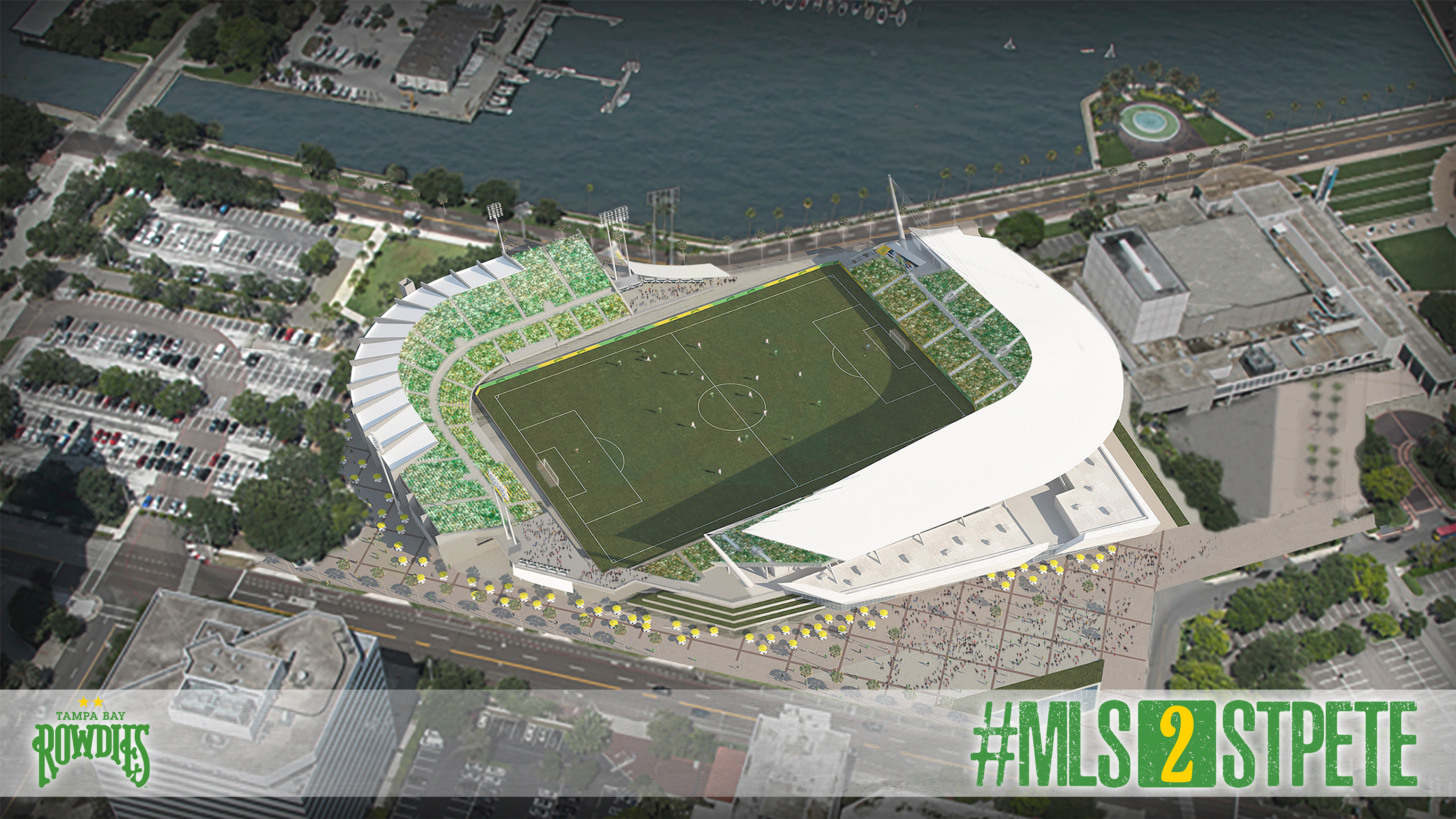 The Tampa Bay Rowdies moved one step closer to their goal of bringing Major League Soccer back to the Tampa-St. Petersburg area after the passing of a public referendum to allow the St. Petersburg city council to negotiate a long-term lease with the Rowdies. The referendum, which will all negotiation for extending the lease to Al Lang Stadium for up to 25 years, passed with 87 percent of the vote.
The long-term lease is needed so Rowdies owner Bill Edwards and his partners can launch an $80 million renovation plan for the stadium. The plan, which is contingent on Tampa Bay being chosen as one of the next MLS expansion markets, will include expanding the stadium to 18,000 seats while making other improvements to the waterfront area around the stadium. The expansion plan is the centerpiece of Tampa's bid to re-join MLS. Unlike the initial stadium proposal from Saint Louis, Tampa's is completely privately funded which is one of the keys behind it passing by such a large measure.
"I am grateful to the citizens of St. Petersburg for passing this important referendum," said Edwards. "St. Petersburg is very protective of our incredibly valuable waterfront – as is appropriate.  We have put together a stadium plan that enhances our downtown, is of a scale that is respectful to our waterfront and does not burden the taxpayers."
MLS also lent their congratulations to the #MLS2StPete movement, releasing a statement shortly after the vote passed.
"We are pleased that the people of St. Petersburg support the Rowdies proposal to renovate Al Lang Stadium." the league said. "Bill Edwards personally came to our offices in January to submit his expansion application and share his vision. With the passage of the stadium vote, we look forward to working with the Rowdies as they continue to pursue a Major League Soccer team for Tampa Bay."
The Rowdies-led Tampa Bay MLS expansion group is one of 12 trying to secure one of the four expansion slots MLS is looking to fill in the coming years, and Tuesday's referendum approval will certainly boost Tampa Bay's chances of having an MLS team for the first time since the Tampa Bay Mutiny closed up show after the 2002 season.
Here is a look at the renderings of the proposed stadium project: