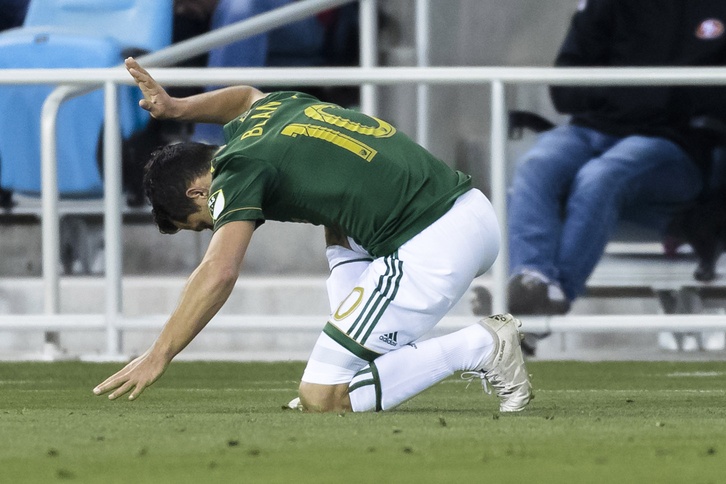 SAN JOSE, Calif.- Diego Valeri and Darlington Nagbe were missed as the Portland Timbers crumbled at Avaya Stadium on Saturday night against the San Jose Earthquakes, suffering their second shutout of the season in the form of a 3-0 defeat.
After falling down a goal in the eighth minute, the incomplete Timbers' were unable to showcase any attacking cohesion against the Quakes on Saturday night.
"I think we missed them more than we wanted to, obviously we thought we'd play better without Darlington or Valeri, but everyone knows that Valeri and Darlington are real key to how we play," Timbers head coach Caleb Porter said. "We knew we wouldn't have as much creativity, possession, and imagination without those two, because they're our two primary playmakers but we thought we'd execute better in creating chances than we did tonight."
Despite leading the league in goals scored with 20, the Timbers didn't demonstrate too much in front of the net in their defeat against San Jose as they lost the possession battle and only put four shots on frame. Timbers leading scorer, Fanendo Adi, suffered from the absence of his supporting midfielders, failing to put a shot on target.
"I didn't think we created much on the flanks, we never really had much connection in our front four and I think that goes with having a little bit of guys in and Adi's out, Valeri's out, Nagbe's out," Porter said. "We haven't been able to put together our front four and I thought we lacked cohesion and chemistry and you saw that in our chance creation."
Replacing both Nagbe and Valeri in the starting lineup at the same time is an uncommon occurrence. Saturday saw Dairon Asprilla, Sebastian Blanco, and Darron Mattocks combine as Portland's attacking midfield trio for the first time this season.
"We missed them of course, they are really good players, but it's part of the season and we have a really deep bench," Timbers goalkeeper Jeff Attinella said. "I think the guys that stepped in did well and it just wasn't our night."
The loss against the Quakes marks the Timbers' second game without a victory, and coincidentally the second without the American and Argentine on the field together. Portland will hope to have Valeri and Nagbe available next weekend as they host Atlanta United.
"Tough night all around and I'm sure you might be looking around because Nagbe and Valeri aren't here, but obviously it would be nice to have them back," Liam Ridgewell said.