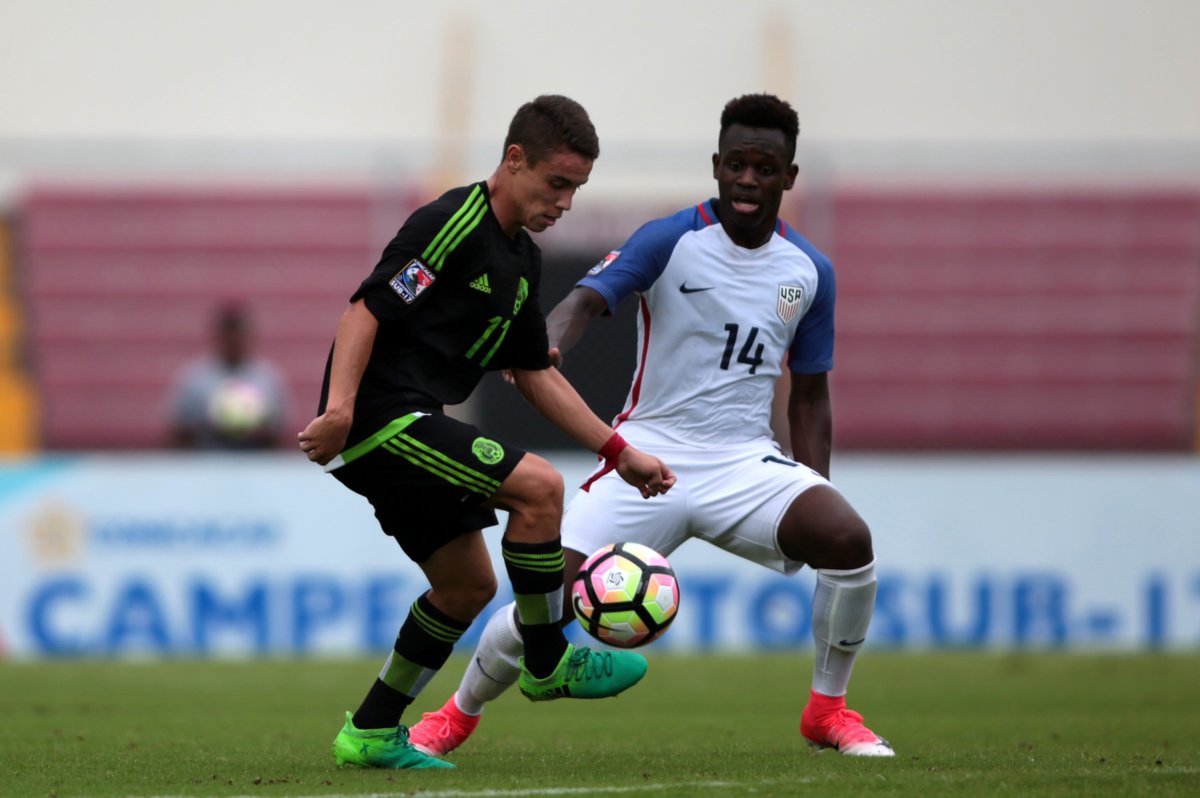 The U.S. Under-17 Men's National Team was just moments away from winning the CONCACAF U-17 Championships. A late equalizer and the ensuing penalty kicks saw ended that dream, as the team's biggest rival completed a late-game push to end the U.S. team's perfect run through the tournament in Sunday's finale.
Mexico scored a 90th minute equalizer to push the score to 1-1 before winning, 5-4, in penalty kicks on Sunday to claim the crown as CONCACAF's champions. The result ends the U.S. U-17s' perfect run through the tournament after beginning the competition with five-straight wins.
After holding strong for 90-plus minutes, the U.S. defense buckled late, allowing a Mexico equalizer and forcing penalty kicks. The two sides both made their first three shots from the spot with both goalkeepers getting their hands on the third shot as they trickled in. On the fourth attempt for the U.S., Akil Watts sent his shot over the bar, opening the door for Mexico. U.S. defender James Sands made his side's fifth shot from the spot before Roberto de la Rosa Gonzalez fired home for Mexico, sealing the win.
Following an entertaining, but scoreless, first half, the U.S. finally broke through in the 63rd minute thanks to a Mexico blunder.
Just moments after coming into the game, Weah won a header on a mis-hit from Mexico goalkeeper Cesar Lopez de Alba, pushing the ball to Carleton. With the Mexico goalkeeper in no man's land and in little rush to get back, Carleton turned and fired with his back to goal, sliding a shot to the far post to give the U.S. 1-0 lead.
The goal came just moments after a heavy Mexico push, and El Tri was unfortunate to see a goal disallowed early in the second half.
Both sides combined to create several chances in the first half, but the best look came from El Tri. A shot from Mexico forward de la Rosa Gonzalez forced a big save from Justin Garces, as the U.S. goalkeeper dove to get his fingertips to the shot.
As the second half continued following Carleton's goal, Mexico continued to press, but was repeatedly repelled by the U.S. defense, a unit that allowed just six goals throughout the six-game tournament. However, the equalizer eventually came as Carlos Robles headed Mexico's equalizer in stoppage time.
Now, both teams look towards this fall's World Cup, which is set for Oct. 6-28 in India.