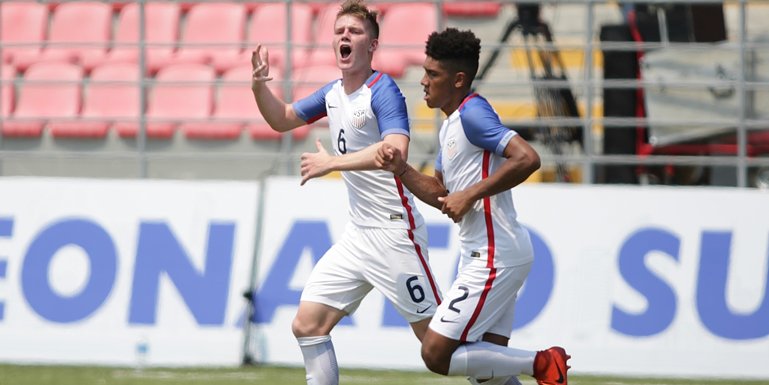 The U.S. Under-17 Men's National Team completed step one, and they did so perfectly. Their first goal has been met as they exceeded many expectations throughout the group stage.
Now, the focus turns towards step two, the classification round, with a berth in the World Cup now actually within reach.
After cruising to a perfect nine-point group stage, the U.S. U-17s return to action on Tuesday against Honduras for the start of their run through the three-team classification stage. The Hondurans enter off a 7-1 thrashing of Cuba, meaning a win or a draw on Wednesday will see them through to this fall's World Cup.
As for the U.S., a win would certainly go a very long way toward pushing for a World Cup berth and likely a spot in the CONCACAF final. Given their group stage efforts, the U.S. is plenty confident, but head coach John Hackworth knows the previous round was just a precursor to bigger, more pressure-packed challenges to come.
"I think this was a tough group," Hackworth said following Saturday's 1-0 win over El Salvador. "To have a game against Jamaica to open that was difficult until we opened it up late, the Mexico game is always going to be a major rival, (El Salvador) was a fantastic opportunity for us to get some other players starts and minutes in this tournament. So far, it's going well. We all regroup now and move on.
"We'll take nine points. It's a good way to go into the classification round. We have things to work on, but it's not bad."
All things considered, "not bad" is certainly a bit of an understatement. After a tepid first half against Jamaica, the U.S. exploded for five second-half goals from four different goalscorers: Chris Durkin, Timothy Weah, Josh Sargent and Ayo Akinola. In the ensuing rivalry match with Mexico, it was Sargent that led the charge early and Akinola that struck late with Blaine Ferri firing in between in what turned out to be a thrilling 4-3 win for the U.S.
With little to play for, Saturday's match against El Salvador had rotation as a major theme. Hackworth put together an entirely new lineup, one that emerged with a 1-0 victory. That, Hackworth says, brings confidence, as all 20 players on the roster have earned a taste of the tournament with the next stage looming.
"That was one great thing about (the match), giving so many guys a start," he said. "We started all 20 players on our roster. Everyone has had a start and some significant minutes, so that's going to bode well for our future in this tournament."
Now, though, they look ahead to a tough Honduras side. The Hondurans finished second in their group to start the tournament, winning back-to-back matches against Curacao and Haiti after falling to eventual group-winners Panama.
Forward Carlos Mejía is the team's biggest threat, as evidenced by his seven goals thus far in the tournament. Three of those goals came against Cuba, pushing the young forward into the lead for the tournament's Golden Boot.
It's a Honduras team that enters hot, and one that knows a point will see them through to India. With that in mind, Hackworth won't take any chances as the U.S. looks to move one step closer to their own spot in the World Cup.
"This is the most important part coming up," Hackworth said. "All six teams in this phase of the tournament, the objective is to get to the World Cup. We'll take it one game at a time from there and see if we can find a good run of form."