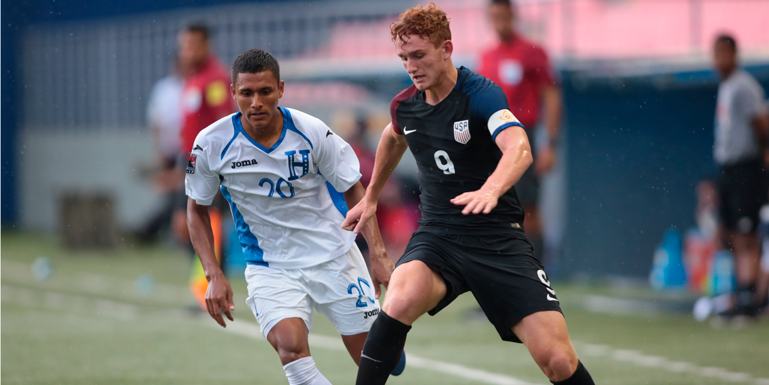 The U.S. Under-17 Men's National Team's run through World Cup qualifying ended in an odd combination of both success and heartbreak. On one hand, they accomplished their goal of qualifying for this fall's tournament. On the other, the lost the regional crown in heartbreaking fashion, falling in penalty kicks to rival Mexico.
It was a rollercoaster of a tournament, one headlined by a strong, steady climb before a quick, vicious drop. Throughout that rollercoaster, though, the U.S. side certainly made several impressions as they looked largely dominant through a five-match stretch of wins.
Led by stars Josh Sargent and Andrew Carleton, the U.S. cruised through the group stage before easing past Cuba and Honduras in the classification round. The final match against Mexico all but ended with a stoppage time equalizer, dooming the U.S. to a second place finish.
The run, in total, left plenty to analyze as the U.S. team now looks forward to the World Cup.
Here's a closer look at several takeaways from the tournament:
SARGENT STARS
Coming into the tournament, it was widely known that Josh Sargent was pretty damn good. Despite his club situation, or lack there of, the forward had made massive waves on the international level, rapidly becoming one of the brighter prospects in the age group.
Even with those expectations in mind, though, it was hard to not come out impressed with the forward's efforts throughout the six-game run.
Sargent finished the competition with five goals, good for third best throughout the tournament. It wasn't just the goals scored, but rather how he scored them. He looked like a man among boys out there. He was physically superior in every way and, technically, he wasn't half bad either.
It remains to be seen where Sargent will end up on the club level. Sporting KC remains an option as does Europe when he finally does reach his 18th birthday. Whoever does end up with Sargent, though, should know they certainly have a talent that looks more than ready to do special things at the pro level.
ATTACKING TALENT
Sargent was the obvious leader of the attack, and his goalscoring output certainly shows it. However, he's far from the only forward option that had a big tournament.
With the U-20 World Cup looming, Sargent is suddenly a candidate for a call-up, one which would see him forego a chance to continue on with the U-17s. It would be a major loss, certainly, but not one that would completely cripple the U.S. team.
Ayo Akinola and Timothy Weah both impressed throughout their tournament run, with the former scoring four goals, second only to Sargent on the team. Largely used off the bench, Weah contributed two of his own, proving more than capable of stepping in and providing a spark when needed.
The duo of Akinola and Weah is certainly a talented one, and they showed several times that they could combine to do plenty of damage. The age group has some talented attackers in the fold and those attackers should be enough to help guide the U.S. this fall, even if Sargent isn't in the fold.
FUTURE LOOKS BRIGHT FOR ATLANTA UNITED
Despite only being in their first season, Atlanta United has put together a strong crop of young prospects, three of which made their mark with this U-17 team.
Andrew Carleton was the obvious standout. The young midfielder was frequently one of the most dangerous players on the field, showing a composure on the ball that was all but unmatched throughout the tournament. He routinely dribbled into and around defenses while his passing range proved impressive as well. Were there moments where he lingered on the ball a bit too much? Sure, but there were also moments of brilliance that are hard to find at this level.
Joining him is Chris Goslin, who featured in five of the team's six matches. His game isn't as flashy or direct as Carleton's but Goslin showed maturity and poise from his spot deeper in the midfield. Overall, he was steady and reliable, all you can ask for from a young midfielder.
Then there was Zyen Jones, an Atlanta academy product that scored two goals in just 106 total minutes on the field. He was buried behind a talented attacking core, but it's hard to argue with that return from limited minutes.
It was a positive showing from the contingent of Atlanta United prospects, one which should have those within the club excited about what's to come.
FINAL HEARTBREAK
On any level, it's difficult to navigate a match with a slim lead. There's so little margin for error and, in just seconds, a whole match of hard work could evaporate into thin air.
The U.S. learned that less on Sunday, as Mexico's stoppage time equalizer sunk their hopes of a CONCACAF crown. It was a stunning heartbreak for a team that was virtually mistake-free throughout their five-game run of victories, a rare hiccup for a group that had had so few up to that point.
Should the U.S. have pushed harder for that second goal? Probably. Throughout the match, the U.S. played not to lose for large stretches, and, eventually they were punished. With such a talented group of attackers, the U.S. could have pushed a bit harder for that second goal, even if Mexico's attack was bearing down.
Still, there are some positives to takeaway from what felt like a very, very negative moment. At the end of the day, that final was not the goal, but rather a step along the way. This fall's World Cup remains the primary focus and maybe, just maybe, a lesson in late-game management will prove a useful one for a group that looked so strong for two straight weeks.