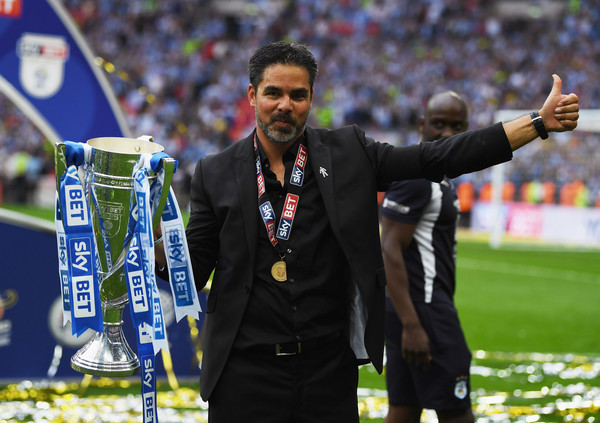 Even as the match wore on, David Wagner remained confident. His team, Huddersfield Town, was battling for an incredibly unlikely promotion, facing with a Reading side that had bounced between the Championship and the Premier League several times in the past decade.
Yet, when the final penalty kick was taken, it was Huddersfield Town that was bound for the Premier League for the first time in club history, and they had Wagner to thank for guiding them there.
The former U.S. Men's National Team midfielder led his side to a stunning promotion on Monday as the Terriers topped Reading, 4-3, on penalty kicks. The win sends Huddersfield to the top flight for the first time since 1972. In just Wagner's second full season, Huddersfield was promoted after finishing just three spots clear of relegation the year before.
"I am one of the happiest men on the planet after today and I am so proud about this group of players and what they've done over this whole season," Wagner said, according to the club. "This competition is really hard; if you win it you like it but my thoughts are with the other three teams who played a magnificent season, especially Reading.
"It's incredible that we brought 39,000 fans here to Wembley, the atmosphere was outstanding and a lot of people who have been here much longer with Huddersfield Town than I have said that this support is something extraordinary.  I have a lot of thanks to the fans and I am so proud for them as well because we are able to give them Premier League football next season."
After sealing a semifinal win over Sheffield Wednesday, Wagner said he had no doubt entering Monday's match. He game-planed to counter, using Izzy Brown and Michael Hefele to create. At times, it worked but, on the whole, Monday's clash was a physical dragged-out effort that saw both teams play not to lose. It was a match typical of a cup final, prompting penalty kicks.
On just the second kick, Huddersfield found themselves chasing following a miss from Hefele. Reading responded with Liam Moore's shot over the crossbar in the fourth round before Reading's Jordan Obita saw his shot saved by Danny Ward. Huddersfield defender Christopher Schindler stepped up and buried his shot from the spot, sending Huddersfield to the Premier League.
"I said to my players before the shoot-out, 'All of you are able to put the ball into the net from 12 yards and now we have the opportunity to go into the Premier League if you can do that'," Wagner said. "If someone had said to them 10 months ago that all they have to do is put the ball into the net from 12 yards to get into the Premier League, they would've all raised our hands and done it."
The win is just another major achievement for the former USMNT midfielder, who will no doubt be a hot commodity in the coaching carousel. The German-born manager has previously been linked to Wolfsburg and Bayer Leverkusen, and Monday's win will only further his reputation in European coaching circles.
But, for now, Wagner is focusing on his team's achievement. They face a massive task next season as they do battle with the Premier League's elite, and it will no doubt be a busy summer for both Wagner and the Terriers, no matter what the future brings.
"At the minute, my head is only about my families, my players and celebration but the mindset for next season is very easy," Wagner said. We will be a small dog in the Premier League and we will go into the season with no limits."