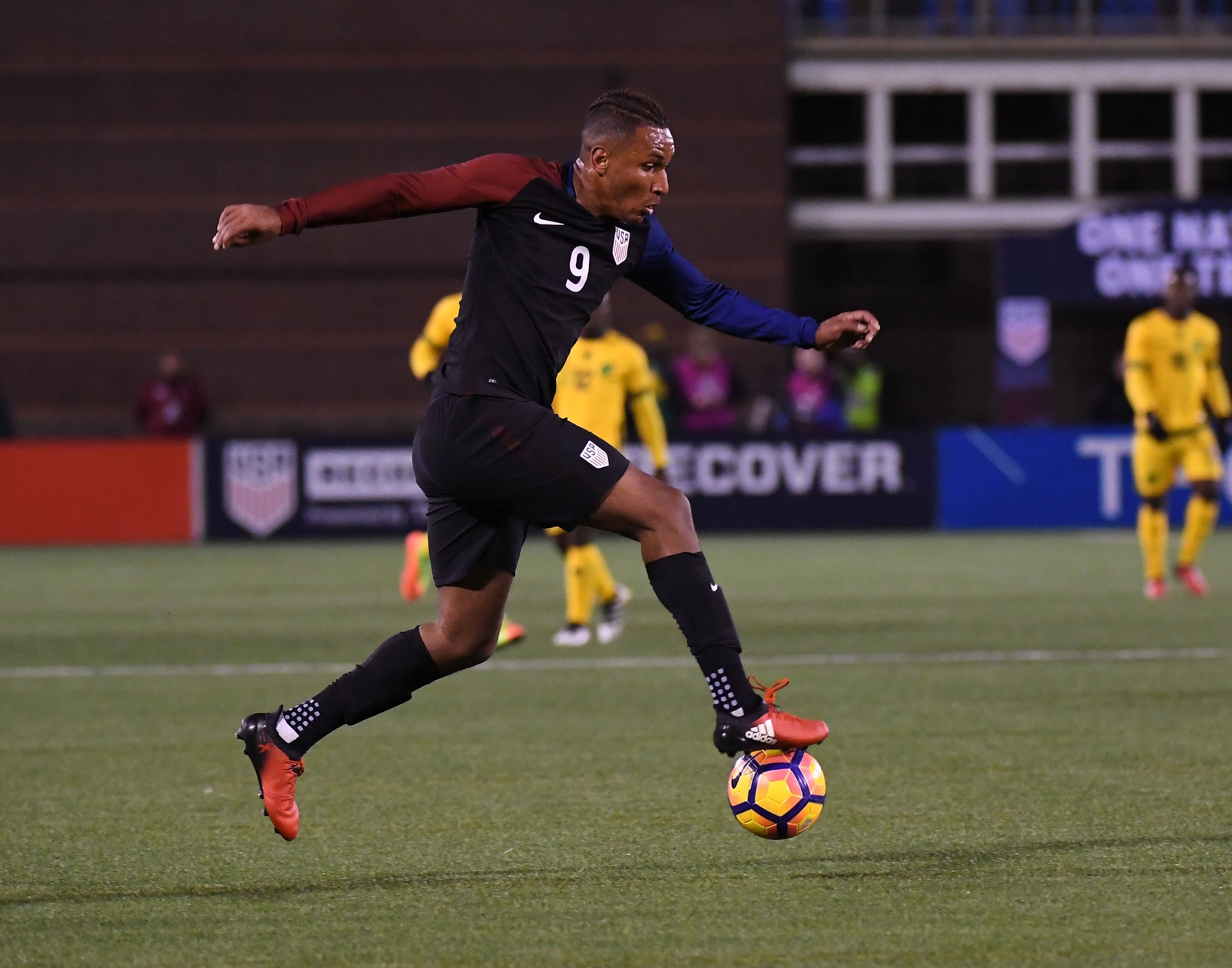 Juan Agudelo knows its on him. At 17 years old, he was heralded as the future of the U.S. Men's National Team, a potential star in the making. In the years since, the forward's international career has been inconsistent at best as he's largely existed outside of the USMNT picture.
Just 24 years old, there's still plenty of time for Juan Agudelo to piece his USMNT career together, and he isn't ready for you to give up on him just yet.
The New England Revolution forward is finally starting to find his feet after several up and down years at the club level. Through just 15 games and 11 starts, Agudelo has fired seven goals for the Revs this season, matching his goalscoring total from each of the last two seasons at the MLS halfway point.
It's been a winding road for Agudelo, whose club situations have regularly hampered his international career. However, he's now comfortable and in a starting role, making him a prime candidate to use the upcoming Gold Cup to show that he can still be that player that was once expected to become a future USMNT regular.
"There were some inconsistent call-ups," Agudelo said, reflecting on his international career thus far. "I wouldn't say it's frustration. It's just disappointment at times in myself and not anybody else. I believe I've belonged in the call-ups, but sometimes I don't show myself on the club level. That's the only thing I've been disappointed with: myself."
Agudelo's stock skyrocketed in Cape Town back in 2010 when he marked his USMNT debut with a debut goal against South Africa. He was just 17 years old. In the year that followed, Agudelo made 14 USMNT appearances, memorably scoring an equalizing goal against Argentina.
The years since, though, brought the disappointment Agudelo referred to. In the six years since his 2011 breakthrough, Agudelo has made just eight USMNT appearances as he bounced around on the club level. His Stoke City move, which could have served as a major European breakthrough, instead turned into a fiasco. A move to the Revs followed and, after several seasons in and out of the starting lineup, Agudelo's stock is just now beginning to recover as he finds his footing.
So far this season, the goals have been there. He scored six times in a seven-game stretch through March and April. An injury limited him in the weeks that followed before a recent goal off the bench in a 3-0 trouncing of Toronto FC.
While club situations have plagued Agudelo for several years, the forward has seen others around him continue their own rise. The forward initially came into the team alongside the likes of Mix Diskerud, Alejandro Bedoya and Omar Gonzalez, and all three went on to represent the USMNT at the 2014 World Cup.
"There are a lot of guys here who I started with at January camp when I was younger," Agudelo said. "To see them grow and play in such big tournaments or in a World Cup, it's special. Luckily, I have a relationship from before where I can speak with them and learn from them because they've played in huge games."
Now, Agudelo finds himself somewhere between youngster and veteran. He's played in a Gold Cup before, making him one of 11 players on the roster to have experience in the tournament. Agudelo was a part of the 2011 squad that infamously fell to Mexico, 4-2, in the tournament's final match. He was used as a substitute that day at the Rose Bowl, and he said he remembers how "unlucky" he and the USMNT felt to lose on such a big stage.
Now, Agudelo will look to provide guidance for several new faces, including club teammate Kelyn Rowe, who joins the senior team for the first time.
"Juan was sniffing; he's been right there since January," Revs head coach Jay Heaps said of Agudelo. "I'm excited that he's going to get a real chance in a tournament format. And for Kelyn, it's long overdue. He's someone who puts in the work and puts in the time."
"It's going to be nice to have someone you play with every day, day in and day out," Rowe added. "You know his tendencies. Juan and I can link up and we've done so in the years we've been here. Hopefully we can find that with the U.S. team."
Agudelo will certainly be hoping to bring his Revs form to the USMNT. He's one of just three forwards listed on the roster, although Gyasi Zardes can certainly play up top. Of the three, he has the most caps, and the unique combination of his physical gifts and play-making ability could be very helpful to the USMNT in the Gold Cup's early matches.
He just needs to seize that chance. With a World Cup on the horizon, it's all Agudelo wants and, in several ways, it's in reach this summer despite several all of the disappointments that have come in the past several years.
"It's definitely a great opportunity for all of us," Agudelo said. "There are a couple of guys coming in. It's strange to think I've been here a couple of times. It's an opportunity that you have to take. You don't know when you'll have another chance like this in a major tournament before a World Cup. For me, as a kid, I always wanted to play in a World Cup."