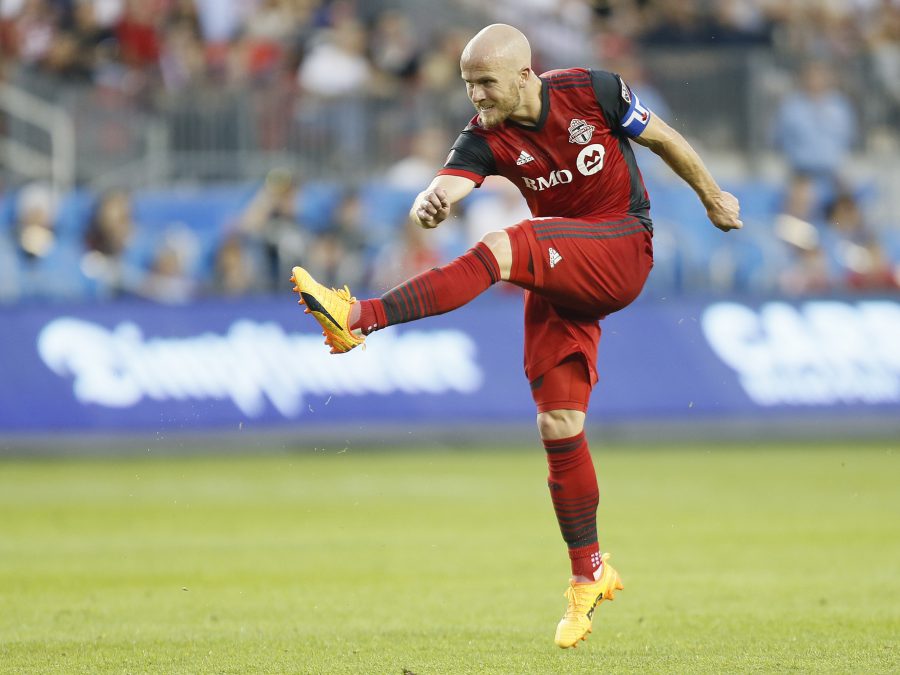 TORONTO — Michael Bradley has accumulated plenty of frequent flyer miles over the course of the past two weeks. His journey began in Toronto and took him to Utah, Colorado, Mexico and back to Canada.
Toronto FC's 2-0 win over D.C. United was the fifth game for Bradley in the span of 22 days. He played 90 minutes for TFC on May 26, then he went the distance for the U.S. Men's National Team in its friendly against Venezuela. The captain then started and finished both of the USMNT's World Cup qualifiers before completing another 90 on Saturday night.
Between the cross-country trips, training sessions and matches, one would imagine that Bradley is gassed. However, he insists that he's in his element.
"I feel great," said Bradley after the win on Saturday. "There is nothing better than playing. I genuinely love waking up every morning and come in to train, come in to play, spending time with the guys. I don't take a second for granted. When that is your mentality and that is your starting point, you enjoy every second. The games are coming thick and fast and that's exactly how I like it."
The 29-year-old is a key player for both club and country, which means barring an injury, he will always go the distance in games. Bradley has played the full 90 minutes in all but two of his 89 regular-season matches for TFC. He was not substituted in the playoffs and is seldom hauled off the field for the USMNT.
That is why Bradley reaching 100 appearances in all competitions for TFC is even more impressive. Not only is he the fourth player in club history to reach the feat, the midfielder has done it as an ironman of sorts.
"Michael plays just as hard as he does as if it is game day," said head coach Greg Vanney in his post-game press conference. "His capacity to work and to duplicate work time and time again. Whether it's long rest, short rest, he's just got an engine like really nobody else I've been around.
"The guy can work like nobody's business and he can do it day, after day, after day."
Bradley has also proven to be a vital part of TFC's midfield. In Toronto's 3-0 loss to the New England Revolution on June 3, the midfield looked disjointed and the Revolution attack was easily finding space in the center of the field. It was clear that the Reds missed their midfield stalwart that night.
"His capacity to do work is great, just in terms of leading by example for our group," said Vanney. "I think he's grown and continues to just help lead us in terms of communication, moving people around, problem-solving in the game, talking to guys. So it just becomes an incredible force in that position for us. He doesn't just do his job, but he helps to move other pieces around and helps keep the team linked together."
Earning $6.5 million per year, Bradley is far and away the highest-paid player in MLS at his defensive midfield position. While some might consider him overpaid, there is no doubt that TFC has one of the most consistent players in the league on its books. When he is out of the lineup, the midfield lacks balance.
Bradley's quality was clearly noticed overseas as TFC turned down a reported $5-million offer for his services. His 30th birthday is on July 31, so it's difficult to imagine the U.S. Men's National Team player returning to Europe with little re-sale value.
Bradley's contract expires in 2019 when he'll be 32. Regardless, it appears as if the USMNT star will continue racking up the minutes in a Toronto shirt for a few more years.