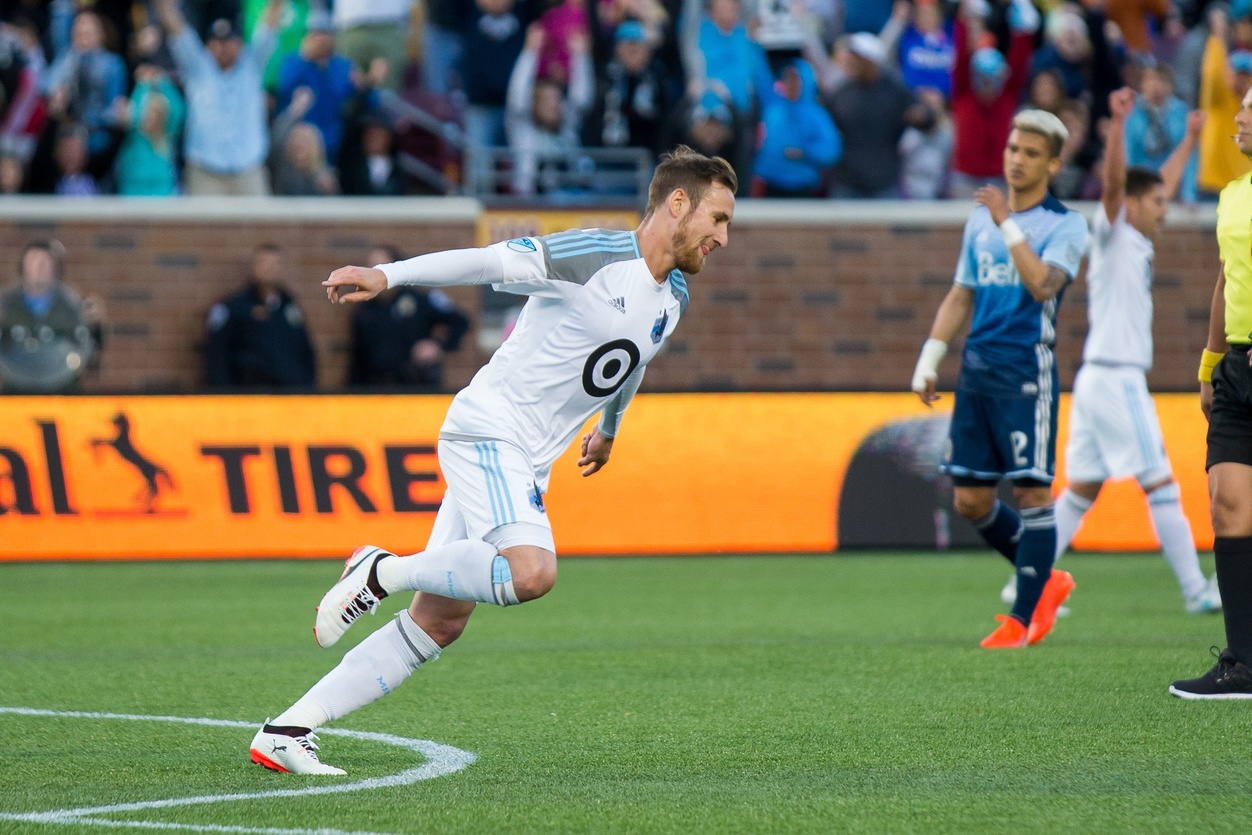 The unlikeliest of duos handed Minnesota United life in the second half on Saturday night in their 2-2 draw with the Vancouver Whitecaps.
Defenders Francisco Calvo and Jerome Thiesson both scored their first career MLS goals in the second half to rescue the Loons from a two-goal deficit.
Poor play out of the back from the Loons led to the first Vancouver tally, as a poor back pass intended for Bobby Shuttleworth forced the goalkeeper to slide in a challenge against Brek Shea that ended with Shea on the ground.
Cristian Techera took advantage of the early opportunity and rolled a penalty into the left side of the net for his fifth goal of the season and second in two games.
The diminutive playmaker shifted into the role of provider on a free kick right before halftime. Tony Tchani rose up among a pack of players in the penalty area to head home Techera's service and give the visitors a two-goal lead.
Despite going into the locker room with a comfortable lead, the Whitecaps weren't out of the danger zone yet.
Francisco Calvo started the Minnesota comeback in the 50th minute as he knocked in his first-career MLS goal on a wide-open header at the right post.
The crowd at TCF Bank Stadium erupted even more in the 63rd minute, when Jerome Thiesson slotted home his first goal in a Loons uniform from just outside the box.
The man who caused the first Vancouver goal in the first half prevented a third from going past him in the 79th minute. Shuttleworth made a terrific diving save on Whitecaps substitute Bernie Ibini-Isei to preserve the draw.
Not to be outdone by his counterpart, David Ousted made a denial in the 87th minute from close range on Kevin Molino to allow the Whitecaps to travel back west with a point.
Vancouver will take its three-game unbeaten run into Toyota Park in a week's time to play the Fire, while the Loons host D.C. United on the same day.
Man of the Match
Techera was the only player to play a role in more than one goal on Saturday night. He slotted from from the spot and recorded an assist on the final stroke of the first half.
Moment of the Match
Thiesson's goal, and wing flapping celebration that followed, sent TCF Bank Stadium into an uproar and saved Minnesota from what might have been a rough night.
Match to Forget
Matias Laba is normally a reliable man in front of his own net, but he was one of the players at fault for letting Calvo and Thiesson get open on their goals.