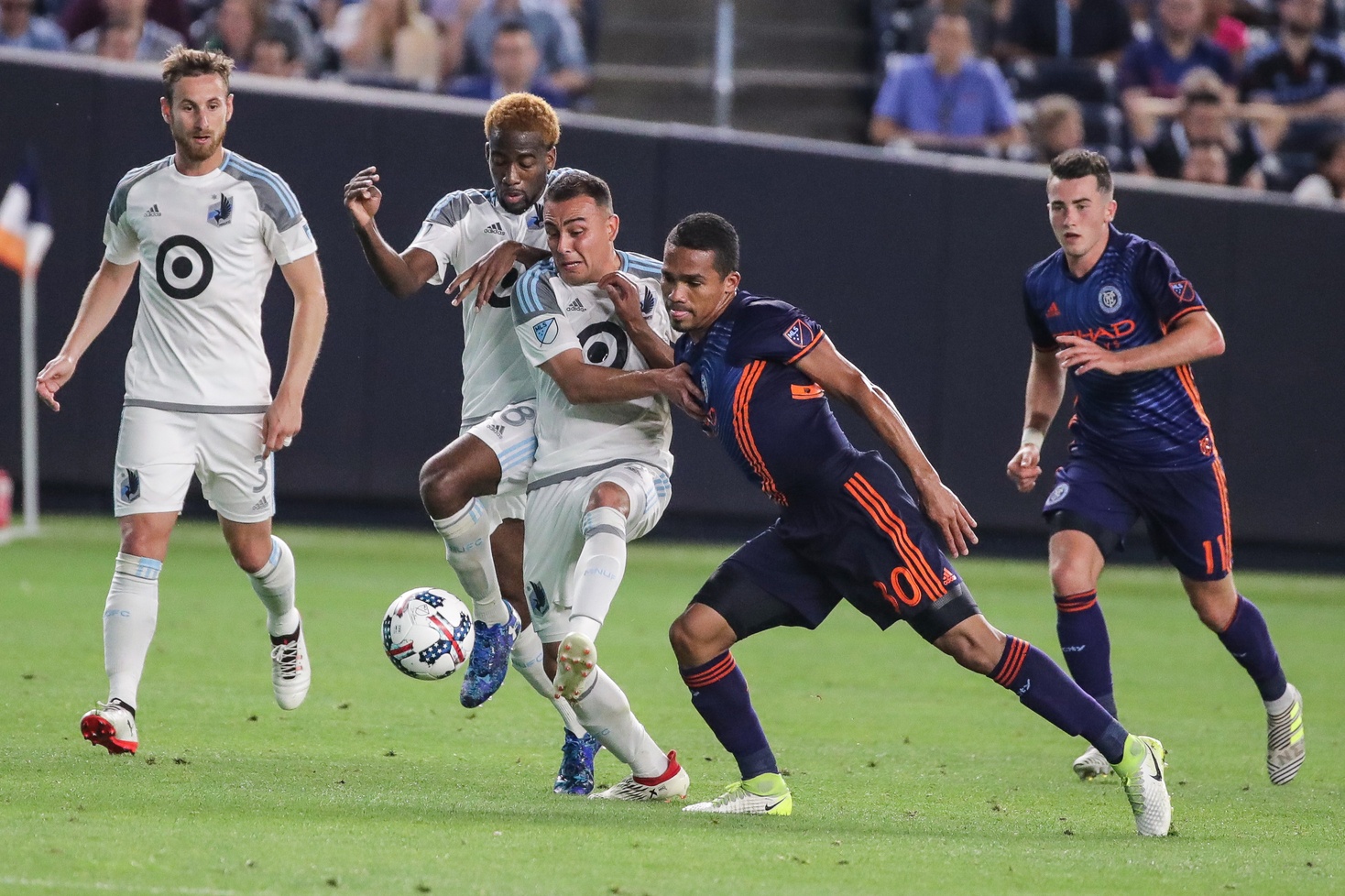 Minnesota United knew there would be bumps in the road. There always will be for expansion teams. Peaks and valleys will come throughout the season, even if the valleys will feel a bit deeper at some points as the team matures as a unit.
On Thursday, the Loons sunk to their lowest, and head coach Adrian Heath is fed up with what he's seen.
Despite scoring an early goal, Minnesota United conceded three unanswered in a 3-1 loss to New York City FC. The loss brought the Loons' record to 0-6-3 on the road, an abysmal return for even an expansion team.
When the match was done, the team congregated in the Yankee Stadium locker room for a team meeting. It wasn't a typical post game debrief, but rather a chance to air out frustration. Players stepped up and spoke their mind about what has become a very concerning trend for a team that hit a real low point in the Bronx on Thursday.
"I can't put my finger on why we are so weak, physically and mentally, on the road," Heath said. "Completely different set of people on the road than we are at home. I know it's different on the road, but we need to show a lot more backbone and drive and enthusiasm and desire to want to stop people from scoring goals. In this moment in time, on the road, people score goals too easily against us."
"We had a team meeting, and it can't happen anymore," added Christian Ramirez. "We can't be a completely different team on the road compared to how we are at home and there should be no excuse for how we play on the road."
It didn't look like it was going to go that way on Thursday, though. Just moments into the game, it was NYCFC that was left frustrated by a defensive lapse as goalkeeper Eirik Johansen botched a shot that hit him right in the hands. Christian Ramirez pounced, giving the Loons a 1-0 lead.
In the moments that followed, they could have gone two up. The visitors had several looks on goal, but none challenged Johansen in any way. For 10 or so minutes after the goal, the Loons felt good. Then it went downhill.
Heath said he genuinely felt that if NYCFC scored, they'd win the game. He said, from his point of view, NYCFC simply wanted to win and that was enough. Alexander Callens scored first, darting through the defense despite his role at centerback. A wide open header from Jack Harrison soon followed before Villa dribbled his way through the Loons backline for the third and final finish.
"The goal from David Villa summed it up perfectly," Heath said. "It's a throw-in, a needless harmless throw-in at the halfway line and two seconds later it's in the back of our net. Nobody has done enough to stop anybody."
Heath and co. are hoping Thursday's postgame meeting changes that. Ramirez said everyone feels like they have the right intentions and that the group is holding each other accountable. He stated his belief that it was important for the leaders of the group to step up and talk things out rather than allow the current issues to fester.
The issues needed to be addressed, midfielder Sam Cronin said, and the team is hoping the clearing of the air helps the team refocus on the bigger picture.
"I think it's our mentality. When we play at home, we're better than anyone, any team, when we play at TCF Bank Stadium," captain Francisco Calvo told SBI. "But when we are away, it's weird because I think our mentality is that we are away and we're gonna lose. I think before we get onto the pitch we are thinking that and we have to change that because I think we're a mature team. I think we need to work more. We need to respect each other and help each other on the field because we need to get some points away. "
"I think we're just a little bit too nice, too easy to play on the road," Cronin added. "We just got to be a bit tougher and have a willingness to grind a little bit more than we have been. We just have to be better and be stronger."
Fortunately, the Loons face a short turnaround and a return to TCF Bank Stadium. At home, the club has posted a very respectable 5-3-1 record ahead of a match against the Columbus Crew on Tuesday. In some ways, they're looking forward to it. A short turnaround never hurts a team looking to forget. Cronin says Tuesday's game gives the team a chance to make things right before the Gold Cup break hits.
But, in other ways, the club is on thin ice. Cronin left Thursday's match with a shoulder injury, although he said he'll be ready to play on Tuesday.  Centerbacks Brent Kallman, Joseph Greenspan, Vadim Demidov and Marc Burch are already out with injuries. Calvo and Jermaine Taylor are bound for their national teams. The team has no true healthy centerback.
Heath says he expects the summer to bring change for Minnesota, and they'll need it.
"We have a game on Tuesday. I don't know how many people are going to be fit," Heath said. "We have a few knocks in there and a few are going to be away, but we have to regroup. For me, the gap at the break can't come soon enough and we need to get one or two people in to put people under more pressure for starting positions.
"We haven't got enough depth to change things around. Trust me, if I could I would," Heath added. "I can't keep watching this. It's driving me crazy. I'm watching people play at home with all good intentions and with everything we ask of then, away from home, we just don't get enough out of them and the players are kidding themselves if they think they're trying as hard as they can. I told them that at the dressing room. They're kidding themselves."