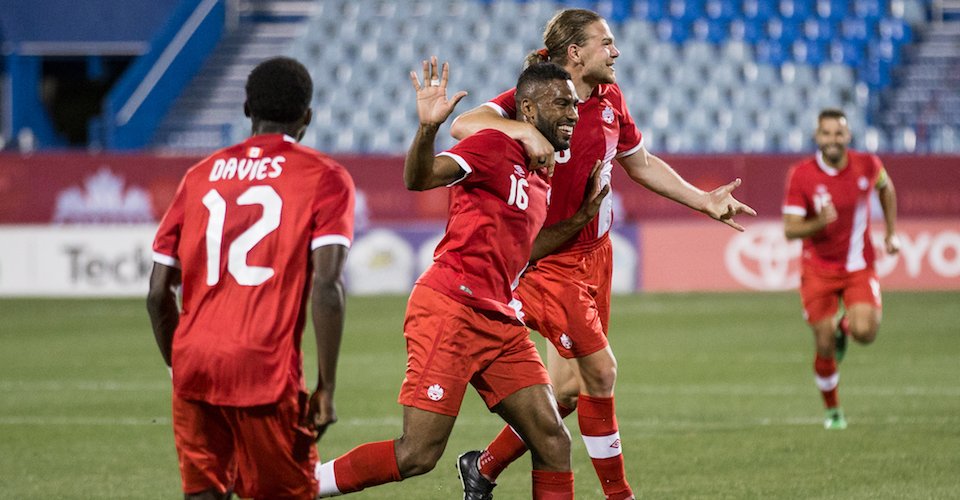 The Canadian national team was back in Montreal for the first time since 2007 on Tuesday night. In front of a sparse crowd, the Octavio Zambrano era began with a 2-1 late win in a friendly match against Curacao.
The winning goal came on a truly unusual play created by a penalty called against Curacao. At the 85th, Alphonso Davies got tripped in the 18-yard box by Shanon Carmeilia to create a penalty kick opportunity.
Junior Hoilett hit the post from the penalty spot but in the rebound, Samuel Piette stole the ball from a Curacao defender. He left the ball to Anthony Jackson-Hamel who, from outside the box, sent the ball in the lower right-hand side of the net to give his country the go-ahead goal.
Barely publicized and kept to secrecy during the weekend, Curacao susrpised a few Canadian fans. The Caribbean nation kept most of the possession early in the game while Canada looked disorganized.
Curacao opened the score at the 43rd minute. Gevaro Neponucemo fought with Russel Tiebert on the left flack to cross the ball into the box. The winger finally sent a low cross-pass to Rangelo Janga who tapped in the opening goal passed Milan Borjan
Canada answered right back at the 45th minute. Will Johnson sent the ball into the box from a free kick situation and was caught and then fumbled by Eloy Room. Manjrekar James took advantage of the loose ball and leveled the score seconds before the halftime whistle.
In the 52nd minute, one of the cold sweats Canadian fans had over dual national players officially ended. Alphonso Davies, having received his Canadian citizenship a week from the game, was subbed on for Raheem Edwards earning his first minutes in red and white and becoming the youngest ever to play for the senior national side.
Canada almost got the score to 2-1 minute after Montreal Impact supersub  Jackson-Hamel was subbed in for Cyle Larin. Jackson-Hamel sent the ball to the left flank for Junior Hoilett and ran into the 18-yard box where Hoilett crossed the ball back to him.
Octavio Zambrano now has a perfect 1-0 record with his national team following the late win.