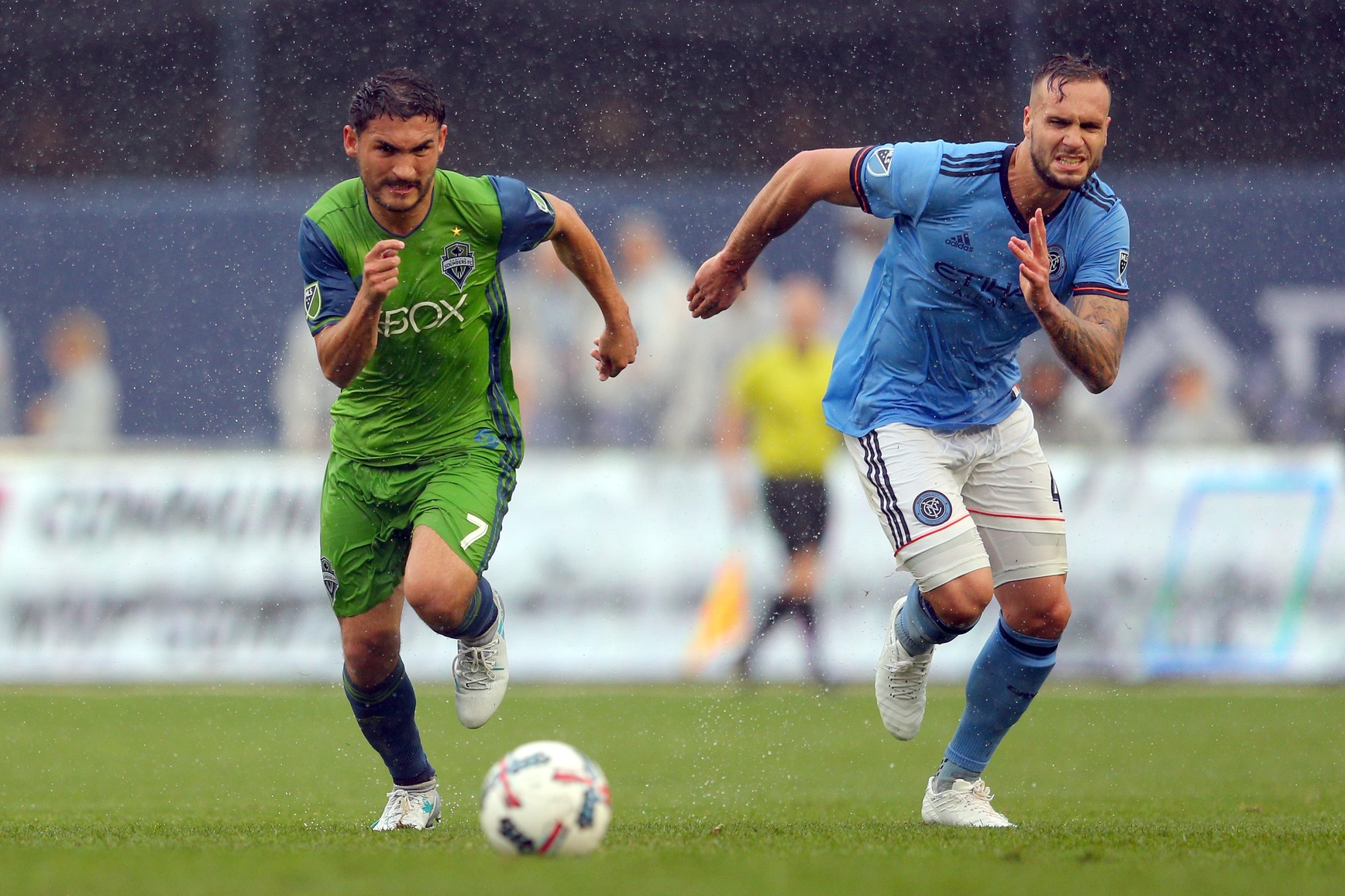 Ozzie Alonso could barely recall a game quite as rain-soaked. There was a game in Cuba that sprung to mind many years ago, one impacted by downpours nearly as much as Saturday's. Cristian Roldan recalled a game in Los Angeles where he was drenched throughout the 90 minutes.
It wasn't the rainfall that led to the Sounders' downfall in a 2-1 loss to NYCFC at Yankee Stadium. It wasn't the puddles scattered throughout the outfield. It wasn't the Slip N' Slide conditions that saw several players go flying. Rather, it was a series of momentary lapses, split-seconds decision that saw the Sounders squander points from what could have been and should have been a winnable game.
"They did okay. There was good resolve in the group," said Sounders head coach Brian Schmetzer. "We need to make sure you block crosses, mark their most dangerous guys. It's the little things, the little details, that go forgotten sometimes in the heat of the moment. We just need to look at the film and help the guys be a little better. We have to be a little better."
For large chunks of Saturday's match, the Sounders were certainly in it. The first 40 minutes proved a dreary mess of a match with large spells rendered virtually unplayable due to the rain. Balls stopped in their tracks. Dribbling was non-existent. Rain dominated all.
Eventually, Cristian Roldan waded his way through the mess and past the NYCFC defense, firing the Sounders into the lead. It didn't last long after the halftime whistle as David Villa was awarded a controversial penalty kick by referee Robert Sibiga. It was a match that saw players slipping and sliding all over the place, but it was a slight collision between Villa and Oneil Fisher that draw Sibiga's whistle.
It changed the game in more ways than one. NYCFC, now back into the match, continued to pile on the pressure. Eventually, that pressure produced a stunning Villa goal as the Sounders defense simply lost the Spanish star at the back post on the eventual game-winner.
"It gave them some life," Schmetzer said of the controversial call. "Referees, they have a tough job and sometimes they get it right and sometimes they get it wrong. It sparked them a little bit and they were able to get the second goal. We were trying to catch one there at the end. I thought we were unfortunate there. Chad usually gets those on frame and maybe 2-2 is a fair result or maybe 1-1 is a fair result."
"Every time you have a call like that, winning 1-0 and playing away, it's tough," added Alonso, who made his 300th appearance for the club. "The referee is human."
Schmetzer went on to say there were no positives to take from Saturday's match. It was a loss, after all, and a sloppy one at that. It's hard to judge much of anything when the ball is literally stuck in the field at points.
However, the returns of Jordan Morris and Clint Dempsey provided a welcome boost. Fresh off U.S. Men's National Team duty, the duo were fairly involved throughout the match, even if they were limited largely by an inability to play the ball through the conditions.
"For us to not have them for a few weeks and for them to finally come back and see how dangerous they are, it's nice to have them back," Roldan said. "Their chemistry is good. Obviously the weather conditions and the style of play today didn't suit them but, at the end of the day, they bring a lot to the table."
"In the first half, that one dead spot in front of goal probably prevented Clint from getting a shot on goal," Schmetzer said. "Then we had Harry (Shipp) in on goal when Jordan played him in with the outside of his foot. Those are the types of plays that those guys bring. We're happy to have them."
The Sounders can now look ahead to a busy week. They host Orlando City midweek as the team returns home to Centurylink Field. Then, a visit from the rival Portland Timbers take centerstage over the weekend.
It's a short turnaround, and that's a good thing for a Sounders team that expected more from Saturday's trip to Yankee Stadium.
"We play at home," Alonso said. "We have to set the tempo and get the three points. It doesn't matter how we play. We just have to get the three points."