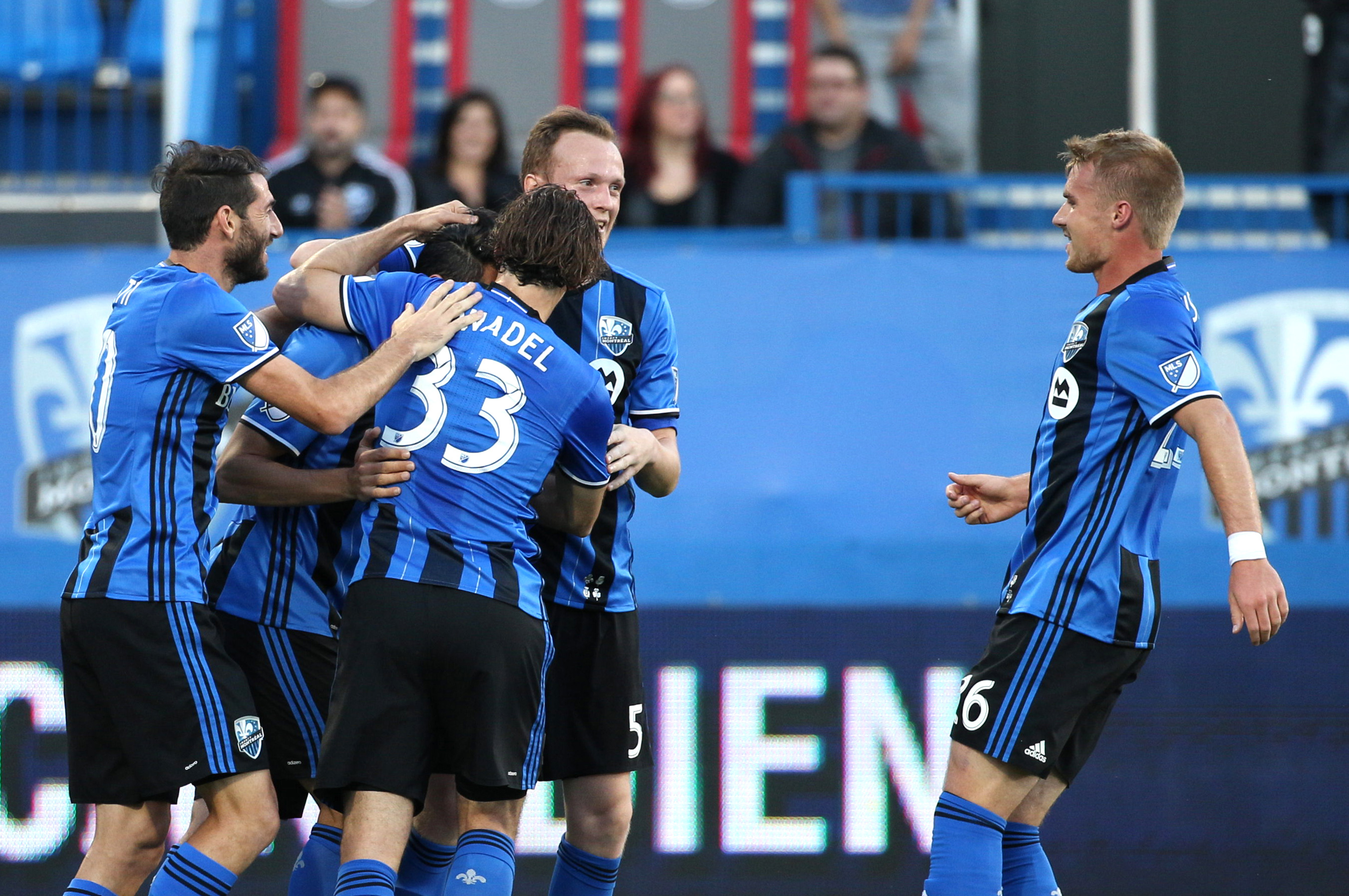 The intense 401 Derby was back for the first time this season as the Montreal Impact hosted Toronto FC in the first leg of the Canadian Championship final. It was a stalemate as Matteo Mancosu and Jozy Altidore exchanged goals Wednesday night in a 1-1 draw.
The Impact opened the score at the 19th minute. Laurent Ciman took a heavy strike from about 30 yards out that forced Clint Irwin to make a save and created a corner kick situation. The Impact decided to play the ball outside the box to Marco Donadel who took a shot from distance himself. Irwin made the save but his rebound was sent high in the air and eventually headed down into the goal by Matteo Mancosu.
At 30th minute, Toronto equalized while the Impact lost a player. In an attacking play, Steven Beitashour fell on both Laurent Ciman and Daniel Lovitz, injuring the latter in the process. As the play continued, Jordan Hamilton found Jozy Altidore just above the penalty spot who's shot was at first saved by Maxime Crepeau but deflected in the Impact goal. After the play concluded, Lovitz was stretchered off the field and substituted out.
At the 53rd minute, a penalty was called against TFC. Clint Irwin was caught tripping Piatti on the left side of the box. The Argentinean designated player shocked Stade Saputo when his attempt went well over the crossbar and into the stands.
Toronto FC added the likes of Sebastian Giovinco and Victor Vasquez to return to Ontario with a second away goal but young goalkeeper Maxime Crepeau stood strong to keep the score level.
In the event that the Impact win the Canadian Championship, they would be another win away from qualifying for the CONCACAF Champions League. Due to realignment, the 2017 champions would need to play a knockout game against the 2016 champions, Toronto FC, if necessary.
MAN OF THE MATCH
The Impact's young goalkeeper Maxime Crepeau saved his team at numerous occasions by making big saves in the second half. He denied the likes of Altidore, Giovinco and Hamilton to give the Impact a running chance in the second leg of the final.
MOMENT OF THE MATCH
In a play that saw the Impact's left back Daniel Lovitz stretchered out, Toronto FC took advantage of the confusion in the Montreal camp to equalize and get themselves an important away goal. Jozy Altidore had just enough space inches from the penalty spot to level the score at one goal.
MATCH TO FORGET
Possibly due to the Impact's newer formation which plays a five-man backline and an attack-minded midfield triangle, Patrice Bernier did not seem completely at ease. Having played an intense game in Orlando on Saturday, the captain wasn't as impactful during his time on the field.