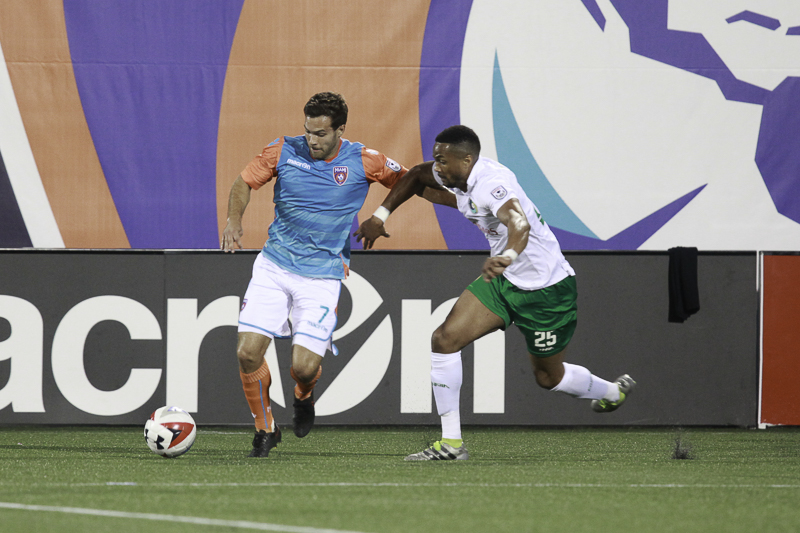 Miami FC has seen incredible success this season. The team has advanced to the fifth round of the U.S Open Cup, and through 12 league matches, Miami FC sits seven points clear at the top of the NASL league table. 
At the heart of Miami FC's success this season has been consistency. Through the first 12 games of the season Miami FC coach Alessandro Nesta has fielded very similar teams, only switching up his starting 11 to accommodate injuries and absences. One of the key players that has contributed to this consistency is midfielder Dylan Mares.
In January 2017, Mares signed with Miami FC, a franchise going into their second season in NASL. Players sign to new teams all the time, and fans often take for granted the difficulty that moves can bring to players and their families. Miami FC was the furthest soccer team Mares had played for, and the move was not easy.
Miami FC has played fun-to-watch attacking soccer, a large part of which Mares is responsible for. As a midfielder, Mares has found a home with Miami FC, scoring three goals and assisting on two more, all while working to help generate Miami FC's devastating attack from the middle of the park. 
"Playing for Miami has been a tremendous experience of growth for my family and myself," he said. "Moving away from family and friends is never easy but to come to a team where every player and staff member are as welcoming as they are here makes that transition easy for players. Miami is a beautiful city with a lot to offer and I am very happy and lucky to play at such a place.
"I definitely can say that I have grown as a player since the start of my career. Every year is a new opportunity to learn and grow from the coaches and players that are around. I still have a lot of room to develop as a player and areas in which I would like to learn more in but I am taking in as much as I can everyday to keep growing as a person and player."
Following his college career, Mares entered the 2014 MLS Draft, but was not selected in any of the four rounds. He then trialed, unsuccessfully, with Real Salt Lake. Despite struggles early on in his pro career, Mares persevered and went on trial with then-new NASL franchise Indy Eleven. Jumping from college to professional soccer is not always easy, but playing in your home state made Mares' transition from amateur to professional soccer much smoother.
Looking at last year's league finish for Miami FC, this season might seem surprising. In their inaugural season, Miami FC finished in last place in the Spring Season, and fifth place in the Fall Season – their performances demonstrated progress but by no means a season as successful and the one they are experiencing now. Fans of Miami FC will be pleasantly shocked by the results that Miami has secured this season, but to coach  Nesta however, gradual success was always the plan.
"This is something my players and I have been working for since day one," Nesta said. "It's very difficult to build a club from nothing, but we accepted the challenge and now it is slowly paying off. I love my players and we will continue to work hard and make history for the club and city of Miami."
Clearly, Mares has seen a lot of success at Miami FC, and has been a mainstay this season in Nesta's plans for success across all competitions. The team has dominated NASL this season, and has beaten USL and MLS opponents in the U.S. Open Cup. Next to winning though, one of the biggest perks of playing for Miami FC this season for Mares has been learning under the legendary Italian coach.
"Playing for Alessandro is simply humbling," he said. "He is a great person on and off the field and very good student and teacher of the game. He was one of the best defenders to ever play the game and the knowledge he brings to the table stems from his experience. Tactically he is very smart, he sees everything that is going on in the game and has different ways of solving problems that the average player might not see. You can learn a lot from him and that is one thing I think our team doesn't take for granted.
"Everyday we try and learn something from him because his knowledge of the game shows when he explains complex issues and makes them simple to understand. Not only do we learn from him but he learns from us as well. As a young coach you can tell he is eager to learn what it takes to be a coach and his ability to adapt to this league proves that."
Mares' praise of Nesta is borne out in the team's success this season. At only 25 years old, Mares still has a bright future ahead of him. Nesta has faith in Mares' ability to control the midfield, as shown by his string of starts for the first-place team, and as Miami FC continues to succeed, so will Mares.
While the possibility of U.S. Open Cup glory and NASL Championship success are all things that Mares would love to experience, his current view of playing for Miami FC is much more grounded.
"I think the NASL is a very competitive league and it shows year after year," Mares said. "I'm just happy to be able to play the sport I love and help bring success to a team like Miami FC."