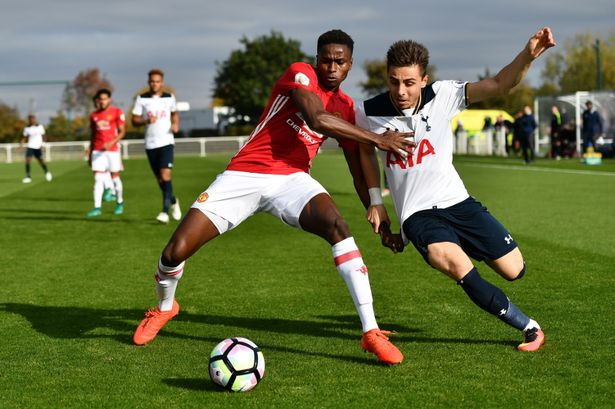 Breaking into a top level Premier League team like Manchester United can be a tall task, but one young American Abroad feels he's getting closer every day.
In an interview on the team's site, 19-year-old American defender Matthew Olosunde says that the past year has seen massive progression in his game and that the help from his teammates, especially fellow right back Antonio Valencia, and coaches has been vital to that growth. Olosunde made his first trips with the first team during United's matches against Arsenal and Tottenham, and knows he'll get his chance at the match day squad soon and plans to make the most of it.
"I'm very happy with how the season has gone," Olosunde said. "Just travelling with the first team was a big thing for me. It's a lot different when you are actually with them. You just think 'wow'!
"They're all friendly and talk to you to try to help you out. I was training with them for a bit and it was a great experience. I really enjoyed it. I would have loved to be involved in the matchday squad but it's good knowing, eventually, I could get my chance and I will just need to take it."
Olosunde states that he's become comfortable at right back with the United Reserves, a position he holds while behind Valencia on the depth chart. But as he seeks to improve his craft, both offensively and defensively, Valencia provides a role model at the type of player Olosunde hopes to become on the right side for United.
"Yes, he is a real inspiration," said the young defender. "Bombing forward but also being great defensively. I really look up to him. When I watch him play, I just think I appreciate he's a great player and a great marking point to reach for. He's a big guy and so strong."
While he has a ways to go, his progress gives reason to hope that he'll get a chance in the near future to prove his skill. But for now, there's just the summer and preseason to look forward to, and Olosunde isn't getting ahead of himself.
"I'm going to go back home to New Jersey to see my family and friends," he said. "Pre-season in July will involve a lot of hard work and, whatever happens, I'll just play as well as I can."