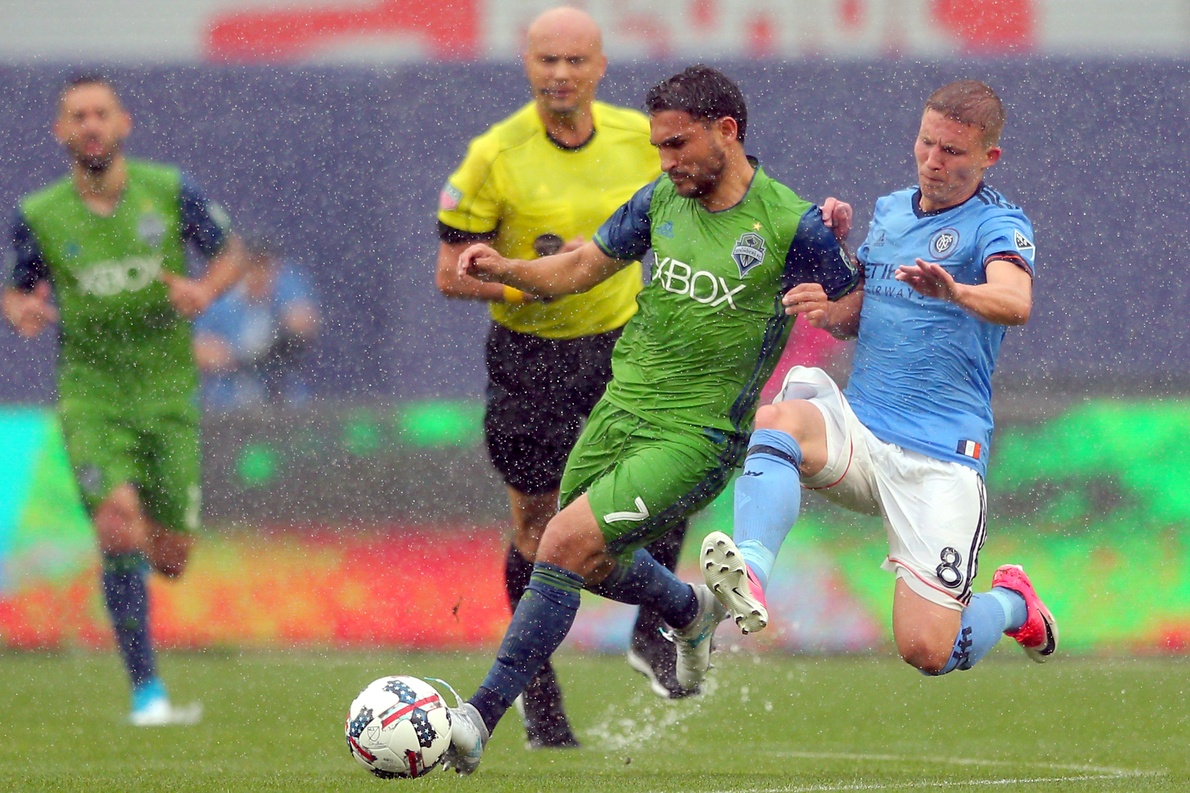 The next few weeks are vital for Cristian Roldan. Since his emergence throughout the Seattle Sounders' 2016 MLS Cup run, Roldan has long been trumpeted as one of the league's most underrated up-and-comers. Over the past several months, Roldan has all but fortified his spot in the heart of the team's midfield, becoming as vital a piece as any in the Sounders starting lineup.
Roldan's importance to his club cannot be overstated, and his recent play could prove enough to finally earn him a shot with the U.S. Men's National Team.
The 22-year-old midfielder was named to Bruce Arena's 40-man Gold Cup preliminary squad at the start of June and this summer's tournament could give Roldan a first taste of senior international action. Eligible for both El Salvador and Guatemala through his parents, the former University of Washington midfielder played his way into the USMNT picture while rapidly emerging as one of the best young central midfielders in MLS.
Over the past month or so, Roldan has certainly made his case. On May 27, he scored the lone goal of a 1-0 win over the rival Portland Timbers. He then provided the assist on a Will Bruin goal a week later, helping the Sounders to another 1-0 win over the Houston Dynamo. Most recently, it was a wonderful run and goal against New York City FC as Roldan continues to build a strong resume heading into what could be and what probably will be an eventful summer.
"Obviously, you want to make that final squad for the Gold Cup, and it's something you do think about, but you try not to let it affect your game," Roldan said. "Honestly, it may even help your game because you want to showcase your talents, showcase what you can bring to the table and, for me, it's about being a smart player and being consistent in that manner and, hopefully, you can make that final roster. "
Saturday's clash between the Sounders and NYCFC may not have been the prettiest, and you can thank the torrential downpours for that. However, Roldan's finish was as pretty as they come for a player generally praised for his defensive abilities.
Roldan darted through the midfield before poking the ball past NYCFC defender Maxime Chanot. With Clint Dempsey to his side, Chanot committed towards the veteran forward, leaving Roldan with a window to fire at goal. He did just that, beating Sean Johnson for the game's opener.
After the match, Roldan said it was a match you could simply throw away. The conditions made the match a total waterlogged mess. There were 90 minutes of swimming with some soccer played in between.
What cannot be thrown away, though, are the takeaways from Roldan's game. The midfielder, now in his third season, is still learning when and where to pick his spots. He originally entered the league as an attacking player, a more creative playmaker from the University of Washington.
Now more of a No. 6 or a No. 8, Roldan is more reliant on his ever-developing defensive skills, even if he is still learning the intricacies of the position.
Should Roldan make the USMNT squad, he almost certainly won't be counted on to contribute on the scoresheet like he has been in recent weeks. His job is to stay deeper, shield the backline and connect the attack. Roldan does the dirty work, even if he's been getting his just rewards in recent weeks.
"He does all of the little things that, a lot of the time, you don't see," said Sounders head coach Brian Schmetzer. "Today, people are going to say that was a great goal and that he took it well, that he intercepted the pass and ran down the field, but he does a lot of other things. He covers spaces for other guys. He connects the first pass that gets out to the next pass and leads to a break. He does a lot of little things, little dirty things that need to be done to win games."
He did just that on Saturday. Midfield partner Ozzie Alonso said Roldan has been "unbelievable", pointing to everything he's brought to the table this season. When it comes to his attacking work, it was simply a good goal from a good player, Alonso says.
Roldan's big chance with the USMNT may be coming. There are still several weeks between now and this summer's tournament, and there's still two matches to be played before Arena unveils his full roster.
The midfielder has found his role with the Sounders, and he's generally played it well. With Clint Dempsey and Jordan Morris out of action with the national team, Roldan continued to emerge as a key cog in the center of the field.
"I feel like I don't go up as much this year, mainly because we have so many good players going forward," Roldan said. "I don't really need to. My role is a little bit more defensive, but if I'm a little smarter on the ball and take my chances and take them well, obviously I want to be clinical in front of goal and bury that one chance."
He did that on Saturday.  Now, he'll hope he can succeed in taking his first chance with the USMNT should Arena come calling.