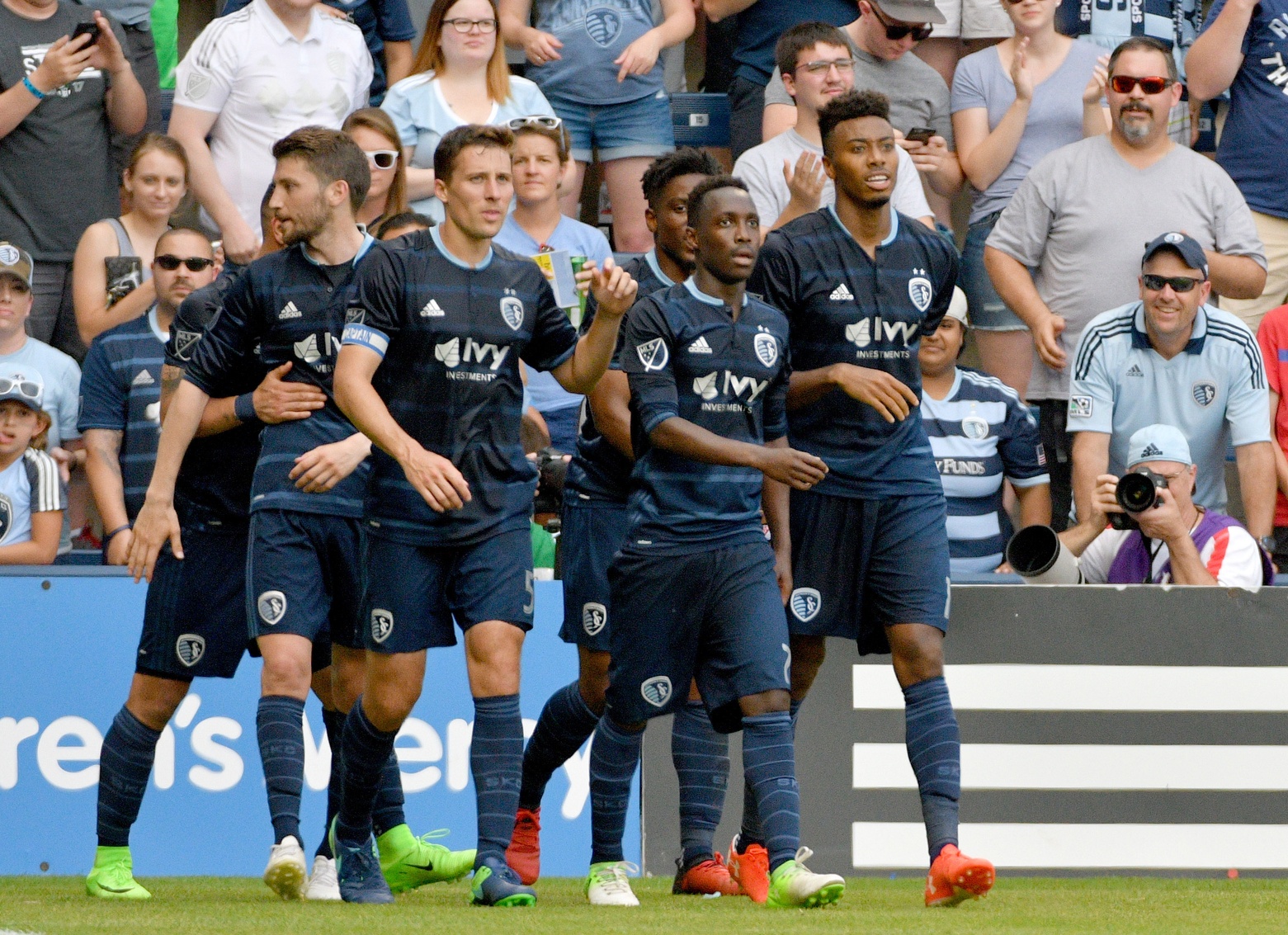 What looked like an emergency earlier in the week ended with a dominant Sporting KC victory Saturday afternoon at Children's Mercy Park.
Sporting KC, backed by league-leading defenders Ike Opara and Matt Besler, earned a 3-0 victory and sixth home shutout on the season. On a day where the team missed instrumental attacking players, the defense once again showed its strength.
"I don't know if we look for credit, we just kind of expect to win at home," Opara said. "We expect to drive the game, we expect to dominate, and I think when we're on the road, we have a lot of good things. We just haven't been able to pull off a few of those wins like we would've hoped."
Opara scored a goal to put Sporting KC in the lead right before halftime. Replacement central midfielder Jimmy Medranda added another quickly into the second half, then backup right back Saad Abdul-Salaam finished off the rout.
Besler provided the added boost for Sporting as he returned to the club from international duty. He was originally set to face Venezuela later in the night in Sandy, Utah, but returned to Sporting KC at Peter Vermes' request to Bruce Arena.
Ahead of Saturday's match, Sporting KC signed centerback Amer Didic from their USL team, Swope Park Rangers, to have cover for Besler's expected absence. Didic had only played in one match for Sporting KC before, a home loss in the CONCACAF Champions League.
""It was important I think for everybody (to have Besler coming back)," Vermes said. "It was important for the team, obviously, but I think it was even important for Amer. Just because I think he was going to be thrown into a situation where he didn't have a lot of time to train with us and that was going to be pressure under fire, if you will. So it was great that he was able to come back. It definitely helped us in a lot of respects. I appreciate not only him coming back, but Bruce working with us as well."
The only backup in Sporting KC's defense for the match was hardly a backup at all. Right back Saad Abdul-Salaam started 26 games last season and slotted into the right back slot left vacant by Graham Zusi, who entered as a sub for the U.S. Men's National Team in Saturday's 1-1 draw with Venezuela.
"Saad played almost every game for us last year, so he's got tons of experience and we know what he's going to be able to provide for us," midfielder Benny Feilhaber said.
The club's current setup shows some contrast from last season. In 2016, Sporting started rookies Connor Hallisey and Abdul-Salaam frequently and barely made the playoffs. Sporting's supporting cast this season not only plays behind clear veteran starters, but boasts more MLS experience further down the roster.
Abdul-Salaam talked to reporters after the game about working hard in practice to be rewarded with the start, but the real reward came in the 87th minute: Abdul-Salaam's first career MLS goal. Minnesota United failed to clear its lines as the match winded down, the summer heat beating down on the field. Abdul-Salaam made a short run toward the back post, where his sliding finish knocked the ball into the goal.
"It's a great experience," Abdul-Salaam said. "It bounced around the box, Dom [Dwyer] got his first chance at it, it bounced around a little more and I was just happy to be at the back post and put it in."
This was how Sporting KC battled a near-emergency but kept its defense intact. Sporting KC now moves on to face Montreal Impact next weekend in a cross-conference matchup.